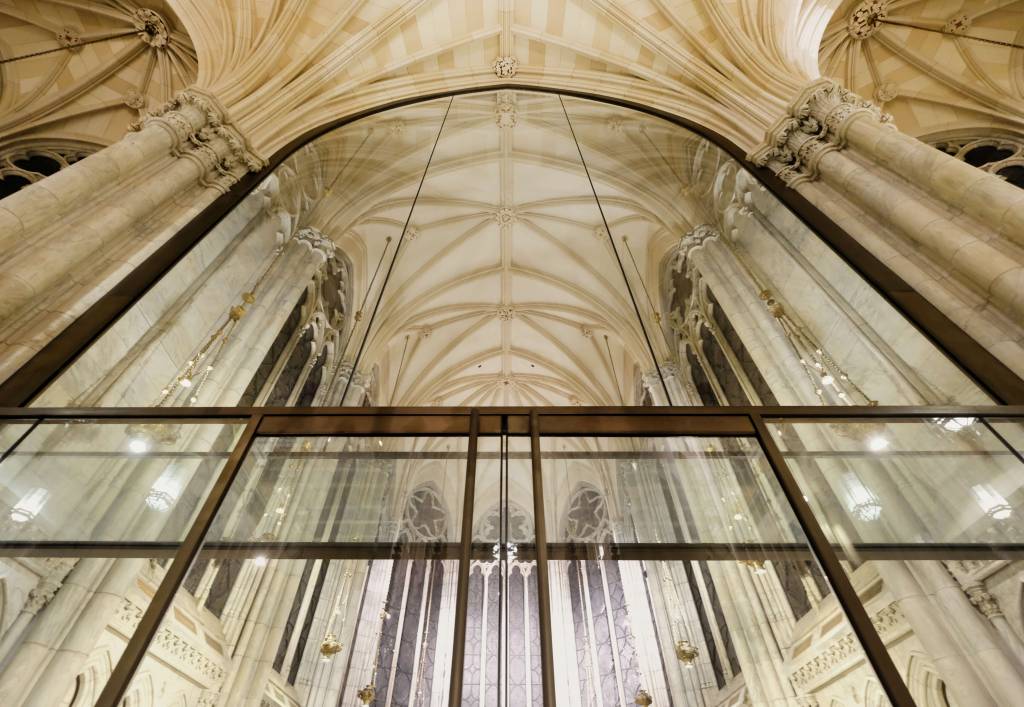 Glass Magazine has awarded the seele group, a company specializing in the design and construction of façades and building envelopes, with the Most Innovative Interior Glass Rails, Walls, and Doors award for their work on St. Patrick's Cathedral in New York.
According to Michael Steinhuelb, president of seele, a remarkable design detail of the 82 m2 (883 sf) large interior façade are the glass panels, which have a weight of up to 2,500 kg (2.5 t) and are supported by just one 8-ply glass beam. Steinhuelb says this makes the construction seems exceptionally transparent and weightless.
The seele group was commissioned with the design, fabrication, and installation for the project, which required an all-glass structure in order not to disturb the existing architecture.
In the upper section, the façade consists of multiple panes measuring approximately 10.7 x 2.4 m (35 x 9 ft), made of 3 x 12 mm (01⁄8 x 015⁄32 inch) laminated safety glass, supported by a 7-m (23-ft) long glass beam. The integrated glass doors in the lower section are set slightly further forward in order to preserve the chapel's original mosaic floor. Furthermore, the façade's brass trims were specially designed to match the shape of the existing columns.