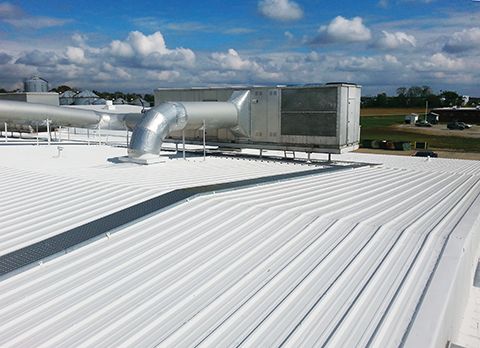 By James R. Kirby, RCMA
Coatings have been successfully used as part of roof assemblies for more than 50 years in the United States. However, in other parts of the world, coatings have been employed for millennia. The development of sophisticated protective coatings occurred in the latter half of the 17th century, when a German chemist found a way to use the stickiness of coal tar as protection on wood and ropes. During the 19th and early 20th centuries, scientists developed or discovered various new organic, inorganic, and synthetic materials for use in coatings, binders, and solvents. Perhaps the most dramatic advance in coating properties has come in the past 40 years, with the development of polymers.
Roof coatings are designed to protect and extend the service life of roof assemblies for new construction and, more commonly, for existing coverings, such as built-up (BURs), metal, modified-bitumen (mod-bit), single-ply, and sprayed polyurethane foam (SPF) systems. Coatings protect roof membranes from ultraviolet (UV) degradation and weathering, assist and enhance a system's fire resistance, and provide a watertight layer on an existing roof. These coatings can enhance reflectivity and improve the aesthetics of the surface, lessening the building's cooling load and heat island effect because the heat strain on the roof has reduced. Roof coatings also help decrease expansion and contraction of the membrane, by minimizing the membrane's temperature swings.
Roof coatings are thicker than traditional paint, and have higher solids content; they are also applied in greater volumes. They are formulated to resist weather for many years and are also extremely elastic because they typically contain a level of high-quality resins that are introduced during manufacturing allowing the material to maintain its elastic property. Once cured, these resins form an elastomeric and durable film, which provides an additional measure of waterproofing and allows the roof coating to bridge small cracks and membrane seams.
Types of roof coatings
The most common types of roof coatings are acrylic, asphalt, polyurethane, and silicone.
Acrylic coatings
Acrylic water-based coatings are suitable for high UV environments where a reflective roof is desired. They can be colored, but generally are sold in white, tan, and grey. Many specialized versions are compatible with specific substrates.
Asphalt coatings
Asphalt coatings are either solvent-based 'cut backs' or emulsions; they can be either black or aluminized. These coatings are often most effective when applied over other asphalt substrates. Able to be used in cold and inclement weather, aluminized coatings are employed when a reflective and UV-stable asphalt coating is needed.
Polyurethane coatings
Polyurethane coatings are typically solvent-based and come in two main types: aromatic (less UV-stable) and aliphatic (very UV-stable). Urethanes have good mechanical properties and high abrasion resistance. They are best used in hail-prone regions and where a roof is exposed to heavy foot traffic.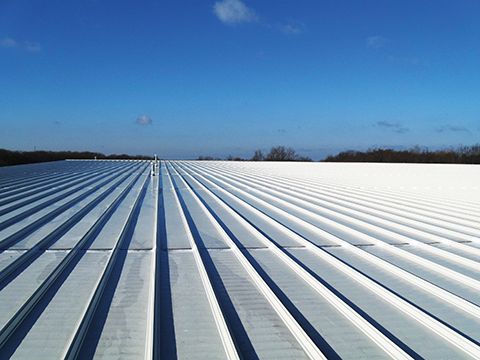 Silicone coatings
Silicone coatings, like acrylics, are suitable for high-UV environments where a reflective roof is desired. Silicone is often used in locations where rain is a daily occurrence, or if the roof is often wet and experiences a lot of ponded water.
Other types of roof coatings
Roof coatings can be made with other resins or combinations of resins. These include:
styrene ethylbutylene styrene (SEBS);
fluoropolymer;
styrene-acrylics;
polymethyl methacrylate (PMMA);
polyester;
silyl-modified polyurethanes (SPUR);
polyuria; and
butyl resins.
Codes and standards
The 2015 edition of the International Building Code (IBC) does not have specific requirements for roof coatings, except when used in combination with SPF systems. There are IBC requirements for liquid-applied roofing, but this should not be confused with coatings. Liquid-applied roofing is classified as a roof covering in the model codes, whereas a roof coating is not.