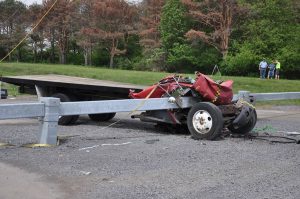 by Scott Espenson
As a result of the recent rise in vehicle-ramming attacks, there is an increased interest in perimeter security for applications besides the traditional government and military operations. From large cities, small municipalities, and grade schools to universities, utility substations, and corporate offices, many organizations are contemplating how to provide an increased measure of security with a tight budget.
Given the abundance of products available on the market, and the fact many specifiers are contemplating anti-ram barrier measures for the first time, it is important to understand how to evaluate and select a perimeter security solution that best suits each unique application and budget. Beyond these considerations, working with a security professional is highly recommended to determine the appropriate threat type and level, navigate the process, and provide a holistic approach to the entire project.
How physical security products are rated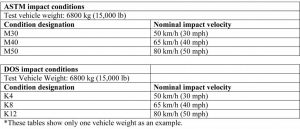 When researching anti-ram perimeter security barriers, serious thought should be given to how each system was designed and tested to ensure it meets the applicable threat conditions. This process can sometimes be challenging with multiple published vehicle crash testing standards and numerous crash ratings within those standards. The U.S. Department of State (DOS) pioneered anti-ram vehicle barrier testing, and developed a rating system and test standard that was first published in April 1985 (SD-STD-02.01, Certification Standard–Test Method for Vehicle Crash Testing of Perimeter Barriers and Gates), and later revised in 2003 (SD-STD-02.01 Rev A).
In 2009, the DOS retired SD-STD-02.01 Rev A and stated all new barriers should be tested to ASTM International standards to be considered for embassy projects. ASTM F2656-15, Standard Test Method for Crash Testing of Vehicle Security Barriers, is the most recent standard to which anti-ram vehicle barriers are tested.
ASTM ratings are assigned based on three variables:
test vehicle type;
vehicle speed; and
vehicle penetration distance.
Test vehicles span six style and weight categories, from a small passenger car (1102 kg [2430 lb]) to a heavy goods vehicle (29,483 kg [65,000 lb]). Vehicles are impacted into the barrier at speeds ranging from 48 to 96 km/h (30 to 60 mph). Finally, the penetration distance of the vehicle into the barrier falls into one of three categories—from less than 1 m (3.3 ft) (P1) up to 30 m (98 ft) (P3).

While new barriers are typically crash-tested to ASTM standards, the DOS SD-STD-02.01 Rev A ratings are still frequently employed in project specifications. These ratings are assigned based on impact speed, similar to ASTM ratings, and are compared in Figure 1. SD-STD-02.01 Rev A does not assign various penetration ratings, as every vehicle tested to Rev A must have a penetration of 1 m or less to receive a "K" rating (Figure 2).
Assess existing site conditions
Since each barrier design inherently has its own unique advantages and limitations, understanding and defining site conditions helps provide context when it comes to selecting the proper system.
Some of the most important site assessment questions are:
Are there any specific ground conditions involving the soil type, excessive elevations, or high water tables?
Are there any underground utilities or structures that must be considered?
Does pedestrian access need to be stopped or allowed?
What aesthetic requirements must be considered?
If there is a vehicle entrance, how many vehicles are being processed at peak vs. non-peak times?
How will the site environment (temperature, sand, gravel, debris, saltwater, snow, or rain) affect operations and maintenance?
Consider installation and maintenance costs
Purchasing perimeter security solutions is only half the financial battle to securing a property's border—the installation and maintenance costs still loom. For products like perimeter fencing, installation prices of one system can cost twice as much as a similarly-rated system. Contractors, architects, and owners can realize significant savings by looking beyond the initial purchase price of the barrier system and exploring the steps, materials, and equipment necessary to complete the project. Getting detailed installation estimates is key as some barrier designs have significantly different requirements for foundation size, rebar, and post spacing.
Further, the required maintenance varies across products, even among similar types. This is a cost that should be considered during the purchasing process.
Some of the most important maintenance questions to ask are:
who will maintain the perimeter security system;
will this be performed by employees or will it be contracted;
what grade of operating components are used to power the barrier;
are the operating components below grade and how will that impact maintenance; and
what type of finish is required to provide long-term protection?
The bottom line
As radical criminals and organized terrorist groups grow in number and dedication to their cause, one thing remains clear. Not only are attacks becoming more frequent, they are also becoming increasingly violent in hopes of maximizing destruction. This reinforces the importance of doing your homework to incorporate preventative measures and products engineered and tested to the industry's highest standards.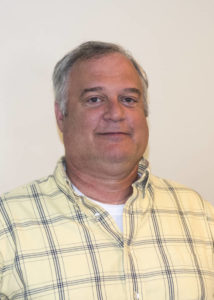 Scott Espenson has worked at Ross Technology for more than 20 years. His responsibilities as perimeter security product manager for the past decade have included the oversight of new product development and testing, sales, project management, and fulfillment. With a strong background in controls technology with the United States Air Force, he has been active in creating and sourcing advanced control systems for Ross perimeter security products. Espenson's international experience includes overseeing numerous security projects in the Middle East. He can be contacted at scotte@rosstechnology.com.