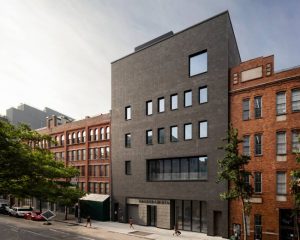 Hauser & Wirth's new art gallery building in Manhattan, New York, designed by Selldorf Architects, is now open.
The 3345-m2 (36,000 sf), five-story gallery is Hauser & Wirth's first purpose-built, ground-up building. Selldorf Architects has collaborated with Hauser & Wirth on its spaces internationally since the founding of the gallery in 1992. As with all of Selldorf's previous designs for Hauser & Wirth's galleries, the goal was to create strong, well-proportioned spaces that place art at the forefront of the visitor's experience. Here, the ground floor and second floor spaces that front the street feature 5-m (16-ft) and 4-m (12-ft) tall glass doors that completely fold away, opening the façade up to further engage the public with the art on view.
The first project presented in the new building was 'Artists for New York,' a benefit featuring works donated by scores of contemporary artists to raise funds in support of a group of 16 New York City non-profit visual arts organizations and charitable partners impacted by the COVID-19 pandemic. This presentation will be followed in November by solo exhibitions of works by George Condo and Jack Whitten.
As in many of Hauser & Wirth's other locations, the new building will also feature permanent, site-specific artist interventions. Works by Mary Heilmann and Rashid Johnson will be the first among these, with others to follow.
"The new building for Hauser & Wirth developed from the close dialogue we have had with the gallery over the course of many years and many different projects" said Annabelle Selldorf, principal of Selldorf Architects. "Here, we created something together that will envelope people with art. Visitors will encounter artworks all along their path through the building's spaces. Installations will not be static, but will interact with the architecture dynamically, in alignment with Hauser & Wirth's ethos and values."