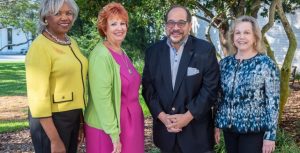 Six architecture firms have been shortlisted as semifinal candidates to design the new Sarasota Performing Arts Center in Florida.
The Architect Selection Task Force, constituted by the Sarasota Performing Arts Center Foundation and the city of Sarasota, chose the top six firms from the 18 candidates invited to submit proposals to be the architect for the project. Comprised of four distinguished community members, the task force was charged with reviewing proposals and narrowing the pool of applicants. The firms selected to advance are Diller Scofidio + Renfro, Foster + Partners Limited, Gehry Partners LLP, Henning Larsen, Renzo Piano Building Workshop, and Snøhetta.
This step in the process follows the announcement of a $10 million contribution from the Paul Seed Fund at KBF CANADA to the Sarasota Performing Arts Center Foundation, to support the architect and design team in building the project.
The selection process kicked off in October with the first of six public task force meetings. Funded through an appropriation from the state of Florida, these meetings have been held to discuss applicants' qualifications and submissions. The project received submissions from 43 renowned architecture firms, and the task force previously winnowed the firms to the 18 invited to submit proposals. During the next meeting, scheduled to take place in May, the task force will select a minimum of three finalists, who will come to Sarasota for in-person interviews.
"Our rigorous review process for selecting the architect for the new Performing Arts Center is a reflection of our unwavering commitment to position Sarasota as a top-tier arts destination," says Sarasota Performing Arts Center Foundation board vice-chair, and chair of the Architect Selection Task Force, Dr. Jenne K. Britell. "With the narrowing of our candidate pool, we are getting closer to accomplishing our vision for a world-class facility that will be a hub for creativity and innovation. Together with the city of Sarasota, we are building a place for the arts that will inspire and enrich audiences for years to come."