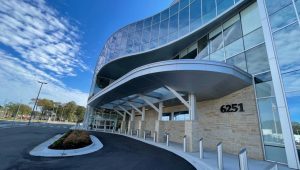 The new Sentara Brock Cancer Center, which began treating patients in June 2020, now features a new skylight canopy.
The canopy's aluminum framing system was finished and anodized, highlighting the natural look of aluminum and accentuating the cancer center's contemporary appearance.
The anodized aluminum frames 12 bays, composing the canopy's total 18.5-m (60.6-ft) span. Each bay supports two lites of insulated, coated, heat-strengthened, and laminated glass.
The glass achieves high visible light transmittance for clear views above and natural daylight below, while managing the solar heat. With a 1:12 pitch, the glass and metal skylight canopy tapers from 6 m (19.4 ft) wide to 2.9 m (9.5 ft).
Anodizing the architectural aluminum products requires minimal maintenance, provides excellent wear and abrasion resistance, and delivers long-lasting performance that meets or exceeds the American Architectural Manufacturers Association (AAMA) 611, an industry-leading Fenestration and Glazing Industry Alliance (FGIA) standard for finishes.
During its expected 40-year lifespan, the anodized aluminum also supports healthy indoor air quality (IAQ) because there are no applicable volatile organic compounds (VOCs) associated with this canopy. At the end of its life on the building, the finished aluminum is 100 percent recyclable.