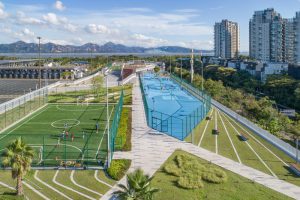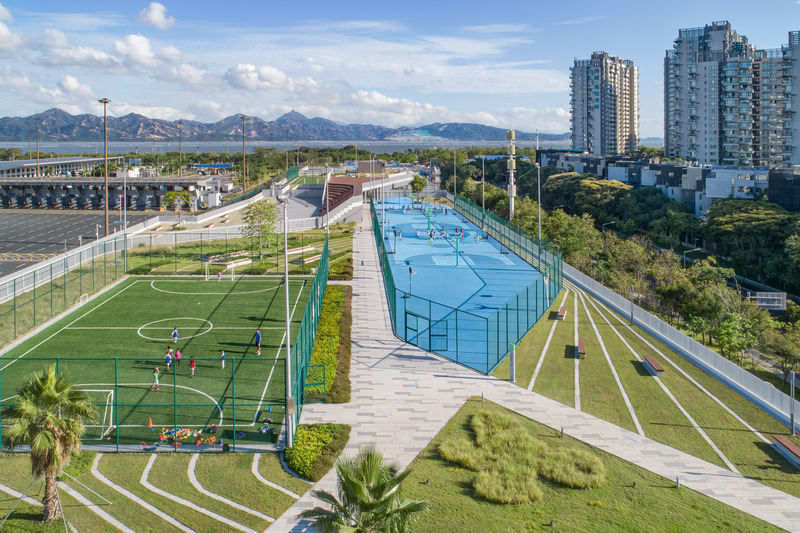 The rooftop of the southern terminal and depot building of Metro Line 2 in Shenzhen, China, has been transformed into a sports and leisure zone.
Beijing-based architectural firm Crossboundaries partnered with the Shenzhen Nanshan District Government to focus on the development of the 1.2 km (0.75 miles) roof surface, upgrading the existing depot and creating the elevated Shenzhen Skypark.
Crossboundaries subdivided the plot into three programmatic zones: one for the general public, for social and cultural interaction; one for exclusive use by the adjacent schools; and one for professional sports, for training activities and competitions.
In total, five tennis and six basketball courts, as well as two five-a-side fields, were placed. Several running tracks were also added. The competition and training area for professionals was equipped with two lawn courts, six competitive tennis courts, four training and two clay courts, and two volleyball courts. The community segment features green areas, as well as a full-size soccer field.
As the sports strip offers a variety of recreational options, it attracts users of all profiles and ages, ensuring the area is used throughout the day. The strip also adds a visual experience from the Skypark itself, with views of the surrounding urban landscapes, the Shenzhen skyline, and the bay area.