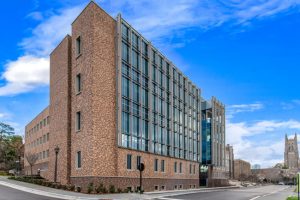 Skanska USA has completed construction of the 13,935-m2 (150,000-sf) Wilkinson Building for the Pratt School of Engineering at Duke University in Durham, North Carolina.
It will house new engineering education, research, and entrepreneurship initiatives bringing together departments, faculty, and students from across the university.
"This transformational project serves as a key asset for the Duke community and will continue Duke Engineering's legacy of impact in education and research," said Greg Peele, Skansksa's general manager and executive vice-president for North Carolina and Virginia building operations. "We are proud to deliver another project in our ongoing partnership with Duke University."
The five-story concrete structure, which expands spaces dedicated to student education and programming in engineering by 50 percent, was built using Duke stone and Duke blended face brick. These two materials are key elements of the architectural identity of Duke's West Campus and have been used throughout the school to create the collegiate Gothic style of many of the original and new university buildings.
It is strategically located on Research Drive near the Fitzpatrick Center for Interdisciplinary Engineering and Medicine & Applied Sciences, next to Bostock Library and adjacent to Duke's medical center.
Additionally, Skanska recently completed the Hollows Residence Hall, a 24,526-m2 (264,700-sf) on Duke's West Campus and is building a 46,452-m2 (500,000-sf) patient bed tower addition at the main campus of the Duke University Health System. Other Duke projects include the 2016 renovation and expansion of the Brodhead Center dining hall building, the social center of Duke's West Campus. In 2006, Skanska completed the French Family Science Center, which houses state-of-the-art research and teaching laboratories for genomics, biological chemistry, materials science, nanoscience, physical biology, and bioinformatics.