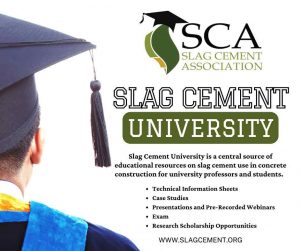 Slag Cement Association (SCA) has launched Slag Cement University to provide content related to slag cement to university professors for use in existing civil, construction, materials engineering, and construction management college degree programs.
Slag Cement University's content has been curated and developed by the members and staff of SCA to provide an overview of the applications, uses, and benefits of slag cement use in concrete construction.
According to Lori Tiefenthaler, president of the SCA board of directors, this offering will serve to enhance concrete materials instruction with new and exciting slag cement information, projects, and tools for use in university courses.
Content includes:
Technical Information Sheets: SCA's 29 Technical Information Sheets provide an overview of various applications and topics regarding slag cement use in concrete. These 1–2-page documents are valuable resources for students to review in preparation for exam questions. The references mentioned in these documents can provide further information on these topics.
Presentations and Pre-Recorded Webinars: SCA has webinars and slide decks which offer a well-rounded look at the various applications of and things to be mindful of when using slag cement in concrete. Curriculum also includes a Slag Cement 101 slide deck and recorded webinar to help introduce students to the benefits of the material's use in concrete construction.
Sustainability Tools: SCA has developed an industry-wide environmental product declaration (EPD) and a companion carbon reduction calculator for concrete mixtures, which incorporate slag cement. Slag Cement is an important material on the construction industry's journey to carbon neutral concrete.
In addition to the curriculum, there will be an 80-question exam serving as a testing method for universities to easily measure knowledge related to slag cement.
While the slag cement university platform is a great way to expand knowledge on slag cement use, it is not a certification program.