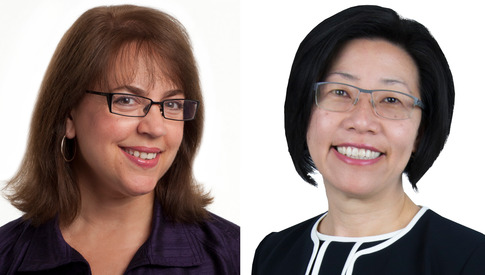 Architectural, engineering, and planning firm SmithGroupJJR is celebrating the elevation of two of its employees, Suzanne Napier and Rosa Sheng, to the American Institute of Architects (AIA) College of Fellows. The recognition reflects significant contributions made by the designers to the profession of architecture, the education of future architects, and their long-standing commitment to AIA.
Vice president and veteran of SmithGroupJJR for nearly 30 years, Napier previously served as a member of the firm's board of directors. An expert in the planning and designing of laboratory facilities for the future, she currently leads SmithGroupJJR's science and technology studio at its San Francisco office. Additionally, Napier teaches as a guest lecturer for engineering and sustainable design programs at local academic institutions, as well as internationally on building information modeling (BIM).
Sheng joined SmithGroupJJR in 2017 as a principal in support of the firm's growing higher education and workplace markets, also at the San Francisco office. With 24 years of architectural experience, she is the 2018 president of AIA's San Francisco chapter and founding chairperson of Equity by Design, a national movement for equitable practice in architecture. Currently, Sheng is working to establish SmithGroupJJR's Equity Diversity Inclusion Program.
Napier and Sheng, along with the entire class of Fellows, will be honored June 22 at AIA Conference on Architecture 2018 in New York City.
To read more, click here.