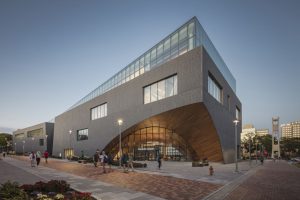 International architecture firm Snøhetta has completed the Charles Library at Temple University in Philadelphia, Pennsylvania. The project seeks to anchor a new social and academic heart for the university's diverse student body.
Woven into the fabric of North Philadelphia, the 20,439-m2 (220,000-sf) building connects as an artery to the city.
Snøhetta's design, developed in collaboration with Stantec, reinterprets the traditional research library with collaborative and social learning spaces while uniting academic resources, disciplines, and cutting-edge technology under one roof.
The building's solid base is clad in vertical sections of split-faced granite. Grand wooden arched entrances cut into the stone volume and announce the point of entry. Expanses of glass create transparency at the three major entrances. The arches continue into the building, forming a three-story domed atrium lobby.
The lobby offers views to every corner of the building, serving as a wayfinding anchor and placing the user at the center of the library's activity.  An oculus carved into the cedar-clad dome allows light to pour into the lobby from the uppermost floor, connecting the terminus of the library back to its beginning. The steelclad main stair is immediately visible from the entry as it winds up to the highest level of the building.
Covering over 70 percent of the building's roof surface is a 4394-m2 (47,300-sf) green roof which also plays a key role in the site's stormwater management system.