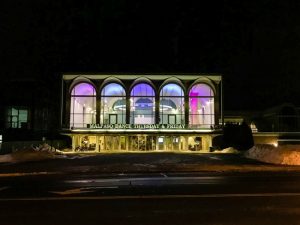 Dartmouth College has chosen Snøhetta as the lead architect for the expansion and redesign of the college's Hopkins Center for the Arts, a creative hub for Dartmouth and the New England region.
Snøhetta was selected for its integrated transdisciplinary approach and extensive experience designing arts facilities and cultural spaces—including the expansion of the San Francisco Museum of Modern Art, the Norwegian National Opera and Ballet, Shanghai Grand Opera House, and the pedestrianization of Times Square.
While continuing to honor the Hop's original architecture, Snøhetta's upcoming renovation and expansion will address growing needs and demands of students, faculty, and the surrounding community. The reimagined spaces will give room for exploration among the arts.  With the creation of three new recital halls and teaching studios, substantial upgrades, and the incorporation of state-of-the-art technologies, Snøhetta will create public spaces for social engagement and encourage cross-curricular connections at Dartmouth.
"At their heart, every leader is an imaginative thinker and creator. This makes the arts an essential aspect of any educational experience. At Dartmouth, we are committed to this core vision and to engendering a love for exploration and experimentation among our students," said Philip J. Hanlon, Dartmouth's president. "Our investments in the arts district are envisioned to give every Dartmouth student an artistic experience and to use the arts as a window to explore a breadth of subjects and academic fields. The expansion of the Hop is another important chapter in enacting our vision and will offer a wealth of new opportunities for our students and the community well beyond."
Working alongside Dartmouth's leadership, Snøhetta and the architect of record EYP will transform maker-spaces and reinvigorate the Hop's innovative spirit through the new expansion.