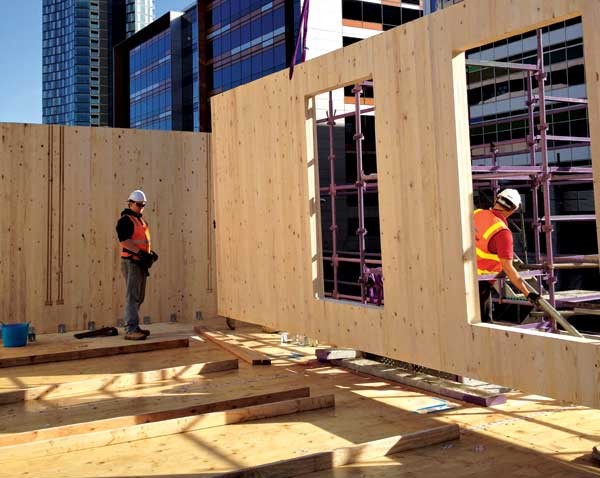 by Ryan E. Smith
Solid timber construction, sometimes called 'mass timber,' is an emerging set of engineered wood products—massive planar or frame elements used for walls, floors, roofs, partitions, and core elements of a building. As shown in Figure 1, examples include both glued configurations liked glued-laminated timber (glulam), structural composite lumber (SCL), and cross-laminated timber (CLT), as well as non-glued products like dowel-laminated timber (DLT); nail-laminated timber (NLT), cross-nail-laminated timber (CNLT), and interlocking cross-laminated timber (ICLT).
These mass timber products also have the potential to utilize both traditional graded lumber and other ungraded timber, including beetle-killed and salvaged trees. Employing salvage material presents an opportunity to reduce the impact of treating hazardous fuels and the removal of other woody biomass in forests.
Construction with solid timber elements optimizes the inherent structural behavior of wood, creating a more homogeneous structural product. As mass wood products, these building materials are manufactured from an entirely renewable resource that, when compared with steel and concrete counterparts, has the capacity to sequester carbon in the structure of buildings and to reduce the negative environmental impact of construction on the planet.
Solid timber construction is fabricated offsite in a factory, and is therefore able to leverage the advantages of automation and process control—advanced machinery and measurement devices, reduction of onsite waste, and reduced construction duration from concurrent scheduling of site and factory work.
The added value of solid timber, although conceptually strong, has yet to be significantly demonstrated through objective analysis. A recent study performed by a research team at the University of Utah's Integrated Technology in Architecture Center, aims to change that by demonstrating the qualitative and quantitative performance of such materials. This article summarizes the report quantifying and qualifying the impact on the delivery of commercial facilities. (The study, "Solid Timber Construction: Process, Practice, Performance," was sponsored by American Institute of Architects (AIA), FPInnovations, and U.S. Department of Agriculture (USDA) Forest Products Laboratory. To access the full report, visit www.rethinkwood.com/sites/default/files/Solid_Timber_Construction_Report_August_2015.pdf)
Method of the study
The research team collected case studies of the following mass timber projects built around the globe:
Bridport House (London, England);
Bullitt Center (Seattle, Washington);
Carlisle Lane Lofts (London, England);
Centre for Creative Competitive Design (Bedfordshire, England);
Elkford Community Centre (Elkford, B.C.);
Fort McMurray Airport (Fort McMurray, Alberta);
Forté (Melbourne, Australia)—shown under construction at left;
Holy Trinity Primary School (London, England);
The Long Hall (Whitefish, Montana);
Massive Living (Graz, Austria);
Open Academy (Norwich, England);
Smart Price House (Hamburg, Germany);
SmartLIFE Centre (Cambridge, England);
Tamedia Office Building (Zurich, Switzerland);
University of British Columbia (UBC) Earth Systems Science Building (Vancouver, B.C.);
UBC Okanagan Fitness & Wellness Center (Kelowna, B.C.);
Via Cenni (Milano, Italy); and
Wagramerstrabe (Wien, Austria). (For more on the Bullit Center, see The Construction Specifier's November 2013 issue for "Window and Storefront Thermal Performance," by Brian Stephens. Visit www.constructionspecifier.com/window-and-storefront-thermal-performance-what-every-specifier-needs-to-know. In-depth case studies on the two UBC projects have appeared in Construction Canada. Visit www.constructioncanada.net)
For each project, cost, schedule, scope, quality, and safety data was collected from three stakeholders: architect, general contractor or construction manager, and the timber fabricator and/or supplier. In addition to quantitative data, the stakeholders were asked qualitative questions to determine the context for successful employment of solid timber construction.
Of the 18 case studies for which data was collected, 11 had substantial contributing cost and schedule information. Of these, seven had direct traditionally built projects to which they were compared in schedule and cost. Data from the timber projects was compared to benchmark project data supplied by Cumming Corp., a cost consultancy firm. The benchmark data was concerning traditional site-built construction in steel and/or concrete.(The data for both the timber cases and the traditional comparison cases were normalized to the first quarter of 2014 with Washington, D.C., as the location. Units of cost were calculated per square foot, and it was assumed all the traditional benchmark construction projects in comparison used a design-bid-build delivery system. When possible, estimates for the comparisons were based on actual items of work. When data was unavailable, precedent values from other projects were interpolated for these comparative projects. Unit costs are based on current bid prices in Washington, D.C., with subcontractor overhead and markups included. General contractor overhead and profit was separated. The traditional comparative project values were based on the probability of cost of construction at the programmatic design stage. Davis Bacon Wage Rates, RS Means Geographical Indices, and RS Means Standard Hourly Rates for Construction Industry Cumming Corporation Internal Economic and Market Report were referenced. The items not covered in this comparison of mass timber to traditional build include hazardous material abatement, utility infrastructure improvements design/consulting fees, building permitting, testing and inspection fees, and land acquisition costs.)
Quantitative results
From the pool of case study projects and their traditional benchmark comparisons, mass timber had an average of four percent cost savings (Figure 2). Further, four of the seven cost comparisons were considered 'pilot projects' or were the first timber structures designed and constructed by their stakeholders. Among these, only two were considerably more expensive to build than traditional projects. (Those projects not considered 'pilots' all came in under cost to their more traditional counterparts.)
The repetition of using solid timber and building on the knowledge gained from previous projects helps streamline costs and increase productivity. This evaluation suggests one-off timber projects have a high possibility of being more expensive than traditional construction. The most important item to note in this cost analysis is timber is conducive to greater cost control when compared to traditional onsite construction. This is attributed to the inherent ability to reduce the number of change orders in any given timber project.
The reduction of time in the production of timber buildings is seemingly the single greatest factor this method of construction has to offer. It shows an average of 20 percent schedule reduction across the compared case studies—an average of 12.7 months compared with 15.4 months for conventional construction (Figure 3). Since the solid timber panels are built in a factory, sitework and foundations can be constructed simultaneously. This reduces the lag time a traditional site-built building has where sitework, foundations, and building construction occur consecutively.
On average, the solid timber projects took 2.9 months to fabricate in the factory, and just 60 days to erect onsite. Small amounts of labor are needed to erect solid timber. (For example, of the case studies included, Bridport House required 14 weeks to erect with only four skilled laborers and one supervisor, while Open Academy needed 16 weeks and only eight skilled laborers and one supervisor. Forté required 10 weeks to erect with only five skilled laborers, a supervisor, and one trainer.) The schedule savings open a window of opportunity for additional cost savings, such as land loan amortization accrual reductions. Further, across 11 of the case studies there were 3.7 change orders per project and no safety incidents. The quantitative results are summarized in Figure 4.