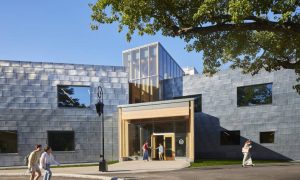 Skidmore, Owings & Merrill (SOM) has renovated and expanded the Wellesley College Science Complex, in Wellesley, Massachusetts, improving its sustainability performance to help the college achieve its 2040 carbon neutrality goal.
Before the project began, the buildings consumed more energy than any other place on campus. Now, the complex is among the most environmentally efficient. Through design measures, such as stormwater capture, new piping and mechanical systems, more natural lighting, the use of mass timber and recycled zinc, and the preservation of much of the original structures as possible, the project received Leadership in Energy and Environmental Design (LEED) Platinum certification.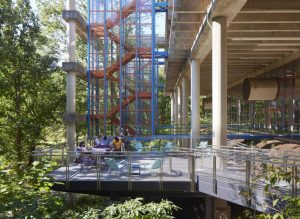 After consulting with the Wellesley faculty, staff, and students, SOM's team determined Sage Hall, the original 1920s brick building, would be difficult to repurpose, because of its low ceilings, outdated systems, and narrow floorplates, therefore it was demolished; however, a brick wall was preserved to bring in a contrast of old and new.
The team considered the 1977 addition, known as the L-Wing, a valuable example of modernist architecture, inspiring curiosity throughout the campus and the region, with the flexibility to adapt. The L-Wing was designed by the firm Perry, Dean, Stahl, and Rogers.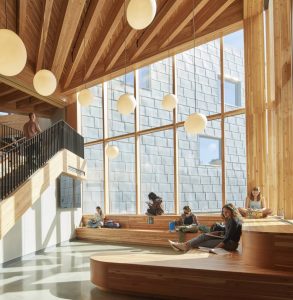 SOM renovated the building by converting a 60.9-m (200-ft) hallway into a "whiteboard alley," installing a new, suspended terrace among the treetops, and replacing the entire envelope with more durable materials, thus improving its thermal insulation and energy performance. With its expansive laboratory spaces, exposed concrete structure, and mechanical systems, the L-Wing boldly contrasts with the more traditional architecture of the campus.
The addition to the L-wing is a new structure, distinguished by a shiplap, zinc-paneled facade, conceived as a series of pavilions, with strong connections to the outdoors. The interior layout clusters resemble fields of study, situating classrooms, faculty offices, and laboratories together. A central spine, the Chao Foundation Innovation Hub, connects the old and the new structures and makes them intuitive to navigate. Built out of mass timber, this multistory cascade of spaces offers double- and triple-height interiors with views out to the landscape.