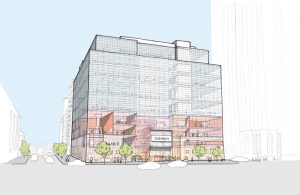 International auction house Sotheby's is expanding its New York City headquarters. Designed by OMA partner Shohei Shigematsu and associate Christy Cheng, the redesign features new exhibition galleries.
The 40 new galleries of varying sizes—spread across four floors—increase Sotheby's exhibition space from 6225 m2 (67,000 sf) to more than 8361 m2 (90,000 sf).
A repertoire of spatial conditions for display—from white cube, double height, and enfilade to corridor, cascade, octagonal, and L-shaped—accommodates various programming as well as the display of Sotheby's wide variety of artwork, objects and luxury goods.
"We wanted to embody Sotheby's ambition to reinvigorate and enhance the client experience by introducing high-flexibility through reorganization of programs and diversification of gallery spaces. The new headquarters is designed for openness and discovery—all public facing programs are shifted to lower levels, unlocking the public potential of the building. A taxonomy of galleries can be used separately or as clusters to allow curatorial freedom, driven by business model shifts and expanding repertoire of programming," said Shigematsu.
The redevelopment also aims to introduce a new aura for Sotheby's as a part of the institution's global program of concurrent enhancements in London and Paris. Entry into gallery clusters is defined at their thresholds with custom stained walnut panels and doors, a nod to the traditional woodwork found at Sotheby's London. Simultaneously, the history of the New York building is not ignored. Existing concrete columns are exposed, stripped, and hand stippled to reveal their material character, and steel beams in open ceiling galleries are left exposed, acknowledging the building's industrial past. The qualities and history of the New York headquarters are married with the company's heritage and tradition.