Collier County Freedom Memorial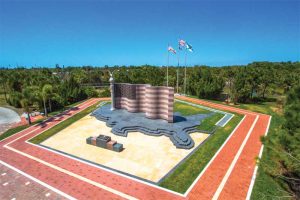 Plans for the Collier County Freedom Memorial in Naples, Florida, began in 2004 when the Board of Commissioners declared September as Freedom Month in the county. They wanted to create a memorial to pay tribute to members of the armed forces, law enforcement, firefighters, and emergency medical personnel who died during the terrorist attacks on September 11, 2001.
County officials also determined they wanted domestic fabrication and material for the project.
After years of planning and fundraising, the memorial was finally dedicated in September 2016. As visitors approach the memorial, set in the northeast corner of the 20-ha (50-acre) Fred W. Coyle Freedom Park, a bronze plaque contains a description sitting on Lake Superior Green and Sunset Red granite. At the center of the memorial stands a 4-m (13-ft) tall x 12-m (40-ft) wide waving flag. Carnelian granite creates the stars of the flag, and Sunset Red in two finishes was utilized for the stripes. Mesabi Black pavers and treads create a base shaped as the United States, and Kasota Valley Limestone pavers surround the front of the base. An eagle, rough shaped on a five-axis milling machine and then meticulously hand-carved in limestone, sits on the column next to the flag. Visitors can walk up and touch two steel slabs from the World Trade Center or admire the flag and three granite benches memorializing the three attacks of that day. In total, nearly 1493 m2 (4900 sf) of natural stone was used to bring this design to life. Precise fabrication was necessary to create the stars in the waving flag, as well as the curved granite pieces for the stripes. Three-dimensional (3D) modeling and computer-aided design (CAD) drawings were created to confirm an exact fit for the various intricate pieces on the memorial, thereby assuring a smooth installation.
Sustainability
Sustainability is also an important concern for many project owners today. With minimal processing, natural stone contains a lower embodied energy than almost any material it replaces and is durable. This longevity results in conserving the energy and resources of not demolishing and rebuilding.
As design teams and building owners have focused more on specifying sustainable products in recent years, many were left wondering how to know for certain their stone is produced in an environmentally responsible manner. In response, the stone industry developed a certification program in order to demonstrate environmental stewardship.
The American National Standards Institute (ANSI)/National Stone Council (NSC) 373, Natural Dimension Stone Standard Certification, was created to drive sustainability practices in the natural stone industry. Stone certification provides a layer of transparency and authentication to the production process, which was previously only self-reported by companies.
While the third-party-verified ANSI/NSC 373 is an international standard and available for stone producers around the world, only stone companies in the United States have presently chosen to seek and achieve certification.
As the standard gains acceptance around the globe, certified products will be one of the key differentiators among stone companies.
Whether working with a domestic or international stone supplier, it is important to source a certified stone supplier for project owners with sustainability goals. Now that many project owners are seeking certification with green building programs, they can know with certainty which stone suppliers align with their goals of minimizing waste, maintaining a small environmental footprint, and optimizing water and energy use. Since ANSI/NSC 373 is accepted by green building programs, such as Leadership in Energy and Environmental Design (LEED) v.4 and the Living Building Challenge (LBC) v. 3.1, a clear path exists to help projects achieve sustainability goals.
Conclusion
No matter the type of project, the goal remains the same—a beautiful accolade to stand the test of time. Natural stone meets these requirements as one of the most striking, durable material to use for building projects.
Dan Rea is senior vice-president of sales and marketing for Coldspring. He is also a member of the Natural Stone Institute (NSI) and served as president of the Marble Institute of America (MIA) in 2015. He can be reached via email at drea@coldspringusa.com.