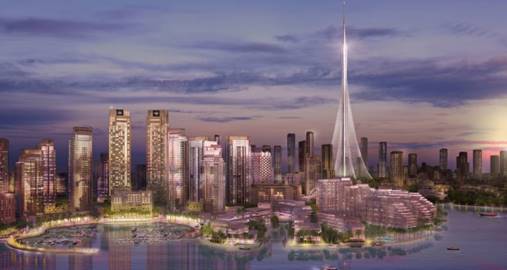 Rex Nichols Architects (RNA) of Fort Lauderdale has been commissioned to design the façades of 10 waterfront mixed-use high-rise buildings in Dubai as part of a 6-km2 (2.3-mi2) complex called Dubai Creek Harbor.
"We were approached by the senior manager of development for Dubai Creek Harbor based on the contemporary design featured on our website which perfectly aligns with the desired architectural style and language proposed for this high-profile development," reads a statement from RNA.
The firm was hired by property developer Emaar Properties, one of the largest developers in the world. RNA is under contract for this portion of preconstruction phase one. If selected to continue, the group will be the official lead architect for the 10 buildings in a joint-venture with Miami firm Robert Swedroe Architects.
The complex will also be home to the Calatrava-designed Dubai Creek Tower which, at 928 m (3045 ft) is expected to be the world's tallest tower.
The project is slated for completion in 2020.
Check out a video of the complex below, courtesy EmaarDubai.