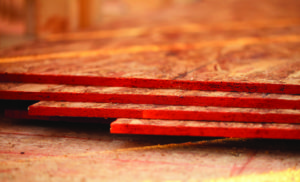 Engineered wood panels
OSB is a specially engineered product that exceeds many of the strength and performance characteristics of plywood. It is made by arranging rectangular wood strands blended with thermal-set, waterproof adhesives in cross-dimensional layers. These layers are consolidated under extreme pressure, creating a stiff, strong, and durable panel. OSB can be used for a variety of panel applications.
Sheathing
OSB panels are uniform, flat, workable, and remarkably strong. Builders use OSB-rated sheathing in walls and roofs to impart shear resistance. OSB panels transfer loads to the framing members to which they are fastened with nails or screws. They come in a wide variety of panel sizes and performance categories.
Sheathing for tall wall applications
These products are designed to increase wall strength and help meet code requirements in high wind and seismic zones. Typically, one continuous panel of sheathing connects the top and bottom plates. When installed vertically, they minimize cutting and reduce the need to install nailers or blocking.
Fire-rated sheathing
Fire-rated sheathing combines the strength of OSB with a fire-resistant coating to meet fire safety codes. It delivers 15-minute thermal barrier protection and carries a Class A flame spread rating (ASTM E84, Standard Test Method for Surface Burning Characteristics of Building Materials). Certain products in this category combine flame spread resistance and burn-through resistance in the same panel and, combined in an approved system, will provide one- and two-hour protection (International Building Code [IBC] Section 701). Some fire-rated OSB sheathing also carries design values for load/span and shear superior to FRT wood structural panels of the same thickness.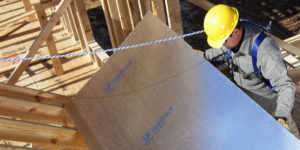 Radiant barrier sheathing
OSB radiant barrier sheathing panels are installed like conventional roof sheathing and can reduce monthly cooling costs by blocking most of the radiant heat in the panel from entering the attic. Some products in this category feature vapor venting to help prevent moisture buildup.
Subflooring
Strong, stiff, and dimensionally stable, OSB panels are suitable for hardwood floors, tile applications, and large projects that may get longer exposure to the elements during construction. Some products feature a clear-edge seal that protects against edge swell, and some have notches at the ends of the panel that allow rainwater to drain during construction. Use of construction adhesives in combination with nails or screws creates floors that reduce squeaks and improve performance.
Weather-resistive barrier
Weather-resistive barrier (WRB) panels are more water-resistant than ordinary OSB because they have an integrated overlay that also functions as an air barrier. The system speeds construction by using taped joints between panels instead of housewrap. This OSB is used for wall and roof applications.
Engineered wood as a smart alternative to shaft walls
In March 2015, Habitat for Humanity of New Castle County broke ground on Walnut Ridge in Wilmington, Delaware. The project would consist of nine units in total, including a four-pack and a five-pack of single-family attached townhomes. Fire-rated OSB sheathing was used on all nine townhomes as a code-compliant (IBC, Section 701) component of a two-hour partition wall assembly.
Sean Allen, director of construction and real estate for Habitat for Humanity of New Castle County, oversaw the build. Fire-rated OSB sheathing had been recommended to him by Grubb Lumber's John Connell, who had seen the product successfully used in townhomes in New Jersey.
"Volunteers with no building experience are not able to construct the traditional shaft wall assemblies," said Connell. "Trained framers need to drop in the plywood from a second story, which a volunteer is not equipped to do."
He noted the assembly "can be built by laying all the materials on the ground and then standing them up for easy installation."
This aspect was particularly appealing because the Habitat for Humanity townhomes were built by volunteers.
"Our volunteers range from people who have never touched a hammer to semiprofessional framers," said Allen. "The typical party wall uses a heavier material. Because we are using volunteers, the party walls were becoming especially cumbersome and posing safety issues."
Allen chose to have fire-rated OSB sheathing installed as a part of the assembly in hope it would simplify the assembly process for his volunteers. He also wanted to avoid any safety hazards a traditional shaft assembly wall may pose due to the complexity of the construction.
In total, approximately 270 sheets of fire-rated OSB sheathing were used throughout the nine townhomes. The site supervisors were able to easily instruct the volunteers on how to install the assembly, which eliminates the heavy, 25-mm (1-in.) thick gypsum and associated hardware typically required when using a shaft wall liner and thus allowed the volunteers to complete the work much faster.
"I would say the assemblies were built probably a month or two faster than a shaft wall assembly," said Allen. "If this job had production builders on staff, I can see how this product would greatly affect the cost of a build because of time and labor savings."
The architect on the job was Gary Seward of Architectural Alliance. He was responsible for developing the construction drawings and getting the assembly approved by the city building officials.
"Through the standard details within the manufacturer specifications and corresponding UL information, creating permit drawings and coordinating with the plan reviewer was very simple, even though they were unfamiliar with the product," said Seward.
The nine townhomes at Walnut Ridge were completed earlier this year.
"I heard a lot of feedback about the ease of installation from the site supervisors," said Allen. "Everyone was happy with the results."
Allen now plans to use fire-rated OSB sheathing in a similar assembly in another upcoming townhome project for Habitat for Humanity.
Engineering tomorrow's solutions
Manufacturers of engineered wood are continuously improving and innovating with better adhesives, component geometry, additives to improve durability and fire resistance, pressing technology, and new finishes. The goal is to keep improving the strength and versatility of engineered wood to make building easier and more efficient in the future.
Anton Pugel, PhD, is a senior research scientist with LP Building Products. He has more than 30 years of experience in engineered wood products research, university-level teaching, and process/equipment improvement. Pugel has a doctorate in wood mechanics from Colorado State University. He is a member of the Society of Wood Science and Technology (SWST), Forest Products Society (FPS), ASTM, American Wood Protection Association (AWPA), and the National Fire Protection Association (NFPA). Pugel can be reached at tony.pugel@lpcorp.com.