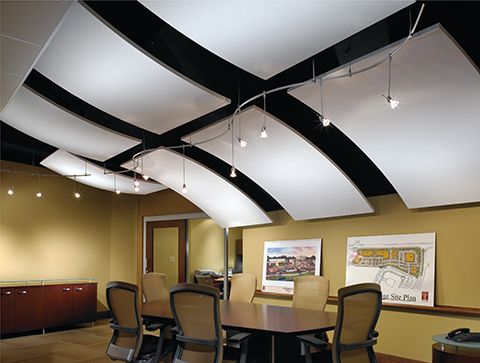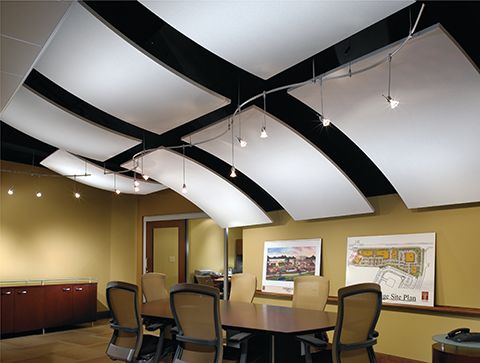 by Kenneth P. Roy, PhD, FASA, and Nathan Baxter
Until now, acoustics in commercial office buildings had not been a formal part of the Leadership in Energy and Environmental Design (LEED) rating systems except on a case-by-case basis. The new LEED v4 criteria, however, now takes into account the value of good acoustics in enhancing occupant satisfaction and productivity.
Under LEED v4, it is now possible to qualify for two points toward the new Acoustic Performance credit in the Indoor Environmental Quality (EQ) section of the Interior Design and Construction (Commercial Interiors) rating system, and one point in the Building Design and Construction (New Construction) system.
The intent of the credit in both systems is to provide workspaces that promote occupants' well-being, productivity, and communications through acoustic design that takes into account HVAC background noise, sound isolation, reverberation time, and sound reinforcement and masking systems.
Measures that can be taken in new construction projects to enhance the acoustic environment of commercial office spaces and, at the same time, meet LEED acoustic criteria will be described in this article. However, it is important to note the same measures can also be taken in retrofit and renovation projects as well—regardless of whether green certification is being sought.
Occupant dissatisfaction
The addition of acoustic performance to the LEED rating systems recognizes the results of occupant surveys the Center for the Built Environment (CBE) has conducted over the years. For example, CBE surveyed nearly 22,000 occupants in U.S. commercial office buildings and found acoustic quality to be the only negative factor in terms of the indoor environment. On a scale of +3.0 (satisfied) to −3.0 (dissatisfied), acoustics scored −0.30.
Additionally, nearly 5000 occupants were surveyed in LEED-certified office buildings, and acoustics was once again the only negative factor (−0.35). In terms of acoustics, there is little differentiation between LEED buildings and non-LEED buildings.
CBE survey results in office buildings also show the higher the LEED certification level, the lower the occupant satisfaction with acoustics. Acoustic satisfaction measured −0.53 in Platinum buildings, −0.47 in Gold, and −0.16 in Silver. As architects strive for higher certification levels, acoustics seem to be overlooked in preference to accumulating points.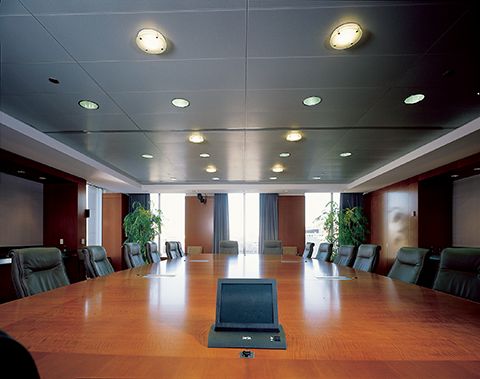 Speech privacy
The studies also indicate most of the acoustic complaints relate to speech privacy—overhearing an unwanted conversation or even the feeling one is being overheard. Keeping private conversations private is thus a key concern in conference rooms, executive offices, and other similar spaces in an office environment.
The degree of speech privacy attained in a particular space is indicated by its Privacy Index (PI). Expressed as a percentage, it takes into account the acoustical performance of everything in the space, including ceiling, walls, floorcovering, furniture, and background noise level. The higher the percentage, the better the speech privacy.
The recognized levels of speech privacy as defined by ASTM E1130, Standard Test Method for Objective Measurement of Speech Privacy in Open-plan Spaces Using Articulation Index, are covered in the following paragraphs.