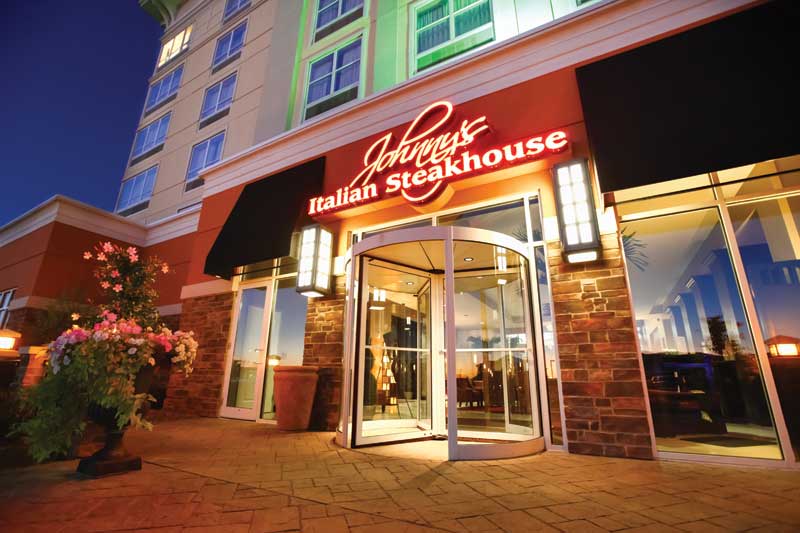 Step 3: Consider security
The news is filled with reports of protests and shootings. Due to these events, building owners are seeking ways to increase the security of their facilities. Security features are in high demand to meet current living conditions and corporate physical security policies.
When it comes to revolving doors, there are two ways to achieve additional security: one can start with public use door (e.g. manual revolving door) and restrict access some of the time, or select a security revolving door intended for employees or trained users and control tailgating and piggybacking at all times.1
With a dedicated power source, most manual revolving doors can be equipped for physical security. For example, they can be integrated with an access control system to allow for after-hours entry to only authorized users. Manual doors can also be locked at the push of a remotely mounted button, or automatically by the access control system at a certain time of day.
Architects must closely communicate with their clients to understand their stance on security and the features that work best for public use versus employee-only use.
Security revolving doors are metal-framed (stile and rail) and typically no more than 2 m (7 ft) in diameter to house detection technology inside the canopy, restrict traffic, and provide optimal security performance. When selecting a security revolving door, Step 4 can be skipped.
Step 4: Consider the compartment size and number of door wings
Manual revolving doors are available in three- or four-wing configurations, but a key concept is they are intended to accommodate one person per compartment, no matter the diameter of the door. Therefore, a three-wing door provides a larger compartment than a four-wing door, and this equates to more comfort for the user. For smaller-sized manual doors, especially three-wing doors with smaller throat openings, the selected diameter must be compatible with the International Building Code (IBC) Section 1010, "Doors, Gates and Turnstiles," and the National Fire Protection Association (NFPA) 101, Life Safety Code, Section 7.2, "Means of Egress Components." An aggregate egress width of 914 mm (36 in.) is required when revolving doors are in the collapsed position for emergency egress.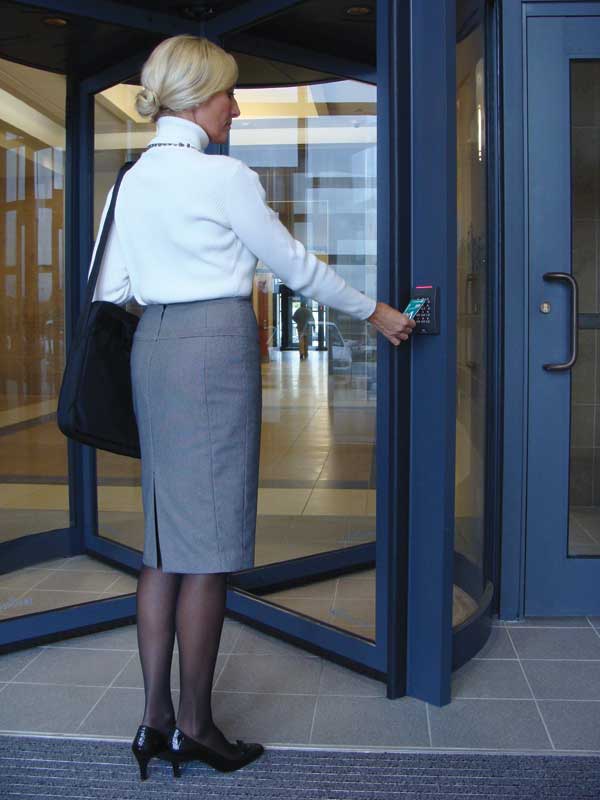 Automatic doors tend to be larger in size than manual doors and therefore can accommodate multiple people in each compartment. As an automatic door increases in diameter, so does the door's ability to accommodate wheelchairs, gurneys, and luggage. Consider the application when selecting the number of door wings. Comparing two doors with the same diameter, a two-wing door will better accommodate large gurneys while a four-wing door may not be able to. In these situations, it is recommended to seek the door manufacturer's advice.
Step 5: Provide consistent door drawings
Steps 1 to 4 can help determine the make and model of revolving door and obtain baseline drawings from the manufacturer for the project. Both the architect and specifier should ensure the drawing matches the decisions made in Steps 1, 2, and 3. Any inconsistency will confuse estimators, resulting in an RFI or the generation of numerous alternates.
In the author's experience, one of the most common inconsistencies between specifications and drawings involves the number of door wings and construction materials. For example, the author received a specification for a three-wing door with "stile and rail" construction, or a fully framed door. The drawing showed a four-wing, all-glass door with no frame. The difference in the price and installation of these two doors is significant. The estimator must guess which door type is desired and prepare a base bid with one or more alternates.