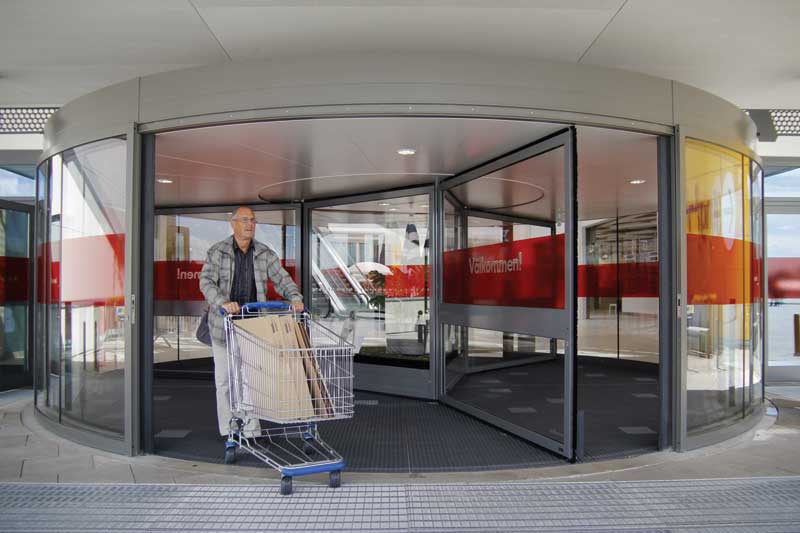 Step 6: Writing the spec
As an architect or specifier navigates a master revolving door spec, it is critical they use consistency when selecting the finish and glass types. It is common to see multiple finishes or glass types called out in a single spec. This leads to confusion. If Steps 1 to 4 have been followed, the task should be easier.
It is advisable to delete everything conflicting with a project's design needs from the master spec. Where the team is undecided, it is recommended to take steps to resolve the conflicts before the spec goes to bid, even if it means stating an alternate or other means by which the selection will be made later.
Another tip is to be specific. When calling out glass types, does "clear glass" mean regular clear glass or clear, low-iron glass? Is the anodized aluminum finish clear, black, or dark bronze? Is the stainless steel finish brushed or mirror polished? If instructional text exists from the manufacturer, it is advisable to read it and select the appropriate options as indicated, and remove options that are not to be used.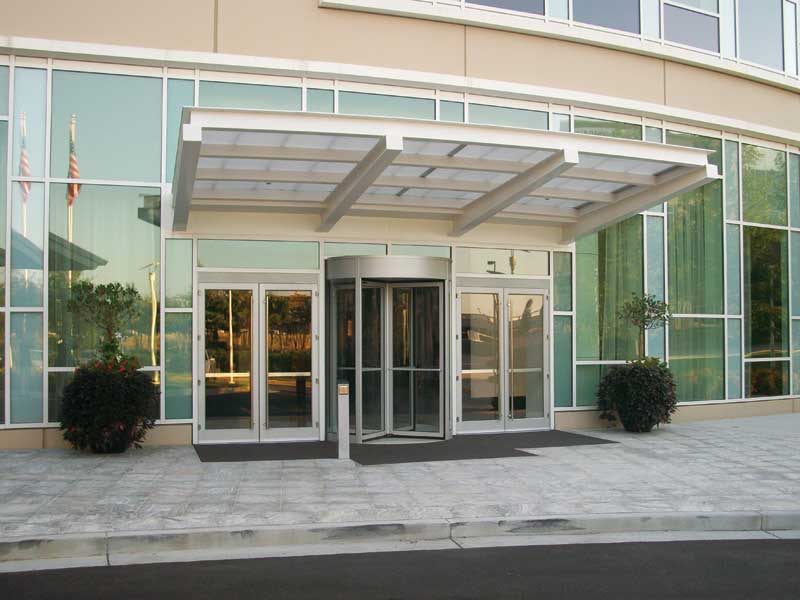 Step 7: Connecting the door to the building envelope
A revolving door can be connected to its surroundings in myriad ways. Architects and specifiers must weigh the pros and cons of each connection type and consider how each affects their client's day-to-day operations.
Connections really matter. For example, consider the impact of an interior-mounted door. The revolving door is completely inside the building. While no awning or protective overhang is required, a retail or hospitality client would lose precious interior space that could possibly be used to generate revenue, or the door may start to encroach on a nearby elevator lobby, stairs, or escalators.
The opposite effect is experienced with an exterior-mounted revolving door. Interior space is freed-up, but a protective building overhang is required to protect the door from the weathering effects of rain and snow.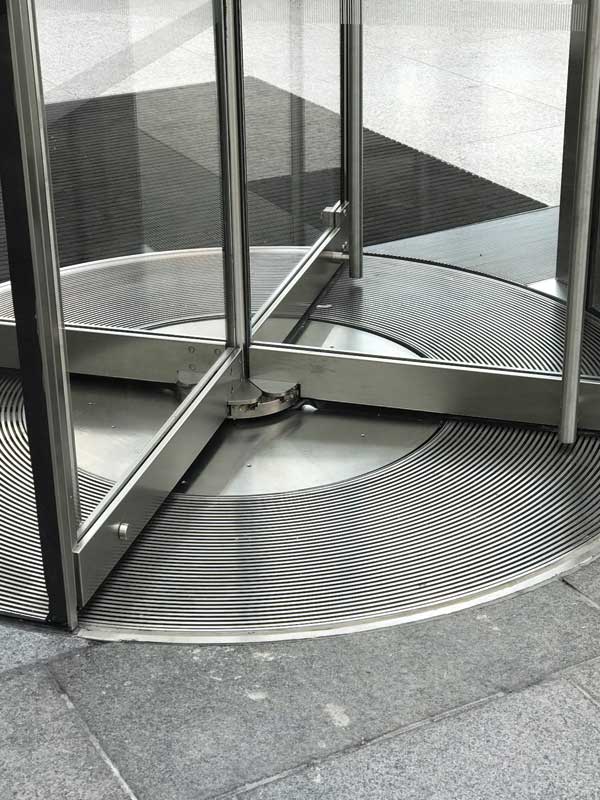 Step 8: Indicate the desired flooring
Flooring is an important aspect to consider when specifying a revolving door. Either the flooring selection can blend in with the existing surround or it can stand out, as a circular footprint using a complementary floor finish, to indicate to the user where to step inside. Flooring can prevent stumbling or falling on rainy days, or it could collect dirt and debris from shoes, helping to maintain a clean entryway. The possibilities are virtually endless.
In the author's experience, one of the most popular flooring materials today are stainless steel floor grills. Grills trap leaves, dirt, and water and tend to be more aesthetically pleasing than other floor types with the same capabilities such as entry mats. Grills may also contribute to Leadership in Energy and Environmental Design (LEED) certification.
Door manufacturers do not typically supply flooring themselves, but this does not mean the selection should not be included in the "Related" section of the spec, as the flooring can have an impact on the installation of the door.
Additionally, the specification must be consistent when calling out a flooring type. For instance, the author has seen specifications about extending the adjacent flooring into the revolving door in one section, while another section says a floor grill must be provided. This leads to confusion (i.e. do they want a floor grill, or did they forget to edit it out?).
Conclusion
Following these eight steps will make a cohesive revolving door specification and drawing package that is clear and easy to bid. Core needs will be addressed. Misunderstandings and wasted time and money can be eliminated. If unsure about the door type to specify, it is recommended to discuss the project's needs with the door manufacturer.
Checklist for syncing up drawings an specifications
Use this checklist to clarify key decisions about the type of revolving door needed (make and model) for the project. This will help harmonize the drawing and specification.
How many and what type of people need to use the door (per direction, per minute)?
Is it a manual or automatic revolving door?
a. If manual revolving door:
i. Construction: metal-framed (stile and rail) or all-glass?
ii. What type of canopy? If:
1) Framed metal: specify canopy height.
2) Glass: specify a floor-mounted speed control or drive mechanism.
iii. How many door wings? Three or four?
iv. What is the diameter?
v. Horizontal or vertical push bars?
vi. What are the security/locking needs?
1) If manual, slide-bolt locks on floor or ceiling (latter is not recommended if door is taller than someone can reach)?
2) If electronic, enable wing locking via access control integration or remote push button?
b. If automatic revolving door:
i. Is the door a security revolving door to control access? If:
1) Yes, choose a model type below and specify diameter as offered from manufacturer and then continue to Step 3:
a. four-wing, simultaneous bi-directional throughput model;
b. three-wing, sequential bi-directional throughput model; or
c. three-wing, one-way traffic model.
2) No, go to "b.ii."
ii. How many door wings? Two, three, or four?
iii. What is the diameter?
iv. What is the canopy height?
v. What is the door wing height or height under the interior ceiling?
vi. What are the security/locking needs? Specify manual slide-bolt locks on floor or ceiling to be used to lock door wings if power fails.
What is the metal finish (where applicable): anodized aluminum, stainless steel, or bronze?
What is the glass type: clear, tinted, low-iron, laminated, or vandal- or bullet-resistant?
How is it attached to the building: midpost, throat opening, or keyhole (extra storefront structure to create a "hallway" to the throat opening)?
What type of flooring?
What is the roof covering: will the door's roof be visible from above? Specify covering as plywood, metal, water/weather-resistant cover, etc.
Glen Tracy is national sales manager, architectural revolving doors, for Boon Edam. Tracy grew up in the revolving door business with his father, Richard Tracy, who manufactured revolving door systems in Chicago for more than 30 years. He has been employed at Boon Edam for more than 18 years and has held various leadership roles. A resident of Salt Lake City, Utah, Tracy has a long history of working closely with architects, glazing contractors, consultants, and key customers across several verticals since 1986. He can be reached at Glen.Tracy@boonedam.com.