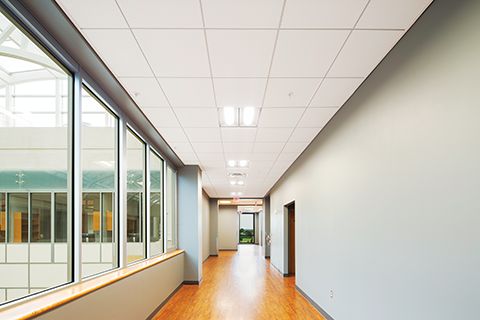 Installation and inspection
As noted in the chart, most ceiling systems are offered in 'intermediate-duty' and 'heavy-duty' performance per ASTM C635, Standard Specification for the Manufacture, Performance, and Testing of Metal Suspension Systems for Acoustical Tile and Lay-in Panel Ceilings, to satisfy the requirements of all seismic code constructions. The exposed tee construction permits direct upward access to mechanical systems and is a cost-effective solution to seismic requirements. Stab-in cross-tees cantilever during installation and will not fall out, making not only for an easier installation, but also protecting against lateral pull-out.
Current code requirements include a 50-mm (2-in.) wide perimeter wall molding, and stabilizer bars to provide support, and prevent the ceiling grid from spreading apart along the molding. Some ceiling manufacturers offer a seismic perimeter clip as an alternate method of stabilizing tees at the perimeter. This allows installing contractors to use a 24-mm (15⁄16-in.) angle in lieu of the 50-mm (2-in.) angle and eliminates costly stabilizer bars. Supporting timesaving, error-free installation, at least one manufacturer provides the seismic perimeter clip with pre-drilled screw holes and in a bright gold to make it easily identifiable on jobsite inspections.
While IBC establishes the requirements, it is the code official that has the power to enforce its provisions. Code officials also have the latitude to allow materials and methods of construction not addressed in the code. In this case, they can perform their own analysis of the evidence presented or they can rely on independent, qualified sources such as International Code Council-Evaluation Services (ICC-ES) to do the analysis and provide their findings. The ICC-ES resulting report is specific, technical evidence on which the code official can base approval of a particular design without delaying construction.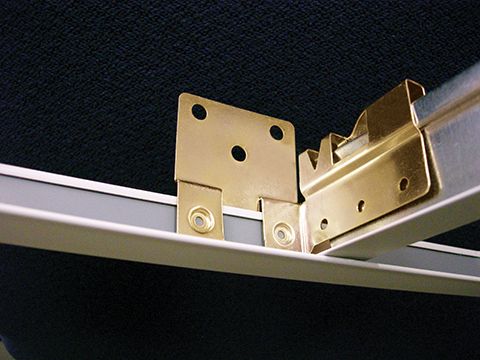 As ceiling panel performance and non-tee bar suspension systems are not well-defined in the IBC requirements, ceiling system manufacturers and structural engineering firms have worked together to test both standard and non-standard ceiling systems for seismic performance at the Structural Engineering Earthquake Simulation Laboratory (SEESL) at the State University of New York (SUNY) at Buffalo. The results of these full-scale seismic tests offer proven safety and performance support for standard and non-standard ceilings, flexible design options, and more efficient installation designs.
Properly specified and installed, ceiling suspension systems with acoustic panels can meet current codes and seismic performance requirements in all SDCs and all U.S. jurisdictions. When engineered to reduce installation time, ceiling suspension systems not only support life safety and the property preservation during an earthquake, but they also can save associated material and labor costs. Combined with the inherent properties of stone wool acoustic ceiling panels, these systems also protect people from noise and the spread of fire, while making a constructive contribution toward a sustainable future. For more information on stone wool ceiling assemblies, click here.
Mark Taylor is the marketing manager for Rockfon's ceiling systems for North America. He began his career in the commercial building industry as a carpenter; in addition to field experience, he earned a bachelor's degree in industrial technology from Eastern Illinois University. Continuing to grow and share his industry knowledge, Taylor is a member of the Ceilings & Interior Systems Construction Association (CISCA) and recently published Rockfon's new brochure titled, "Seismic Relief." He can be reached at mtaylor@rockfon.com.