by Jason Kelso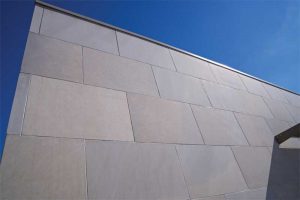 The design and construction of today's commercial buildings require a seamless integration of high performance with aesthetics and functionality. This must be achieved while containing the material, labor, and installation costs of the products specified.
One critical area of the building receiving plenty of attention from architects, specifiers, building owners, and manufacturers is exterior cladding systems. While there are many options on the market with differing materials and varying degrees of cost, weight, and thickness, as well as ease of installation, composite wall panels made from natural stone provide a versatile, high-performing option for building design and construction teams. These systems allow architects to design innovative, affordable, sustainable, and aesthetically pleasing building exteriors.
Limestone
As versatile and attractive as it is durable, limestone—a rock that is primarily formed of calcium carbonate—is suitable for architectural finishes and sustainable construction applications for nearly any building type. Indiana limestone, quarried in southcentral Indiana between the cities of Bloomington and Bedford, is one of the highest quality limestones in the United States. The limestone was deposited for millions of years as marine fossils decomposed at the bottom of a shallow inland sea that covered most of present-day Midwestern United States during the Mississippian Period.
The limestone is soft and easily worked when quarried, but once the rock dries, it becomes case-hardened, meaning its surface becomes harder and more resistant to weathering. Indiana limestone is freestone (i.e. it has no preferential direction of splitting). It can be planed, turned on a lathe, sawed, and hand-worked, making it highly versatile. For a rock, Indiana limestone is chemically pure and consistent, as it is composed of more than 97 percent calcite. The combination of these physical and chemical characteristics makes Indiana limestone a suitable building material. In fact, this stone has adorned some of the world's most famous buildings, including the National Cathedral, Empire State Building, the Pentagon, and 35 of the 50 state capitol buildings.
Fabrication process
Most natural stone composite panel products are manufactured in a four-layer, 'sandwich-panel' where a 6-mm (¼-in.) thick stone veneer is bonded to a waterproof fiberglass layer using an astronautical grade epoxy that also secures the aluminum honeycomb center with the chosen backing. This is accomplished by laminating the layer of epoxy-reinforced, fiber-rich cloth directly over the honeycomb to provide crack and fracture resistance as well as flexural and impact strength. The stone veneer, fiber-rich epoxy saturated material, and aluminum honeycomb backing are then placed into a press for laminating the layers together, creating a nominal 25-mm (1-in.) panel. The resulting bond strength is such that it would require more than 30,028 kg (66,200 lb) per square foot to separate the limestone from the aluminum honeycomb substrate.
The epoxy-reinforced fiber skin backing provides an additional weatherproof barrier that does not exist with a solid, porous stone cladding system. These properties make lightweight limestone panels an ideal solution for multistory buildings where cladding durability and redundancy in moisture management are paramount.
When choosing a stone panel system, it is advisable to request as much third-party testing data as available, especially relating to impact testing. This helps ensure the panel could stand up to natural weather occurrences, such as seismic events, hurricanes, and very high winds. A good rule of thumb is to specify stone panel systems tested and approved to the stringent standards of the Miami-Dade County Notice of Acceptance (NOA) of the Florida Building Code (FBC). Specifiers should also take into account additional performance attributes, such as freeze/thaw cycles that can impact the strength of a stone panel system. For example, stone manufacturers should include information on how the system performs in accordance to ASTM C880, Standard Test Method for Flexural Strength of Dimension Stone, and ASTM D897, Standard Test Method for Tensile Properties of Adhesive Bonds. These procedures test the strength, durability, and performance of natural stone systems and can provide a measure of assurance the system can withstand extreme weather conditions without the loss of performance or bond to the honeycomb backing.