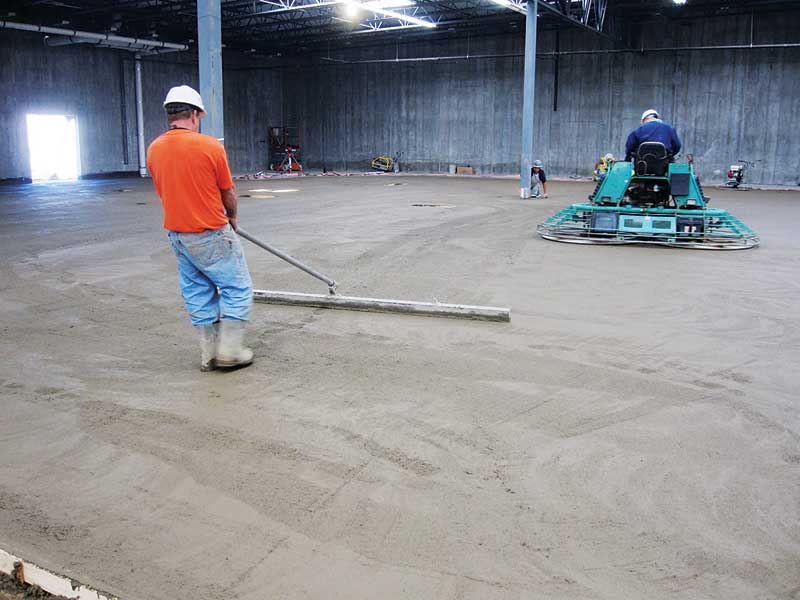 by Todd Scharich, Chad Gill, PE, Steve Lloyd, Pat Harrison, and Bruce Suprenant, PE, PhD, FACI
One of the biggest mistakes a designer can make when specifying polished concrete slabs is to state, "Concrete for polished concrete, including formwork, reinforcement, concrete materials, mixture design, placement procedures, initial finishing, and curing is specified in Section 03 30 00 Cast-in-Place Concrete." If the slab is specified by this method, the polished concrete will likely not make the owner happy.
Concrete suitable for many floorings materials is usually unsuitable for polishing. Specifiers and owners often delay selecting floorcoverings or other treatments until after the concrete contract is signed or even after it is placed. Due to satisfactory past experiences, this has worked for most tiles or carpeting, but this approach will not work for polished concrete. (To narrow the scope of this article, the authors focus only on normal-weight concrete slabs-on-ground, although much of the information found in this text would also apply to normal- and lightweight suspended slabs).
Acknowledge the difference by separating into 
two specification sections
The first step is to alert the other design professionals the concrete slab to be polished must be specified differently. This then alerts the construction team it must also be constructed differently. To effectively communicate this difference, the specifications for concrete slabs should be separated into:

03 30 00–Cast-in-Place Concrete for concrete not designated as polished concrete; and

03 3X XX–Cast-in-Place Concrete for concrete designated as polished concrete.
These concrete specification sections in 03 35 43–Polished Concrete Finishing should then be cross-referenced. To specify the concrete slab, it is important to determine not only how to specify properties, performance, or attributes that may not be measureable, but also what is different about a concrete slab that is to be polished.
Specifying the concrete slab when attributes 
are not measureable
Although polished concrete floor slabs have been built for 15 years, we still do not have adequate methods to specify all the performance criteria. As a result, some specifications focus on quality assurance (QA) and quality control (QC) measures.
Pre-qualification requirements
Contractors should qualify for the job by setting minimum requirements for either the number of projects or the number of years of placing and finishing concrete to be polished.
A 93,000-m2 (1 million-sf) industrial slab pre-qualifies bidders based on the scope of work and the equipment that is involved. However, all concrete contractors believe they can place and finish 90 to 450 m2 (1000 to 5000 sf) of concrete to be polished. Contractors can believe this, but the specifier should not.
Experience working with a polishing contractor or experience in understanding an owner's complaints about a completed polished concrete project is invaluable. One should review contractor's qualifications carefully.