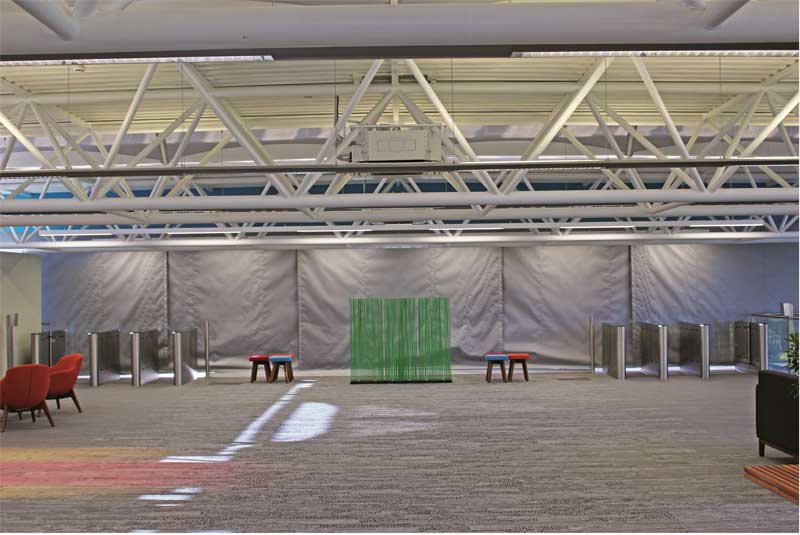 by Douglas H. Evans, PE, FSFPE, and Vickie J. Lovell
Fire curtains used as fire-protection features in commercial buildings have had a controversial history. In 1672, a fire at the Drury Lane Theater in London prompted the owners to rebuild with two safety features: a large water tank perched on the roof to douse potential stage fires, and the world's first known safety curtain—an iron curtain mounted in front of the stage to protect the audience from back-stage fires. The new building lasted more than 120 years. In 1791, it was demolished to make way for a larger theatre, which opened in 1794. The rebuilt Drury Lane Theater survived for 15 years before burning down in 1809.
A century later, a fire curtain at Chicago's Iroquois Theatre failed to deploy properly on December 30, 1903, snagging on a light reflector sticking out under the proscenium arch. (For more information on the accident, read Tinder Box: The Iroquois Theatre Disaster 1903 by Anthony P. Hatch [2003, Chicago Academy of Publishers] and Chicago Death Trap: The Iroquois Theatre Fire of 1903 by Nat Brandt [2003, Southern Illinois University Press].)Even if it had deployed, the curtain would have done little to save the 602 patrons who died that afternoon. There were many other contributing factors to the disaster, including:
no exit signs, emergency lighting, extinguishers, sprinklers, alarms, or water connections;
exit doors opened inward; and
some exits were also locked.
The curtain was made with asbestos fiber interwoven with wire and contained wood pulp. It had not been tested for performance.
In the past, the usefulness of fire curtains was met with skepticism by some authorities. Such doubts of the earliest designs and applications may have been warranted. However, from the 1980s, significant advancements in design, technology, and engineering of these curtains has revived interest among engineers and architects in the product's commercial applications. Today, fire- and smoke-protective curtains are gaining more and more acceptance in locations well beyond the theater because they are flexible, easier to conceal above ceilings and in small spaces, and cheaper than other products.
As fire-protective curtains continue to evolve technically, the standards and codes defining and driving performance of such fixtures are also being developed by regulatory authorities. Underwriters Laboratories (UL), the International Building Code (IBC), the National Fire Protection Association (NFPA), and International Fire Code (IFC) have sections on fire-protective curtain assemblies. Fire-service professionals need to know which codes and standards apply, and where today's modern fire-protective curtains can or cannot be used. (This article is based on a white paper on smoke- and fire-protective curtains the authors prepared last spring. It is intended for informational purposes only and is not an official interpretation of the code authorized by any regulatory agency identified in the report.)