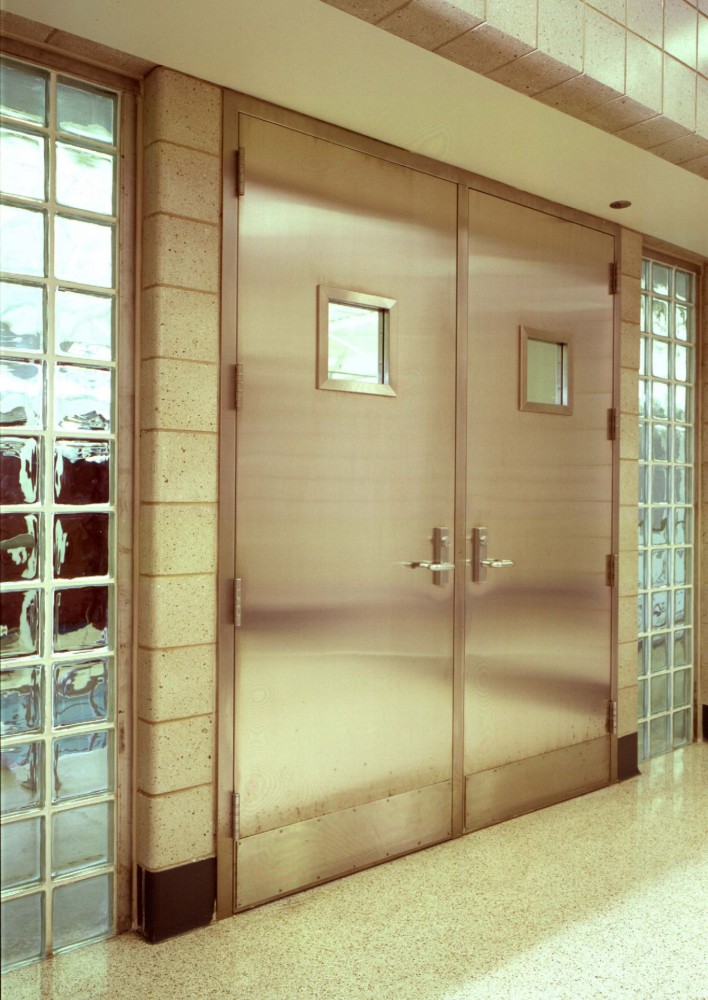 by Jason Doose
Due to their construction, steel doors withstand years of weather and other adversarial conditions. They are stronger than traditional wood and fiberglass doors, reducing the chances of shrinking, swelling, and warping. They resist fire and cracking, are extremely durable, and provide an affordable solution that lasts many years. Steel doors also tend to be the best choice when security is a main concern.
Since steel doors are strong and durable, lasting 30 years or longer, these products offer low total cost of ownership. Further, they can be inexpensively repaired in the field.
This article examines various types of panel and flush steel doors in terms of options that protect against extreme weather, corrosion, and blasts, along with specialized assemblies for healthcare and retail projects. It also reviews some of the relevant code and standard-related tables offered by two major manufacturing associations for steel doors. (Other types of doors, including aluminum-based ones, are governed by other codes.)
Core benefits
Hollow steel doors can meet a number of performance requirements by using their flexibility with core type and construction techniques. Acoustics is one example of how the core type specified can alter a door's performance.
Sound Transmission Class (STC) is a ranking system that takes the transmission loss data at specific frequencies, and reports a single value representing the door's acoustical performance. The differing core design and construction techniques are designed to reduce vibration, which minimizes sound transmission.
Honeycomb cores, which employ heavyweight, closed-cell paper, are laminated to the door face and impregnated with a compound to resist mildew and vermin, are generally used in interior openings that experience low- to medium-frequency traffic. This core type is lighter in weight and lower in price compared with others, but still maintains superior cycle, twist, and security performance.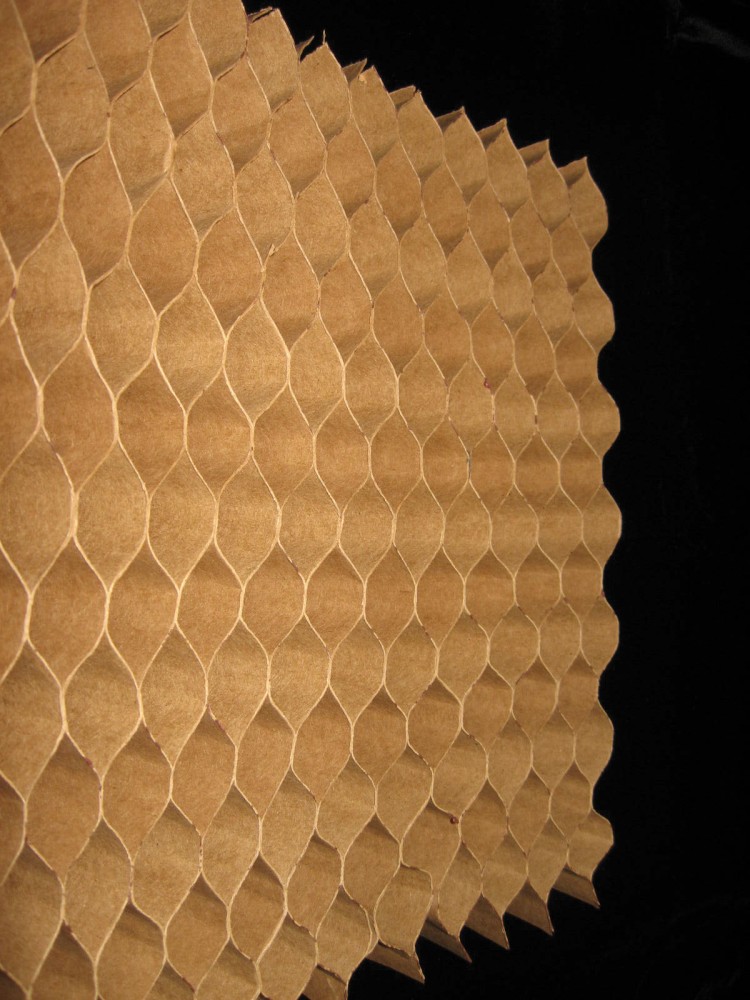 Polystyrene and polyurethane cores can be injected with, or employ slabs of, material. These are best used where fair to great thermal insulating values are needed. Steel-stiffened cores contain full-door-height metal channels typically 20 to 22 gauge. They are more commonly used in highly abusive environments, such as detention facilities.
The last popular core type is a mineral core with certain properties slowing heat's transmission from the fire-side of the opening to the non-fire side. These are commonly used in stairwells where, in emergency situations, occupants can safely exit the building.
Using filler compounds, building owners can benefit from having seamless edges the entire height created with interlocked edges providing both an attractive look and structural support and stability to the full height of the door edges. Beveled hinge and lock edges allow for tighter installation tolerances to ensure easier operation and eliminate binding and sticking.
Stainless steel advantages
The quintessential metal door is one that uses all stainless steel components and reinforcements, protecting it from corrosions both visible and hidden. Stainless steel doors also provide a striking look combined with performance suitable for airports, restaurants, museums, and performing arts centers. Other performance-related applications would be in sterile locations, such as hospitals or laboratories. They can also be thought of as environmentally responsible since stainless steel is 100 percent recyclable.
Depending on the application needs, various cores can be selected for a stainless steel door, including polystyrene, honeycomb, and polyurethane. Aesthetically pleasing seamless door edges are available, as well as an exposed interlocking seam in assorted steel thicknesses to meet application needs.
There are two different types of stainless steel alloy from which to choose: Type 304 alloys for typical corrosion-resistance, and Type 316 for more heavy-duty applications. These doors offer excellent value and withstand harsh environments such as those found in wastewater treatment plants, food-processing plants, bio laboratories, and indoor aquatic environments. Stainless steel doors, frames, and internal components fabricated from 100 percent stainless steel are available.
When specifying a stainless steel door, it is important to ensure it has never been clad. This is critical for controlling the risk of galvanic corrosion when dissimilar metals are in direct contact with one another. Specifying 100 percent stainless steel helps make certain there is no contamination from dissimilar metals that can result in galvanic corrosion.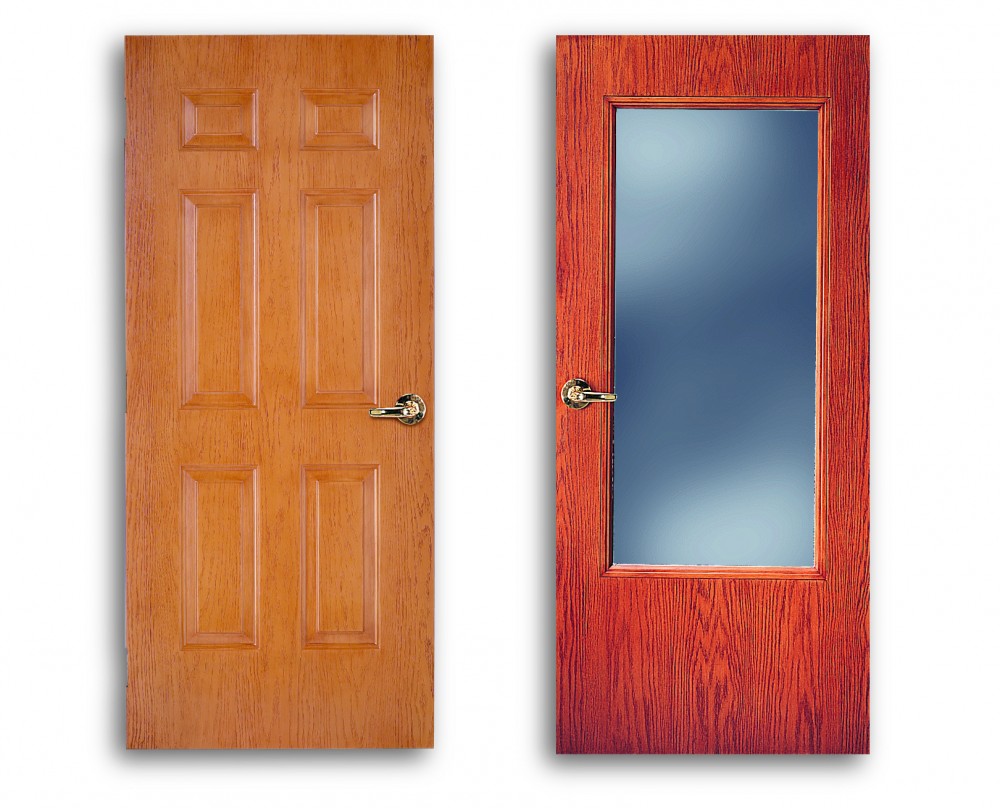 Embossed and engrained panel doors
Many building owners want the durability of steel, but still desire the beauty of wood. Thankfully, this is not an either/or decision. Engraining and staining processes can simulate a wide variety of wood finishes, from ash to walnut, including custom finish-matching to wood types already installed or being installed in the facility.
Some manufacturers will employ a rolled grain impression that matches a textured grain pattern. A clear coat over the desired stain finish allows for resistance against ultraviolet (UV) light and graffiti; it can be fully warranted for use on exterior openings.
Panel doors can also feature deeply embossed panels that create the appearance of hand-carved doors. These features are mechanically embossed in each panel, creating a consistent appearance. Unlike veneered or solid wood doors, though, these steel doors can be fully warranted for use on exterior openings and are far less susceptible to damage. They are available with a full range of positive pressure fire ratings, from 20 minutes to three hours.
Full-glass entries
Steel full-glass entrance doors are designed to meet the architectural requirements for exterior entrance applications, such as retail stores. They meet the need for doors for high-frequency openings and entrances where large full glass or multi-light configurations are required. Premium door construction combines the strength and dimensional stability of steel with the structural integrity of the laminate core with internal gussets to provide added strength and rigidity.
Flush doors and storms
Full-flush steel doors are designed for virtually all construction requirements in commercial building applications. Their construction, durability, and flexibility have been proven in both operation and physical testing of all types. Specifiable options include:
core types;
sizes (standard single-leaf sizes include 1.2 x 3.1 m [4 x 10 ft], but custom manufacturing can go much larger);
glass lite designs;
edge constructions (e.g. square or beveled edge, and filled-edge or welded-edge seams); and
hardware (i.e. mechanical, pneumatic, electrical) preparations.
Other flush doors have been specifically designed, tested, and approved to withstand extreme winds and flying missile impact. Unique engineered designs combined with the durability of superior corrosive resistant steel make them popular for added building protection from severe weather. These doors and frames have been designed and tested to address the requirements of:
U.S. Federal Emergency Management Agency (FEMA) 361, Design and Construction Guidance for Community Safe Rooms;
FEMA 320, Taking Shelter From the Storm: Building a Safe Room for Your Home or Small Business; and
American National Standards Institute/International Code Council (ANSI/ICC) 500, Standard for the Design and Construction of Storm Shelters.
For compliance with the standards, the door and frame must be tested and supplied as a system.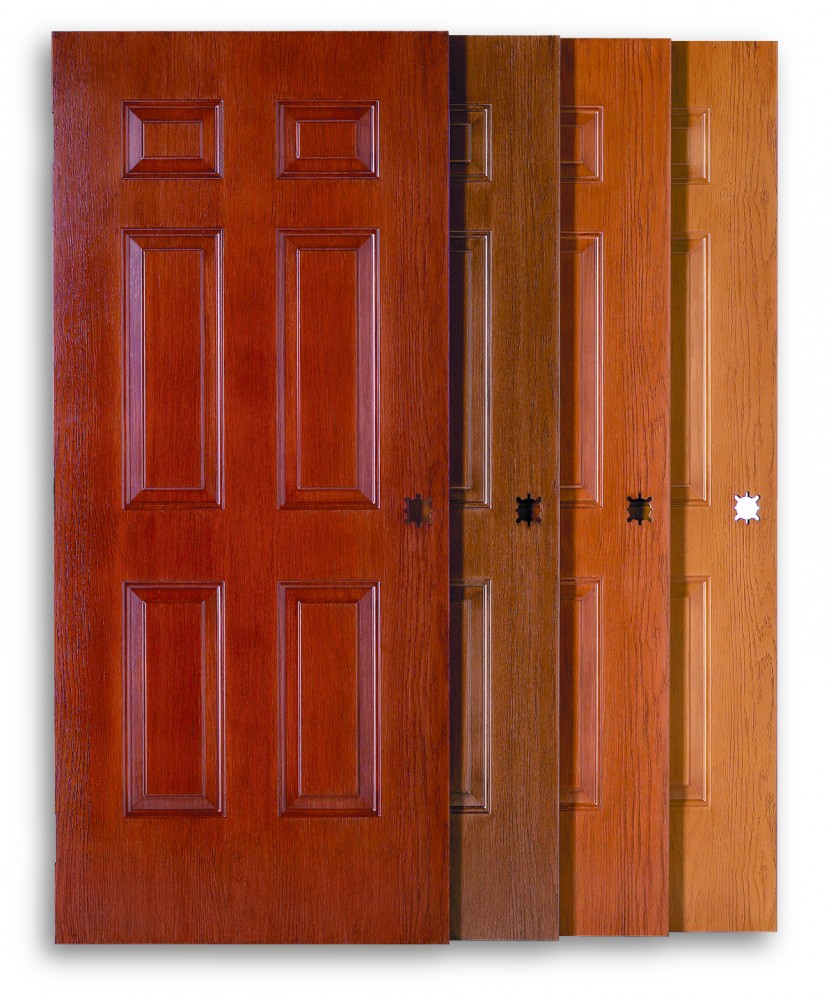 Some doors have been specifically designed and tested to meet the performance-based provisions of the high-wind-centric Florida Building Code (FBC) and South Florida Building Code (SFBC) while still providing design professionals with the broadest choices for their specific applications.
For instance, panel doors can have options to meet application, specification, and performance requirements that include mechanical and electrical hardware preparations for exit hardware, cylindrical or mortise single point locks, and double locks. When specifying such doors, it is important to ensure they have been gauged to protocols under testing application standards (TAS) 201, 202, and 203 of FBC's "Test Protocol for High-velocity Hurricane Zones"—this indicates their ability to withstand the prescribed missile impact, structural load, and cyclic wind pressure tests.
There are many door types designed and tested to these codes. Specifiable options include:
glass lites, transom, and sidelights;
louvres;
exit hardware;
cylindrical or mortise single-point locks; and
various core and edge construction options.
They should also meet the same TAS protocols.
Having a blast
The ultimate in options for metal doors is the blast-resistant door. Blast openings can have peak blast pressure ratings ranging from low levels of 7 to 14 kPa (1 to 2 psi) to highly engineered openings with levels exceeding 69 kPa (10 psi). Buyers of these doors need to understand the peak pressure, impulse load, and hazard category required for their opening.
Military and government installations, such as housing, hospitals, embassies, office buildings, and other facilities can obtain popular standard-series honeycomb or steel-stiffened core models with multiple glazing and hardware options. These models have been established to provide an enhanced level of protection for personnel from the threat of explosive reactions.
There are many references governing blast-resistant opening needs; one example is the U.S. Department of Defense (DOD) Unified Facilities Criteria (UFC) Minimum Anti-terrorism Standards for Buildings (UFC 4-010-01). The results of ASTM F1642, Standard Test Method for Glazing and Glazing Systems Subject to Airblast Loadings, and ASTM F2927-12, Standard Test Method for Door Systems Subject to Airblast Loadings, demonstrate doors meet and even exceed UFC and Anti-terrorist Force Protection (ATFP) minimum standards for blast-resistant designation set by DOD.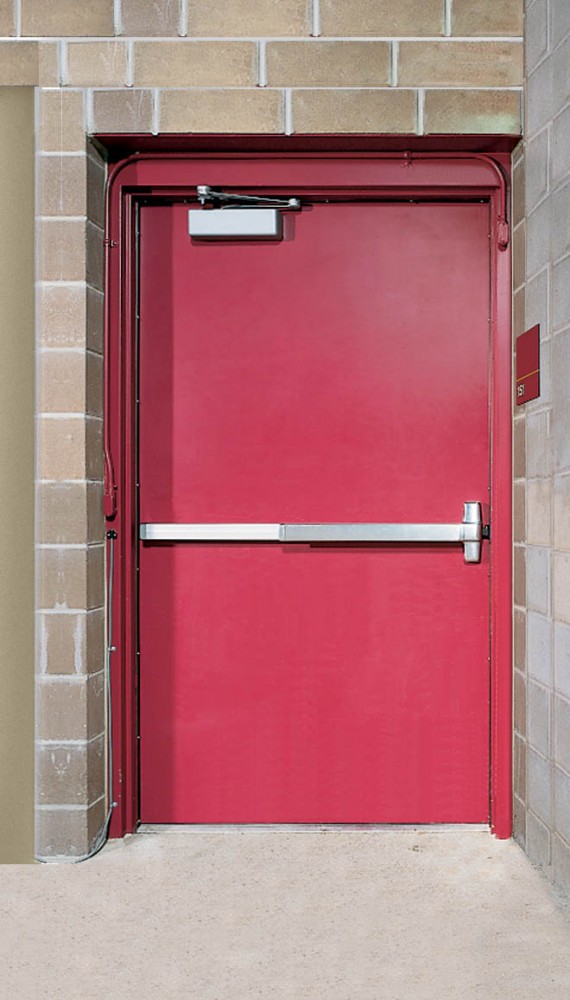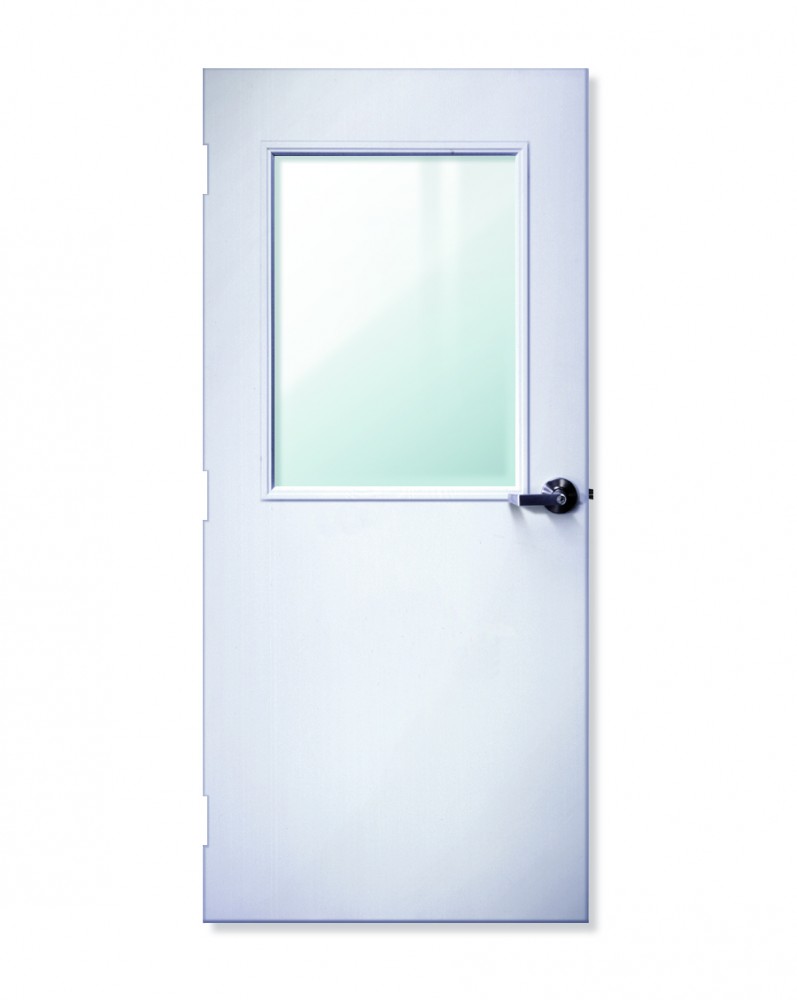 Knowing codes and standards
Installing a door that does not meet the codes and standards required by a particular opening is a waste of time and money—to say nothing of the prospective damage and injury it could cause. However, this is not always a simple task. A look at a quick reference on the back of one datasheet for a metal door might state:
Door construction meets the requirements of ANSI A250.8-2003/Steel Door Institute (SDI) 100, Recommended Specifications for Standard Steel Doors and Frames.
Hardware preparations and reinforcements are in accordance with ANSI A250.6-2003, Recommended Practice for Hardware Reinforcing on Standard Steel Doors and Frames. Locations are in accordance with ANSI/Door Hardware Institute (DHI) A115, Steel Door Preparation Standards; alternate locations are available.
While there is not enough room in one article to go over all the standards and codes for metal doors, both National Association of Architectural Metal Manufacturers (NAAMM) and SDI can provide guidance.1
The groups test steel doors and frames for strength, quality, consistency, security, weather and fire resistance, wear and tear, and longevity. Testing is undertaken in conjunction with Underwriters Laboratories (UL), National Fire Protection Association (NFPA), ANSI, and ASTM International. Additionally, SDI works alongside industry associations representing related products such as DHI and the Builders Hardware Manufacturers Association (BHMA) to ensure compatibility with products used in conjunction with steel doors and frames.
From both, in clear and concise writing, design professionals can find out what each code or standard means and where it applies. Then, when selecting the doors for a project, one can ensure the right assemblies are being specified.
Notes
1 To reach the former, visit www.naamm.org, click to "HMMA," and select "Technical Literature." For the other, visit www.steeldoor.org and select "ANSI/SDI Documents." (back to top)
Jason Doose is a Steelcraft product manager for Allegion (formerly Ingersoll Rand). In his eight years with the company, he has also held positions in product engineering. Doose holds a degree in mechanical engineering from the University of Cincinnati and a MBA from Xavier University. He is a member of Pi Tau Sigma, the national mechanical engineering honorary society. Doose can be contacted at jason.doose@allegion.com.