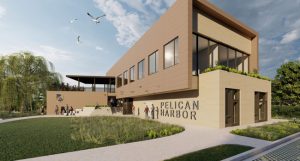 Stiles Architectural Group (SAG) is designing Miami's new Pelican Harbor Seabird Station and Deeks' Wildlife Center.
With nearly 2500 annual wildlife patients and growing, the bird and wildlife rehabilitation facility Pelican Harbor Seabird Station is building a new home. The center is working with SAG, will be serving as the project architect, to design a facility inspired by nature.
Pelican Harbor Seabird Station and Deeks' Wildlife Center is located on the Little River in Miami 1.6 km (1 mi) from its current location on Biscayne Bay. Built on 1 ha (2.6 acre), the new 725-m2 (7800-sf) facility is nearly 6.5 times larger than the 88-m2 (950-sf) space it has since opening in 1992. The center will house recuperating animals and provide education, with a rooftop terrace to host events and workshops.
"In designing the space, we aimed to create a refuge for the animals that would have the least impact on the environment and integrate seamlessly into its surroundings on the river," said Nathan Hoofnagle, SAG project architect.
The center's state-of-the-art design uses natural materials and offers a modern, open concept easily integrating the structure within its natural context. SAG aimed to preserve as many of the existing trees on the site as possible while also maximizing views of Little River from every angle of the two-story building.
The design of Pelican Harbor had to be as functional for education and events as it is beautiful, said Kevin Cruz, SAG president. "Our team was tasked with designing a space that would maximize water views, improve the visitor experience, and create a more comfortable, usable setting for the staff and animals."
SAG's minimalist design plans to reduce any potential environmental impact during and post construction. For example, the team uses native and low-maintenance landscaping and pervious pavers that will allow water to flow through the surface. The facility's second floor will house a 93-m2 (1000-sf) exhibition space and outdoor terrace overlooking the multipurpose event lawn, river walk, and education ambassador animal exhibits. Additionally, the project will be Green Globes certified.