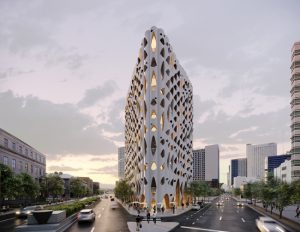 Studio Gang and Denver-based real estate firm Urban Villages have revealed designs of a new 13,471-m2 (145,000-sf), 13-story mixed-use building called 'Populus,' which will be located immediately adjacent to Civic Center Park in Denver, Colorado.
Populus is designed to reenergize Civic Center Park, connecting the Golden Triangle Creative District to downtown Denver. The building will include a 250-key hotel, 40 micro-apartments, a public rooftop bar and view deck, a variety of event spaces including an expansive ballroom with views of the Colorado State Capitol, and an activated ground-level lobby with multiple food and beverage offerings.
"As the signature private development on Civic Center Park, Urban Villages felt a responsibility to create a community asset that would contribute to the architectural legacy of the Mountain West and provide 24/7 activation in this underserved area," said Jon Buerge, chief development officer at Urban Villages. "We have brought together a team that exemplifies this vision—from architecture and design, to sustainability, hospitality, food and beverage, and more. Populus will create opportunities for locals and visitors to connect, relax, and find inspiration."
Working closely with the Civic Center Conservancy, Urban Villages seeks to help restore, enhance, and activate Civic Center Park as an important civic and cultural hub for Denver. As Denver's only National Historical Landmark, Civic Center Park is surrounded by some of the most architecturally significant buildings in Colorado, including the Colorado State Capitol, the Denver City and County Building, the Denver Art Museum, and the Denver Public Library.
To honor the significance of this prominent site in the heart of Denver, Urban Villages conducted an international search for an architect, interviewing many of the most celebrated firms in the world. Ultimately, Studio Gang was selected because of their inspiring approach to hyper-local, biophilic design, and their shared commitment to sustainability. Populus will be Studio Gang's first building in Colorado, introducing design diversity to the city. In addition to complying with Denver's Green Building Ordinance, the project will include multiple features designed to improve the building's operational efficiencies while minimizing its impact on the environment.
Populus derives its name from the scientific classification of Colorado's native aspen tree (Populus tremuloides), which served as inspiration for the building's unique design.
"Forming an essential interface between inside and outside, the distinctive windows expand the hotel rooms to the city and Rocky Mountains beyond," said Jeanne Gang. "Their shape is inspired by the growth pattern seen on the iconic aspen trees of Colorado, whose branches produce 'eyes' on the trunks' surface."
The project is currently in the building permit process. Construction is expected to begin later this year with the goal of delivery in 2023.