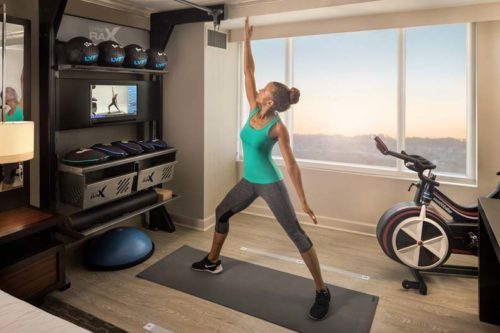 by Bo Barber
Many health-conscious consumers are realizing the limitations of stationary strength and cardio machines, instead opting to focus on functional strength and conditioning exercises. This evolution in fitness was documented in the American College of Sports Medicine's worldwide survey of fitness trends for 2017, which ranked high-intensity interval training and body weight training as two of the most popular choices for consumers, who now want more open spaces to exercise to boost long-term wellness.
The inclusion of functional training in a healthy lifestyle does not stop when traveling for business or pleasure, and may influence people's hotel selection. To appeal to the modern consumer and stand out from competition, many in the hospitality industry are offering a customizable approach to staying fit while away from home, including full-scale gym and wellness centers to support functional fitness activities such as jumping, sprinting, throwing, and crawling.
To ensure these facilities meet the high expectations of fitness enthusiasts, contract architects and specifiers are opting for flooring that positively influences safety, ergonomics, and acoustics to provide users with force reduction and energy restitution throughout each workout.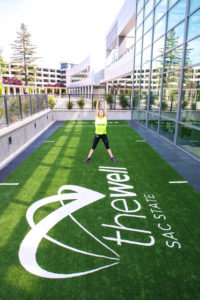 How flooring impacts functional fitness
During functional training, people use their bodies and weights to perform exercises, making the surface underneath their feet more critical than ever before. Instead of using machines or equipment that sits on the floor, a person completing functional training is subjecting his or her entire body to the floor during these exercises. Joints, muscles, and knees are much more affected by the floor during these exercises. In response to the functional training trend, fitness centers nationwide are removing some standard equipment and adding open space and more supportive flooring for interval training.
For example, Hilton Hotels is taking the functional fitness trend a step further by offering open space with athletic flooring in individual hotel rooms. The chain's Five Feet to Fitness project offers fitness-minded guests a functional exercise nook in their rooms, equipped with ergonomic flooring, functional training equipment, and a video kiosk with a library of guided exercises. The specially designed flooring keeps guest workouts quiet and nondisruptive to neighboring rooms while providing support underfoot for various physical activities.
Unlike traditional fitness center flooring, functional training flooring has a direct impact on the performance of the athlete, providing stability and support to protect from injury. Functional fitness flooring must withstand heavy weight drops, ropes, medicine ball slams, and repeated jumping—all while providing a comfortable, ergonomically sound, and quiet environment. Architects and designers should keep in mind three important factors when specifying flooring for this type of facility.
 Safety
From weekend warriors to Olympic champions, athletes of all levels train to improve their abilities and reach new achievements. With each push toward greatness, they put their bodies at risk of injury that could set back their efforts temporarily or permanently. Thus, measures are taken to protect athletes' bodies to ensure they are able to perform at peak levels—including proper nutrition, adequate sleep, and high-quality equipment. Flooring is a key piece of equipment for athletes, playing a role in nearly every activity from start to finish.
To ensure safety remains a priority, fitness facilities should invest in surfaces that mitigate injury, protect the body, and promote ultimate and healthy performance. Slip resistance and firmness are important characteristics to prioritize, while bearing in mind the floor should not be so hard it has no give, resulting in possible breaks or sprains.
Ergonomics
Once the athlete's body is protected, the focus turns to enhancing and improving performance. Functional fitness calls for intense activities to be performed in different frequencies and directions over and over. Repetitive motion, swift movement, and constant impact take a toll on the body and the quality of the workout, no matter its intensity.
Ergonomic flooring helps diminish fatigue, minimize discomfort, and enable athletes to perform at their highest levels longer and more efficiently. These floors should feature performance backing or high-performing material to provide athletes with energy while absorbing impact on their joints, in addition to providing anti-fatigue capabilities.
The right flooring enhances longevity of athletes by absorbing force and providing a return of energy through innovative engineering and design. A floor providing force reduction and energy restitution can help guests be safe and avoid injuries, optimizing the fitness experience.
Acoustics
While acoustics may not be the first thing that comes to mind when brainstorming a state-of-the-art workout facility, it has a surprisingly significant impact on the overall fitness experience. A room full of athletes performing various activities involving fast movements and heavy weights can become a noisy mess fast. Using a flooring surface that absorbs energy, vibrations, and sound can greatly reduce the ambient noise and create a more pleasant experience for the user and those around the space, while also greatly increasing the longevity of the flooring and fitness equipment.
Additional flooring selection considerations
When designing a fitness facility, there are many different flooring materials from which to choose, some offering more benefits than others. While the flooring should be selected to meet the needs of the fitness center user first and foremost, the durability and sustainability of the product should also play a role in decision-making.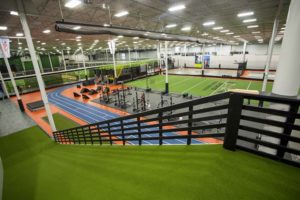 The use of environmentally responsible, sustainable materials—such as tire scrap, recycled rubber, bamboo, and cork—renders high-quality products for modern flooring demands without leaving a detrimental carbon footprint on the environment. For example, some flooring types feature a durable top layer made of sustainable materials, which is slip-resistant when wet or dry and fade-resistant to hold up against tough workouts. The base layers provide significant sound and force reduction while delivering energy restitution, enabling the materials to last longer without additional repairs. These materials, when utilized properly, often exceed expectations in performance and durability while greatly reducing maintenance costs over time.
Modern athletes are looking for fitness equipment and accessories that not only accommodate their physical activities, but also work equally hard to enhance performance and safety. Likewise, fitness center managers want to protect and support their members by investing in innovative equipment that withstands heavy demands. Building up fitness and reaching new physical limits starts with the right foundation: quiet, safe, resilient, and ergonomic flooring designed specifically to meet the needs of athletes and fitness centers.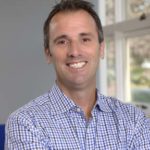 Bo Barber is the vice-president of marketing and sales for Ecore, a company that transforms reclaimed materials into performance surfaces for commercial flooring applications. His experience includes work in sustainable carpeting, strategic installation, and business and product development. Barber also possesses a degree in industrial management from Georgia Institute of Technology. He can be reached via e-mail at bo.barber@ecoreintl.com.