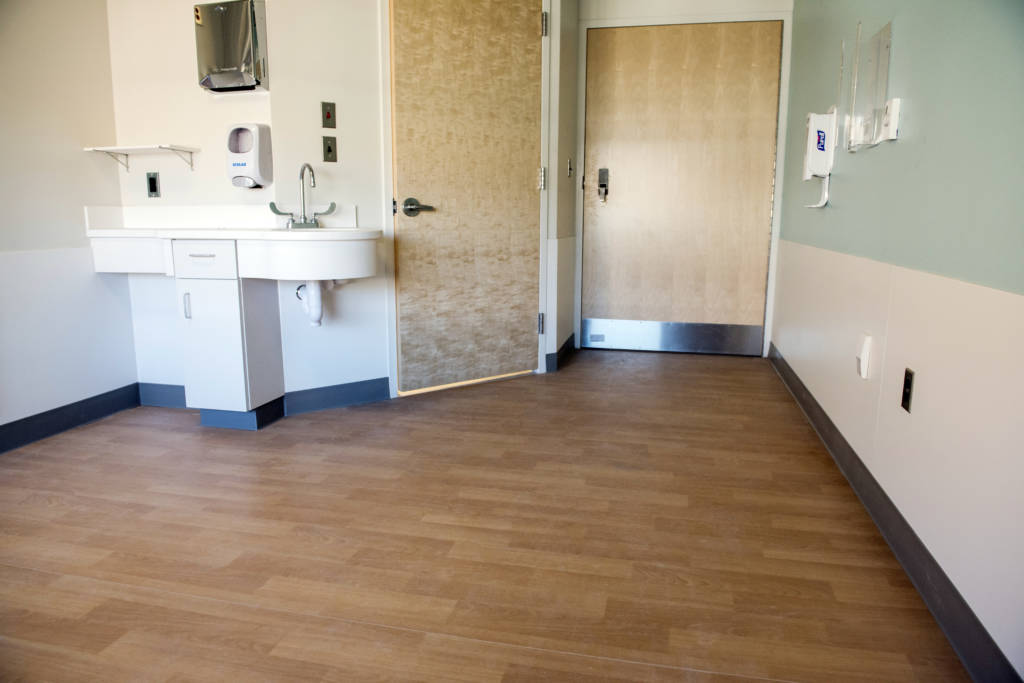 Flooring for healthcare projects needs to be functional, but it should also offer something aesthetically. Beyond that, some design professionals have wondered what effect floorcoverings, along with the wider built environment, can have on occupant wellness. In a 90-day flooring test running from November 2014 to February 2015, Baltimore's Johns Hopkins Hospital (JHH) attempted to answer this question. Acknowledging carpeting's inability to meet various goals, JHH sought to develop a new protocol for flooring safety and performance, and to choose a more-effective solution.
"We can't get carpet clean," said Teri Bennett, lead interior designer in the hospital's architecture and planning department. "Our consultants wanted us to use new products in projects that hadn't been tested in active healthcare environments. We didn't want to install them without testing."
Generally, it was agreed any surfacing used for the facility would need to provide:
cost-effectiveness;
ease of maintenance;
low gloss (i.e. not requiring wax);
infection control;
low volatile organic compounds (VOCs);
acoustic performance; and
sustainability.
"We had little experience with green, recycled products and products made from alternative materials," said Andrea Hyde, planner and designer in the JHH architecture and planning department. "We wanted to prove to ourselves that we could try sustainable products and see how they do."
Information was collected regarding 20 different products, including 11 resilient and nine acoustic non-carpet surfaces.
Some specific examples include:
textile composite;
rubber;
rubber composite;
vinyl rubber composite; and
heterogeneous and homogeneous resilient flooring.
Each product was installed on a 2 x 5.5-m (6 x 18-ft) site with a 1-m (4-ft) walking width, located along a corridor between the hospital's main campus and its outpatient center. A metro subway entrance to JHH's East Baltimore campus is also part of this corridor, contributing to its estimated 20,000 footfalls per day.
Acoustic testing was completed by rolling carts across each type of flooring—with some clear standouts, as Hyde notes.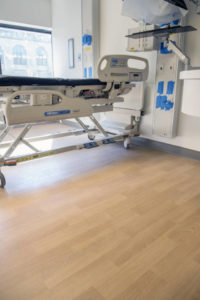 "The entire side that we were testing acoustics on was interesting," she explained. "You hit the granite tile, then you rolled over our resilient floor, then you hit the granite tile again, and then you rolled over the acoustic test floor. We felt the products we were testing on that side… were truly making a sound difference as people rolled on that side of the floor. It was rattly on the tile. Then you moved, and it would be dead—the clicking, the rolling noises, and all that stuff."
Among the highest-performing products tested was a flooring incorporating rubber bonded to a heterogeneous vinyl sheet, with high acoustic performance and fall resistance.
"People commented when it left—people were not happy," Hyde explained. "The tunnel can be quite loud."
Cleanliness was another important consideration, in part due to seasonal conditions.
"[The test] was right at winter time. Even though the metro is underground, the weather was a factor," says Hyde. "You really did see the tracked-in salt and moisture and things coming from people's feet and going across it."
Sealing can sometimes take time at JHH, as it is not possible until after rooms are occupied, so it was important for each product type to be tested in both a sealed and unsealed state. This was particularly enlightening, according to Hyde, who says "some products became complete dirt magnets without sealer."
Despite this, the testing revealed only two failures, which wore poorly or changed color when the required cleaning and sealing products were used.
"It wasn't a dirt wear," said Bennett. "The product got darker and darker as we cleaned it."
However, the rubber-and-vinyl product mentioned above performed well when tested for cleanability, stain removal, and durability, thanks to its cross-linked polyurethane reinforcement (PUR). The surfacing also excelled in terms of compression. Each manufacturer's recommended weld rod was used to place seams in the middle of each testing site.
"We wondered if we would see some failure at the heavy-traffic edge," Hyde said of the rubber product. "We did not; it worked great, actually."
Given the surfacing's ability to effectively meet each of the facility's goals, it was specified for 56 inpatient rooms at JHH's Meyer Phsychiatry and Rehab building.