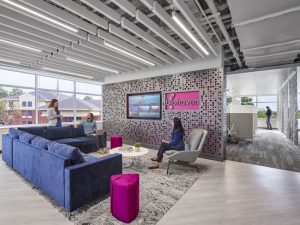 Art, architecture, and advisory firm Svigals + Partners has unveiled the second major workplace for Biohaven Pharmaceuticals.
The two-floor office space, located outside Philadelphia, serves a highly mobile workforce as part of the company's expansion into the mid-Atlantic region. It echoes many of the ideas in Svigals + Partners' design for Biohaven's headquarters completed just two years ago, set in a reimagined 1900s landmark building in New Haven, Connecticut.
For the new 1580-m2 (17,000-sf) offices and sales training center in Yardley, Pennsylvania., Svigals + Partners led not only the architecture and interior design but also the artistic brand expression, as it did for the headquarters.
"Svigals quickly understood both our culture and how our organization works such that they were able to create an environment uniquely our own," said Clifford Bechtold, BioHaven's COO. "It is why we have worked with them on multiple projects and will continue to do so. They simply get it."
Leading the project team, Svigals + Partners provided key services including programming, architectural and interior design, as well as design and specification of all fixtures, furnishings, and equipment. The company also established brand-image finishes and details for the Pennsylvania location following on its design for the Connecticut headquarters. Construction, fast-tracked for early demolition, and steel erection was handled by Norwood Construction Services and Rubenstein Partners. Other key consultants included Michael Horton Associates, Inc. for structural engineering services and Vanderweil Engineer as mechanical, electrical, and plumbing (MEP) engineers.