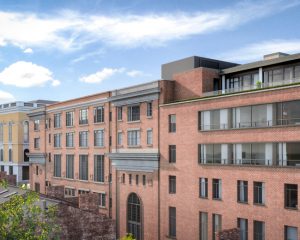 The Architectural Team (TAT) is creating the Archer Residences, a unique adaptive reuse project in Boston's historic Beacon Hill neighborhood.
The 62-unit boutique condominium development transforms two six-story, former university buildings into a single, 15,979-m2 (172,000-sf) property topped off with a pair of contemporary penthouse additions and a landscaped roof terrace.
"A site of this scale is hard to find in dense central Boston, and with preserved original brickwork and [4-m] 14-ft windows, it is a very different residential experience than you would have in a newer district such as the Seaport," said Jay Szymanski, AIA, NCARB, LEED AP, TAT associate.
The large-scale conversion process required a different approach for each of its two buildings. The TAT design team guided the restoration of decorative concrete panels and restored exterior brickwork on the oldest structure, dating from the 1920s. For the second building, constructed in the 1960s, TAT replaced the original façade with new cladding in a historically inspired palette of red brick, granite, and bronzed steel.
TAT also worked to make the Archer Residences compatible with its predominantly four-story neighbors, according to project manager Matt Duggan, AIA.
"We designed the more recent building's new façade with a line of horizontal ribbon windows on the fifth and sixth floors, reinforcing a visual cornice line at the fourth story that aligns with the adjacent buildings on either side of the street," Duggan said.