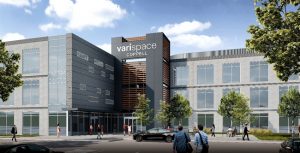 Vari, a Texas-based workspace innovation company, and construction management firm Adolfson & Peterson Construction (AP), broke ground on VariSpace Coppell in Coppell, Texas.
The 16,723-m2 (180,000-sf) office building will serve as Vari's new global headquarters and a multi-tenant campus.
"With the state of traditional office space in limbo, more and more North Texas companies are realizing the value of flexible workspace concepts like VariSpace Coppell," said Granger Hassmann, vice-president of preconstruction and estimating at AP.
"VariSpace Coppell will be one of the most innovative buildings in North Texas and will showcase our flexible workspace design and the future of workspace," said Jason McCann, CEO of Vari. "Coppell has been our home since Vari first started in 2012, and it is the perfect location for our future growth."
The tilt-wall building will sit on 4 ha (10 acre) with surface parking and feature 11,148 m2 (120,000 sf) of flexible rentable office space with large exterior balconies allowing companies and tenants to tailor areas to meet their specific needs. The building will also incorporate an open lobby concept with large, open staircases and touch-free building applications. Building amenities include a fitness facility and grab-and-go food services.
BOKA Powell architects designed the core, shell, and site. Corgan designed the building's interiors.
"As part of a four-year journey with Vari to create a 'proof of concept' for the idea of 'building-as-service,' BOKA Powell is honored to be the architect for the new VariSpace Coppell project," said Andrew Bennett, BOKA Powell design principal. "The architecture of the new building represents that 'disruptor' attitude by taking a simple efficient building box and stretching in two directions."