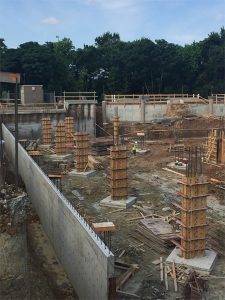 Crystalline technology was specified for a mixed-use development in Austin to ensure the integrity of the extensive below-grade concrete structures. The Marquis building combines residential units and ground-floor retail areas with a three-level basement parking garage.
Located on the site of a former AT&T storage building, the development is designed by Kelly Grossman Architects. The $29-million project is a joint venture between Oden Hughes and CWS Capital Partners.
Admix in soluble bags was added to the concrete at the time of batching at the ready-mix plant and used to treat all concrete for the below-grade walls and foundation slab of the three-floor parking structure. Additionally, mortar was applied to seal all tie-holes and any cracks in the new concrete.
The use of premeasured admixes helps to simplify the batching process and ensures the correct mixing for any project. The bags dissolve quickly and completely during mixing.