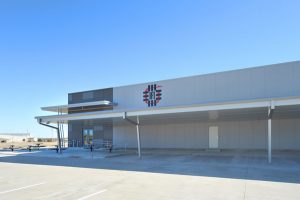 Robotics developer Innovation First International in Greenville, Texas, has utilized metal panels for its building envelope system to add an all-metal aesthetic, provide insulation, and create modularity.
Innovation First's new, 5899-m2 (63,500-sf) headquarters operates out of a 22-ha (55-acre) complex housing a metal fabrication plant, prototype development and model shop, distribution center, and corporate offices.
The company brought its own design and performance parameters to the drafting table, creating a collaborative process with architectural firm ID Studio 4.
The new headquarters features more than 7711 m2 (83,000 sf) of insulated metal wall and roof panels. The project incorporates 5911 m2 (63,626 sf) of insulated metal standing seam roof panels and 1800 m2 (19,380 sf) of insulated metal wall panels.
"It was a collaborative design process from the beginning," said Peter Brown, studio director with ID Studio 4. "Their internal design department had a good idea of the color combinations and the way they wanted it to look. Our job was to pull their designs into a construction-ready plan with an eye on insulation performance."
Innovation First capitalized on an industrial aesthetic with a stucco-embossed profile in multiple shades of gray. The panel's dynamic embossed texture provides subtle light and shadow variation to lend the panel visual depth.
The wall panels combine aesthetics with a high-performance polyurethane (PUR) insulating core for thermal and moisture protection. Designers specified the product's maximum 102-mm (4-in.) thickness for an R-value of more than 32.
The design concept also called for a metal roof with high-performance insulated standing seam panels. The 50-mm (2-in.) standing seam provides long, even sightlines, further contributing to the project's industrial aesthetic. The panels also incorporate concealed clips and fasteners.