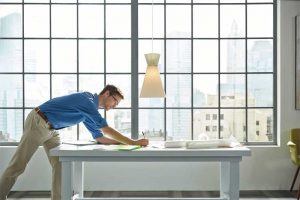 by Patrick Ford
As buildings become more complex and connected, the demand for building materials supporting high-performance facilities has also increased. This includes building controls, lighting, electrical and digital infrastructure, audio/visual (A/V), and other aspects of the structure.
A high-performance building is one that "integrates and optimizes all major high-performance building attributes, including energy efficiency, durability, life-cycle performance, and occupant productivity." At the same time, green building certifications, such as the Leadership in Energy and Environmental Design (LEED) rating system, the WELL Building Standard, and the Living Building Challenge (LBC) have pushed all built environment stakeholders, from suppliers and manufacturers to specifiers, architects, and owners, to change the way they make decisions about the materials making up a structure.
One of these changes has been the push for increased transparency into the environmental and health impacts of materials, and also the drive for manufacturers to optimize their chemical and sustainability profiles. To date, these demands have sometimes overlooked materials in the categories referenced above, either due to their complexity or placement in the building. However, the case for seeking transparency documentation and proof of optimization for these technologies is evident more so today than ever before. This highlights the importance of ensuring the selection of materials that enable increased building functionality, flexibility, and connectivity includes consideration of the environmental and material health attributes.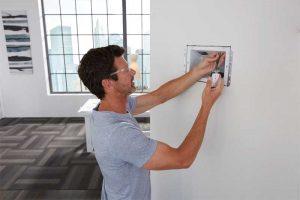 Environmental and material health impact of building materials
From an environmental impact standpoint, the demand has been driven by the desire to better understand the embodied carbon of materials going into buildings. According to the Carbon Action Network (materialsCAN), embodied carbon is defined as "the carbon dioxide [CO2] emitted during the extraction, manufacture, and transport of building materials." Between now and 2050, Architecture 2030 (a nonprofit that is advocating for sustainable and carbon-neutral planning and design in the built environment) estimates that "embodied carbon will be responsible for almost half of new construction emissions (49 percent)." Unlike operational carbon (i.e. the carbon emitted from heating/cooling, lighting, and other activities while the building is in use), embodied carbon cannot be reduced once the material is installed. This change, coupled with the fact the embodied carbon from building materials and construction makes up approximately 11 percent of annual global greenhouse gas (GHG) emissions, heightens the importance of reducing the carbon intensity of buildings.
Turning to material health, in their 2018 report, "Prescription for Healthier Building Materials: A Design and Implementation Protocol," the American Institute of Architects (AIA) cites several research studies that point to growing concerns about the amount of time people spend indoors (90 percent) and the prolonged exposure to chemicals—some of which are known to be hazardous to humans and the environment—found in building materials. This concern has precipitated the need for all construction stakeholders to not only better understand the material makeup and health impact of building products, but also to look for viable substitutes or designs that avoid chemicals of concerns altogether.
Several green building rating systems are steering the demand for transparency, such as LEED v4 and v4.1, WELL v2, and LBC v3.1 and v4.0. Manufacturers are also publishing many forms of transparency, including environmental product declarations (EPDs), product environmental profiles (PEPs), health product declarations (HPDs), Declare Labels, Cradle to Cradle (C2C) and Material Health Certificates, and the Underwriters Laboratories (UL) Product Lens Certifications.
LEED
Administered by the United States Green Building Council (USGBC), LEED is considered to be "the most widely used green building rating system in the world." There are options for LEED certification for nearly all building types, and the focus of the rating system is on creating "healthy, highly efficient, and cost-saving green buildings." There are currently three active versions of LEED: v3 (2009), v4, and v4.1, but this article focuses only on the last two.