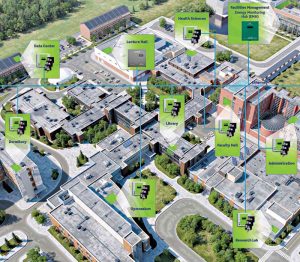 By Troy Hull, CEM, CMVP
Today, facility managers and building specifiers have more to consider when it comes to designing and managing facilities than ever before. They are managing evolving building occupancies as people navigate COVID-19 variants, new health and safety protocols, inflation, skyrocketing energy costs, labor shortages, and much more. The activity and number of people within a given space today may change at any moment, and the way the industry designs and manages solutions and efficiencies of buildings needs to reflect this.
Not only do facility managers and building specifiers need to consider how their space impacts the health and safety of their occupants, but they also need to be mindful of the overall environmental impact of their building. Energy consumption, a major concern these days, is one of the more challenging aspects of the building to manage. As building occupancies and other factors continue to fluctuate, it is important for facility managers and building specifiers to arm themselves with the most accurate data.
The devil is in data-driven details
Detailed, accurate data is key to smartly managing a building's energy usage. Smart energy data becomes even more important when building operators are managing a multi-dwelling unit or building with multiple tenants. Many factors can impact a building's total energy usage, from space heating and cooling to major processes and appliances, but it is challenging to attribute these data-driven details without adequate information about usage. When building managers do not have detailed data about energy usage in their buildings, they are left to make assumptions about where energy is being used with the resulting impact on operations. This can lead to inaccurate billing and high total costs the building managers end up being responsible for.
For example, if facility operators only know the total amount of energy used by the building, and not how much each tenant, department, or process is using, then the manager must make decisions on cost allocation based on arbitrary values such as square footage or occupancy—factors which do not necessarily directly impact energy usage. This can lead to tenant frustration as they may end up paying more than what they spend on utilities. Lack of detailed data also limits facility managers' ability to effectively reduce their energy usage.