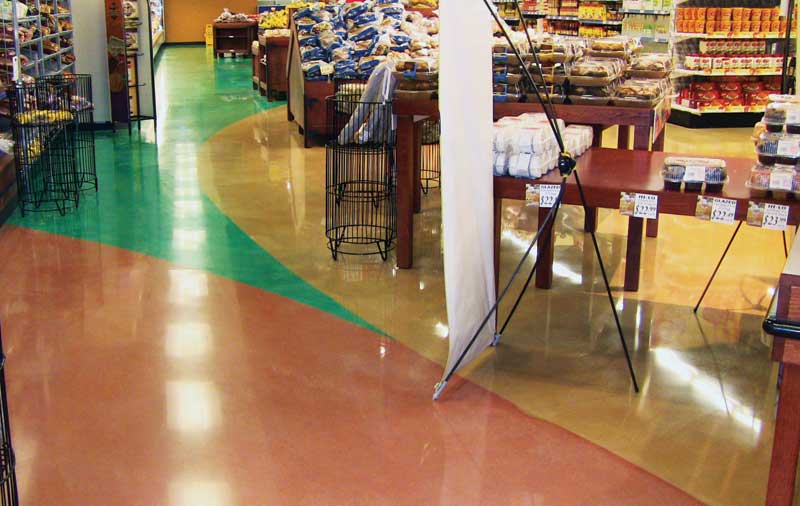 by Les Davis, Gary Vidal, and Steven H. Miller, CDT
All over the United States, a hard truth is being uncovered—underneath carpet and vinyl tile in buildings everywhere, there lurks ugly concrete. With acceptance of exposed concrete floors on the rise, and remodeling continuing to dominate the construction market, plans to polish existing concrete subfloors are numerous. However, some slabs are simply not up to the challenge.
A new alternative is to apply a self-leveling cementitious overlay on top of the problem slab. The overlay can be integrally colored, poured in a thin layer bonding to the subfloor, and then dyed and polished like concrete. Both the products and the process are new, but have taken off in popularity with design professionals and owners for applications ranging from large national retail chains to custom homes. The process offers the potential for affordable, clean, new floors, with bold color designs and the sustainable and durability benefits of exposed concrete.
Old or new floor?
Polished concrete has been steadily rising in popularity for two decades, but has experienced a recent spike after proving to be a recession- and eco-friendly flooring solution. As more remodeling projects call for polished concrete, subfloors not exposed for years are being uncovered. Some floors are in excellent shape and can be refinished to look almost like polished stone. However, the range of condition varies.
A few cracks can give a floor 'character,' and the occasional patched spall gives it 'history.' However, what happens when tile is removed to reveal a floor with a network of cracks and scars, several different-colored pours, and long-trench patches in un-matching colors? Some floors are not going to look beautiful, no matter how well they are colored and polished.
The poor concrete conditions in Figure 1 came from a home in Florida. Slabs that are cracked, cut, and patched from previous renovations, with crumbling surfaces and uneven elevations, are common not only in residential projects, but also in retail and commercial facilities. If polished, this concrete shows all its scars.
However, polishing contractors recently discovered a resolution to this dilemma. They applied a new class of self-leveling cementitious overlayment materials to unacceptable concrete and then ground and polished it like concrete. The materials could be integrally colored before they were poured on, and dyed after they hardened, offering a fast way to create an even, new, colored, polished floor.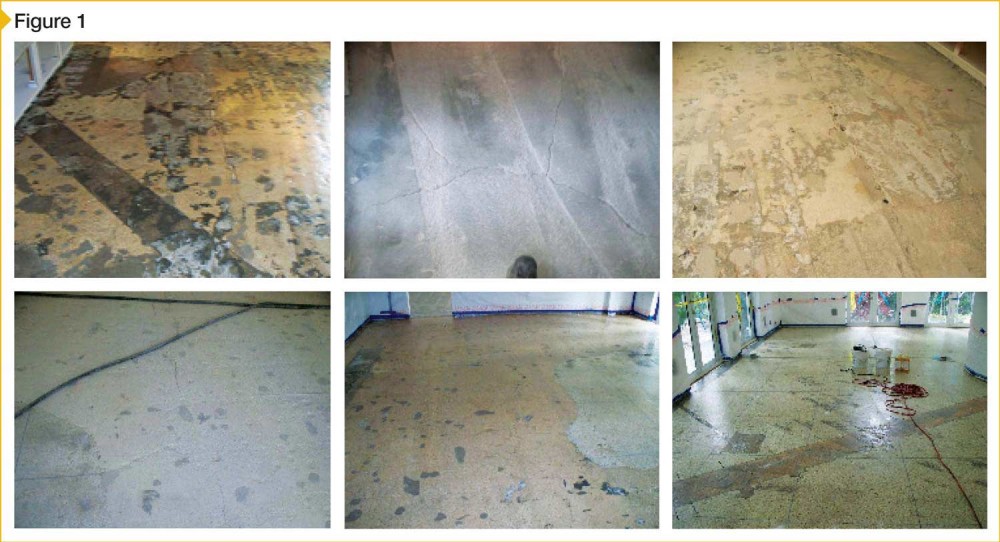 With a little ingenuity, ways of completing multi-colored pours were discovered. These pioneering efforts suggest polishable overlay is not just a last resort for a damaged floor, but also an aesthetic solution with unique properties. Design professionals quickly picked up on the proof of concept provided by the applicators, and are starting to integrate this technology into their designs.
How it's done
Self-leveling overlays were originally developed as a fast way to repair surface damage and level elevation differences before applying a floorcovering to concrete substrates. Recently, overlays that cure hard enough to polish in 12 to 24 hours (unlike the 28-day wait for conventional concrete) have come on to the market.
There are several different products available, with varying chemistry. Some are based largely on portland cement, while others are not. Most options are polymer-modified, but all tend to be fast-curing and hard. Materials are available that reach compressive strengths of 21 MPa (3000 psi) in just four hours, 35 MPa (5000 psi) in 24 hours, and 45 MPa (6500 psi) in 28 days. By contrast, ordinary portland cement (OPC) concrete designed for a single-family residential slab in a mild climate is often 17 MPa (2500 psi) at 28 days.
The dry overlay materials come premixed and include fine aggregate; there is generally no coarse aggregate. When cured, the overlay presents a fine-grained surface and, once ground and polished, only sand-like aggregate is exposed, so the scale of detail in the floor remains very fine. The raw matrix color of these materials tends to be light gray or cream, lighter than OPC.