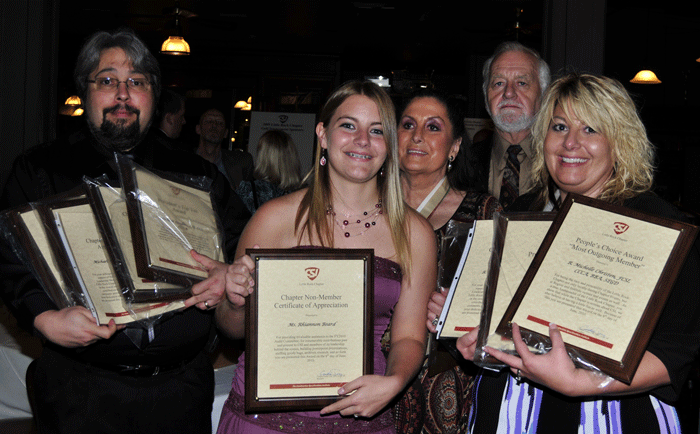 By Billy J. Mathis, CSI, CDT
Many of CSI's ardent members feel they are truly committed to the ideals, goals, and philosophies of CSI; that, in some ways the Institute is like 'our family.' However, the Sanders Family goes above and beyond, and takes this literally.
The 'Sanders Clan'—as the Little Rock Chapter (LRCSI) has affectionately dubbed them—is composed of three generations:
the parents—Jan and Jerry Sanders;
the kids—Michael L. Sanders and R. Michelle (Beard) Christen; and
the grandkids—Rhiannon Beard (Michelle's daughter), and Nicole Sanders (Michael's daughter).
Additionally, Patty Sanders (Michael's wife), and the Sanders' 2000 employees and interns should also be included in the equation.
To put this into better perspective:
Jerry Sanders, CSI, Member Emeritus, joined on October 1, 1981 (34 years);
Jan Sanders, FCSI, Member Emeritus, CCPR, SEGD, joined CSI on March 1, 1983 (32 years);
R. Michelle Christen, BBA, FCSI, CCCA, CCA, joined on April 1, 1990 (25 years); and
Michael Sanders, BA, CSI, CCS, CCCA, joined on December 1, 1994 (21 years).
Together, they have 112 years of active membership in CSI. This does not include the time of their other founding partner Jim Sanders (no relation) or the dependents and employees that were involved in the past. CSI was formed in March 1948 and is only 67 years old. How can you put a price on this experience?
What it is about CSI that drives an entire family to become so heavily involved? I thought about it and decided to just ask some of the family members. The three questions posed were basic—why did you join CSI, why did you feel the need to follow the path that you did, and what did CSI offer you as an individual member and as a family?
Here are some of their answers.
Why did you join CSI?
Jerry
As a practicing architect, CSI was a familiar organization. Although not a member, I had utilized CSI standards in private practice for years. In 1975, as Arkansas' first state architect, my job was to assist in establishing a viable state agency, develop procedures for the selection of design professionals that would be utilized by all agencies, develop design criteria and construction standards for all state work, and oversee the functions of the Arkansas state architect's office.
It quickly became apparent that CSI provided the tools that were needed to assist in the work. When my wife asked me to attend a local CSI chapter meeting with her, I was pleased to do so. Finding a group of dedicated construction professionals, I joined immediately, began working with chapter leaders, and soon we were successful in establishing CSI organizational documents as standards in all State of Arkansas construction projects.
Jan
The answer to this question is uncomplicated. CSI is the only professional organization that serves all construction industry participants ably and equally. From developing standardized construction contract documents, organizing and facilitating functions that make project communication manageable, to providing the very best networking arena, CSI was simply doing its job, and at 'bargain basement' prices.
Michelle
It feels like I went to work shortly after I was born, acquiring my own typewriter when I was two years old. Later, the end of my school day was completed in my parent's architectural firm. At age 13, I began working in an environmental graphic/business imagery firm as a bookkeeper. From that point on, CSI was an integral part of my world. My first CSI award was for non-member support services. It would be a number of years before I knew the true advantage of growing up with CSI. With a university degree in business administration-marketing, entering the construction field was a natural. I joined CSI because that is what you do!
Michael
After a position as pastor of a trailer mission church, I worked in the family businesses. My time was soon absorbed in the more technical aspects of working within the construction industry. Clearly, with a sister, mom, and dad encouraging me to explore the benefits of CSI membership, and being turned toward more 'bookish' endeavors, I knew that I could benefit educationally, and could hopefully contribute to the education initiatives of CSI. I easily identify my reason for joining CSI was education.