by Robert Marshall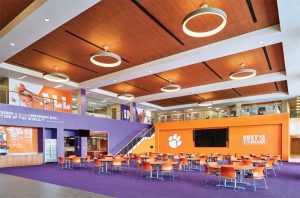 Contemporary institutional design is an increasingly diverse sector of the construction industry. From libraries to sprawling university athletic centers, facilities run the gambit in terms of size, budget, and complexity. These designs are becoming bolder, incorporating changing technologies as well as addressing new approaches like collaborative environments and 'resimercial' design. Despite major changes, one constant remains—the finished project must provide value to key stakeholders and serve a unique communal need.
As a result, institutional spaces are often site-specific in terms of architecture and design. They represent unique community values and have strong physical ties to the surrounding environment. With the continued rise of biophilic design, which connects occupants to the natural world through a combination of natural materials, views, and also access to the outdoors, daylighting, and biomimetic patterns, these buildings are transforming into multisensory spaces that are winning awards and influencing international design trends.
There are also more opportunities than ever before for specifiers working in institutional design. That sector's construction activities are expected to experience above average growth over the next five years, making it one of the most promising sectors in the construction industry. According to the 2020 Fails Management Institute (FMI) U.S. and Canada Construction Forecast, education is expected to grow by two percent for 2020 alone, rising to three percent for 2021, 2022, and 2023. This translates to an increase from $99 billion to $111 billion in 2023. One could posit this is a direct result of rising enrollments, the growth of university and private school endowments, higher tuition revenue, and the increased popularity of master's programs.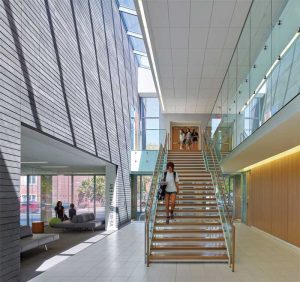 Additionally, there has been a major push by communities, teachers, and parents for modernization projects to create better learning environments. In fact, FMI cites more than half of U.S. K-12 public schools are currently in need of renovation or modernization investments at an estimated cost of nearly $200 billion.
As architects and interior designers continue to address these needs and push the envelope of institutional design, they are turning to sustainable materials and energy-efficient products and building practices. Depending on the project, they must also create several distinct built environments for academic, business, and operational functions, each with its own set of requirements. This includes acoustic management, design flexibility, opportunities for collaboration, and safety.
Solutions to these common challenges require a holistic approach to design. Specifiers need to think about every component of the built environment. Often it is the ceilings where innovative new materials are helping institutional designers manage acoustics while also creating beautiful, contemporary facilities.
Top of the class
Large-format ceiling solutions are truly in a class of their own, all thanks to a mix of performance, design, and acoustic management. Featuring high levels of sound absorption, these products are well-suited for a variety of open, social areas commonly found in institutional settings, including cafeterias, corridors, gyms, lobbies, and study rooms.
The visual advantage of the panels is its ability to minimize the appearance of a suspended ceiling, leading to a smooth, monolithic look. A wide range of finishes enable designers to maintain continuity of the product throughout the facility while meeting the unique design objectives of different spaces. From wood-look tiles in a library to bright whites and/or school colors in an aquatic center, large-format tiles are the valedictorian in versatility. Additionally, low maintenance levels and highly durable materials mean they will retain their appearance for years to come.
With a noise reduction coefficient (NRC) of 0.85, many large-format tiles exceed the minimum standards for acoustic performance in classrooms. This makes them suitable for loud common areas such as cafeterias, corridors, and student centers.
Designers can direct mount panels to walls as well as ceilings to boost design impact and acoustic performance. They can also design floating clouds to serve as visual focal points and add acoustic control in open spaces. If that is not enough, curves, waves, and other shapes add an unexpected sense of motion and can be layered to create a one-of-a-kind design statement.