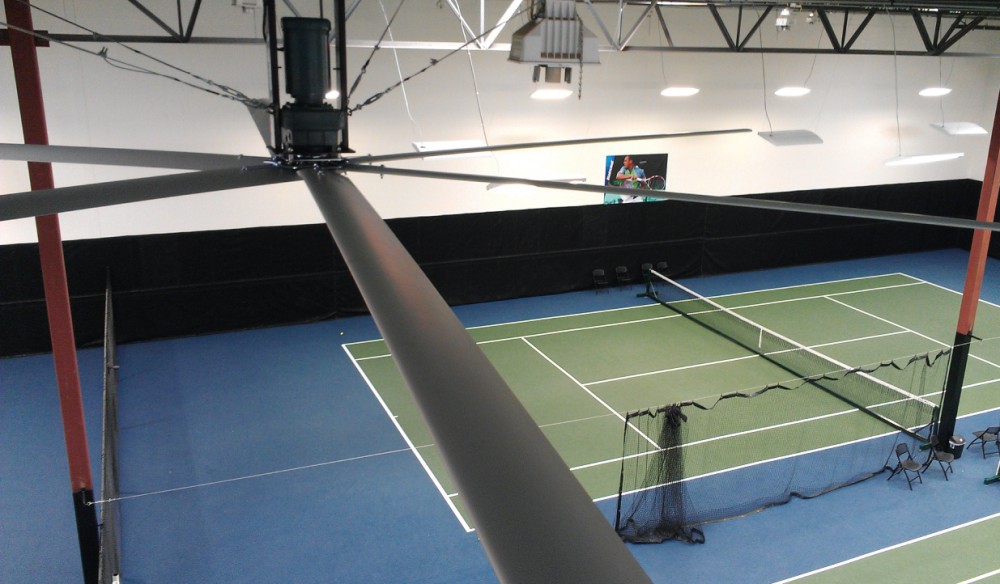 by Michael Danielsson
Since the original high-volume, low-speed (HVLS) fan prototype came to market more than 15 years ago, there have been significant technology developments, functional improvements, and changing market demands, propelling such fans into the spotlight as a means to save energy—and money—on HVAC systems.
Design enhancements to the motor and blades have allowed for expanded applications from the original dairy industry and large-scale commercial applications to greater use in smaller businesses. HVLS fans impart a number of benefits to business owners and facility managers, including lower energy costs of moving air and creating a comfortable environment. Compared to traditional shop or ceiling fans, the HVLS fan is an energy-efficient air-mover that displaces masses of air from its large slow-moving blades.
In addition to being a supplement to natural ventilation or HVAC systems, HVLS fans reduce or eliminate other facility challenges. The technology helps to improve ventilation and indoor air quality (IAQ) by:
continuously mixing incoming fresh air;
eliminating condensation buildup by creating a constant state of thermal equilibrium; and
providing heat destratification by running in reverse to even out the temperature gradient from floor to ceiling, reducing heat loss.
While the technology can sometimes be misinterpreted as working in similar fashion as generic ceiling fans, HVLS systems are much more evolved.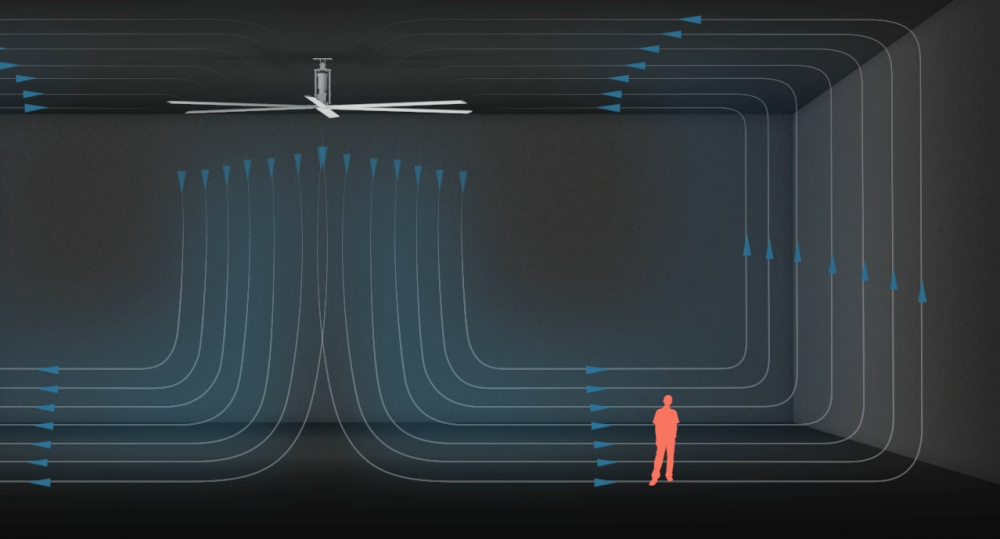 360 degrees of air movement
Designed on principles of physics and aerodynamics, HVLS fans move large quantities of air downward in a large diameter column of air toward the floor. When the air column hits the floor, it changes direction and becomes a 'floor jet,' moving outward in all directions until it reaches the walls. At this point, it travels back up to the ceiling, returning to the area of the fan in a horizontal direction, and then getting pushed back down to the floor. This is a natural, circular path created by the huge airfoil blades of the HVLS fan.
Once the air is moving in one direction, it wants to continue moving that way. The clean lines of the airfoil-shaped blades support air movement in the same direction—so once the air flow is established, it tries to continue circulating, creating an energy-efficient way to move air. In other words, keeping the air going in the same direction, rather than diverting it in different ones, enables the system to use less energy for the same result.
Destratification can be achieved in warm or hot climates through a downward air column by running the HVLS fan in forward mode. During cooler months, running it in reverse will push the warm air that accumulates at the top of the space down to the floor without creating drafts or winds in occupied areas.
Smaller high-speed fans are incapable of producing the same air movement and temperature regulation. Slower airspeed, combined with fan blade effectiveness, means large, low-speed commercial fans are significantly more efficient and effective than small high-speed fans because the large-diameter air column travels farther.
Industry standards
Fan performance is measured using cubic meters per minute, or the measurement of volume over time. This means, the higher a fan's m3/minute (cfm), the higher its volume or capacity.
Once HVLS fans became a staple on the HVAC market about a decade ago, performance measurements became an important indicator to differentiate the growing number of manufacturers. Performance tests conducted by the Air Movement and Control Association (AMCA) in 2006 measured 'thrust,' which is the lifting force the fan produces as a result of the air being pushed through it. Thrust has become a valuable measurement in determining output. Fan efficiency can then be evaluated using power consumption compared with the m3/minute output.
Design changes
Various design enhancements have improved HVLS fan performance over the years. Original designs of the HVLS fan featured 10 blades, which manufacturers still offer today. However, in some models, the number of blades has been reduced to six. This complements newer airfoil blade shapes to increase performance.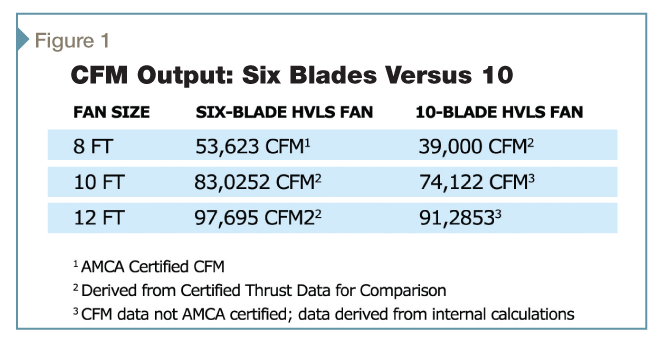 Six-blade HVLS fans carry 40 percent less weight than the 10-blade construction, thereby lowering the torque requirement, and enabling the fan to rotate more efficiently. Since torque is a constant stress on a fan's motor, bearings and gear, less torque also means longer fan life. Figure 1 compares the output on six- and 10-blade fans. Above and beyond requiring less fan blades, the innovation also decreased the manufacturing carbon footprint of the products.
Other add-ons or upgrades have been made to enhance performance, but there is still debate on some of their efficiencies. One of the most common features is the 'winglet' or curved end cap, which is intended to increase downward air velocities, stabilize air movement, eliminate turbulence, and capture air that would slip off the blade's end.
However, a winglet built into the design of a HVLS fan's blade may not be beneficial when affixed to its tips as it may change the natural, circular air path created by the huge airfoil blades.
One 7.3-m (24-ft) diameter HVLS fan can move about 10,619 m3/minute (375,000 cfm). With one cubic foot of air weighing 0.08 pounds, this equates to about 13,608 kg (30,000 lb) of air moving through the fan blades every minute. Once the air is moving in one direction, Newton's First Law of Motion keeps it that way. The lines of the airfoil-shaped blades, without winglets, can support air movement in the same direction.
Due to the increased torque, winglets can potentially make the fan work harder, and possibly cause turbulence that interferes with the downward column of airflow.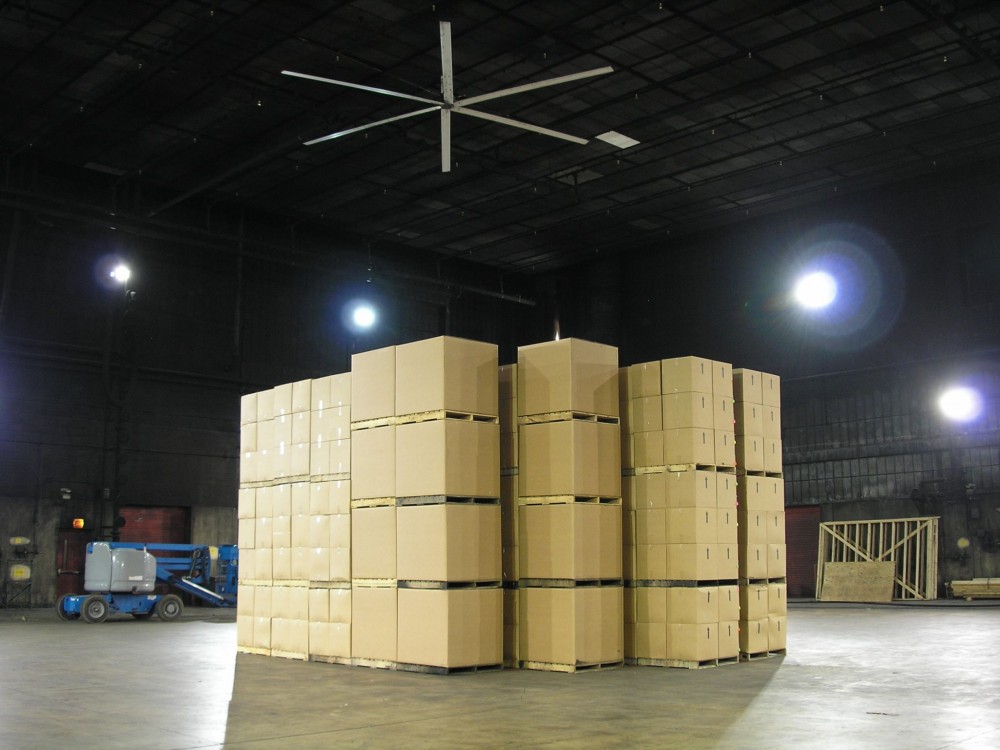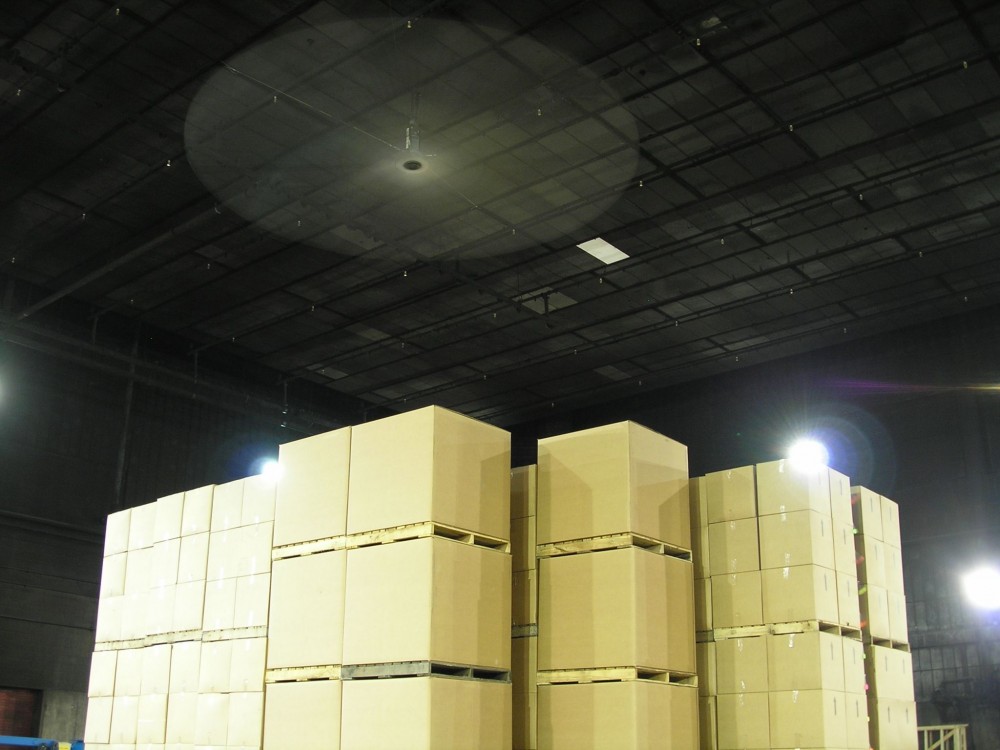 Confidence in safe building design
HVLS fans can be considered a trusted system within a building's design. In 2012, a collaborative research effort was spearheaded by AON Fire Protection Engineering. Bringing together insurance companies and HVLS manufacturers, the project resulted in updates to the National Fire Protection Association (NFPA) 13, Standard for the Installation of Sprinkler Systems, which provides guidelines to avoid obstructing sprinkler performance in commercial applications.
When installed in accordance with NFPA 13, HVLS fans do not impact the performance of early-suppression, fast-response (ESFR), and control-mode-density-area (CMDA) sprinkler systems.
Both types are typically used in high-storage and warehouse facilities, and need to work in tandem with other facility systems. ESFR sprinklers provide a high output of water from a sprinkler head to suppress a fire and are installed within ceiling spaces as to not interfere with high-piled commodities or moving machinery. CMDA systems control fire outbreaks through pre-wetting combustible commodities and controlling hot gas. The outcome further supports safety guidelines, and consumer and insurer confidence for the fan category.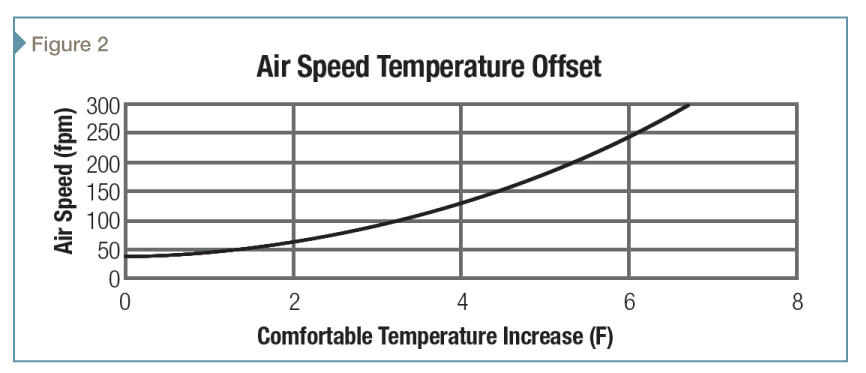 HVLS fan research conducted between 2008 and 2010 tested numerous scenarios of installation spacing, speed, and other variables of HVLS fan operation on both ESFR and CMDA sprinkler systems upon fires started within rack storage and palletized commodities.1
Installation should include a means of automatic shutdown for all HVLS fans, meaning power to the fan(s) is interrupted within 90 seconds after the first sprinkler operates. This is most commonly achieved through connecting the buildings fire suppression system to the fan control panel.
HVLS fan placement is critical for maximizing effective operations. Obstructions, such as facility structures or stacked materials, reduce the HVLS fans efficiency. To ensure un-obstructed downward and then horizontal air movement, and affect the most space, fans should be installed over open floor space.
Supplementing the HVAC systems with HVLS fans
HVLS fans are increasingly relied on to provide HVAC augmentation as the technology uses little energy. Using chapter nine of the 2012 American Society of Heating, Refrigerating, and Air-conditioning Engineer's ASHRAE Handbook, it is possible to maintain thermal comfort at a higher temperature in an environment by increasing the air speed. Figure 2 shows the air speed required to offset temperatures above the ideal operative temperature.
As industrial and commercial buildings face increased scrutiny on energy consumption, HVLS fans can provide an advantage when used as part of an energy-efficient HVAC solution. Whether installed in an existing facility or designed into a new build, HVLS fans can help a project earn points toward Leadership in Energy and Environmental Design (LEED) certification by lowering energy consumption, creating a healthy indoor environment and air quality, and using less resources and equipment through HVAC systems. Although the number of credits earned varies based on each individual building project and type, HVLS fans can help projects earn credits under the Energy & Atmosphere (EA) and Indoor Environmental Quality (EQ) categories.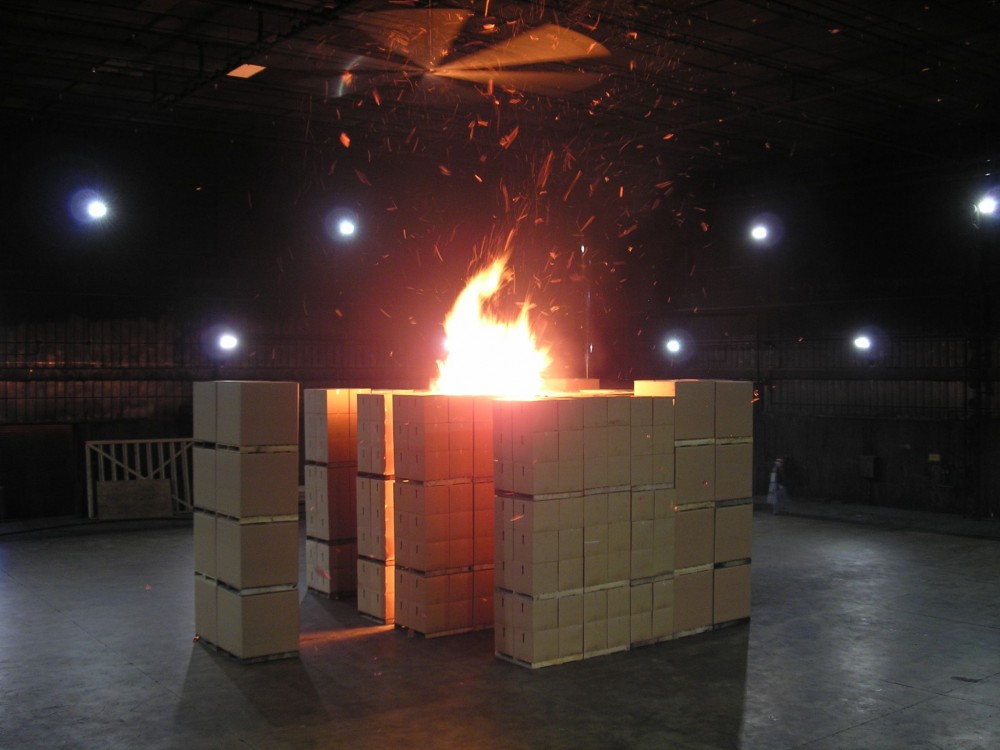 Market demands expand applications
Due to the large diameter of first-generation HVLS fans—up to 7.3 meters (24 ft) in some cases—they have traditionally been specialized for large industrial or commercial spaces. With the availability of smaller-diameter blades, small spaces now look to take advantage of the technology.
The slow-moving fans even have the ability to create a breeze in un-insulated areas such as a mobile outdoor worksite without use of air-conditioning. Within temporary structures, such as in marquee fair tents, the fans can be securely installed to a steel truss and implement air movement through crowds of people.
For more traditional building projects, HVLS fans can also be beneficial. Kaizen Martial Arts Academy in Jackson, California, is home to a 464.5-m2 (5000-sf) building where people of all ages study karate, Brazilian jiu-jitsu, and yoga. When the temperatures outside the facility rise to 26.6 C (80 F) or higher, the dojo begins to feel less like a training and fitness facility and more like a sweat lodge.
Taking less than a day to install, Kaizen's large-diameter HVLS fan is now offering a refreshing breeze, while actually accelerating the rate of perspiration evaporating from the skin, and providing more than $1500 in annual energy savings.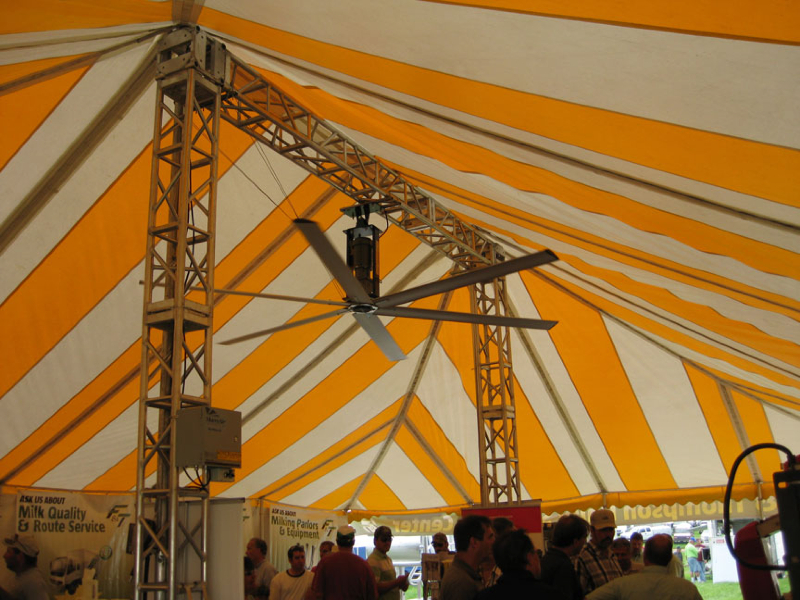 High-end luxury
Fan systems are also offering plug-and-play packages, which simply require the power cord to be plugged in and the controls remotely connected via a standard cable connection. Since no external control panel is needed, the electrical wiring is minimized and the fan can be seamlessly integrated into the building's aesthetics.
Next-generation HVLS fans also come with a streamlined profile, including on-board electronics packaged inside a power unit in case the fan may be more visible than in a larger warehouse or industrial space. Electronics can be pre-programed with variable frequency drives (VFD) to control the fan speed and use heat transfer of the aluminum extrusion to help cool the VFD.
With a cooler VFD, carrier frequency levels can be set outside the audible level to create a more silent fan, further integrating HVLS fans' availability to meet the needs of diverse application demands.
Notes
1 Visit safetymatters.aonfpe.com/2011/1st-Quarter/Feature-Article.aspx. (back to top)
Michael Danielsson is engineering manager of MacroAir, a manufacturer of high-volume, low-speed (HVLS) fans found in warehouses, manufacturing plants, airplane hangars, agricultural arenas, and retail establishments. He leads the engineering department in developing innovative air movement solutions. Danielsson can be contacted by e-mail at engineering@macroairfans.com.