by Jeffrey Brown, FAIA, David Tomasula, PE, and Jeff Griffin, PhD, PE, PMP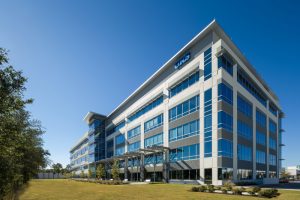 It may appear outré to extoll the virtues of loadbearing wall construction in the 21st century after many post-industrial revolution inventions such as the skeleton-frame structural systems of steel and cast-in-place concrete. However, loadbearing wall construction, particularly tilt wall, has never had more potential to respond to real estate market challenges and to capitalize on several technological advancements.
Recent innovations in the science of concrete composition and engineering advancements, such as helical fiber reinforcement, have enormous implications to all aspects of the material. These products, strategies, and additives enhance and support concrete's flexibility and applicability across numerous construction systems, including the tilt wall method.
As a construction method, tilt wall has come to dominate industrial buildings and mid-rise office structures due to its low-cost advantage coupled with a counter-intuitive, high-end architectural design potential. It is almost inconceivable to consider constructing big box industrial buildings in any system other than tilt wall. A similar trend can be seen in suburban mid-rise office structures. Recent changes affecting industrial and office building types have instigated and sponsored new developments in tilt wall construction technology. For instance, real estate market forces are driving the accommodation of more floors, higher densities, and taller clear heights on strategically desirable, and hence, costlier land.
Industrial building height catalysts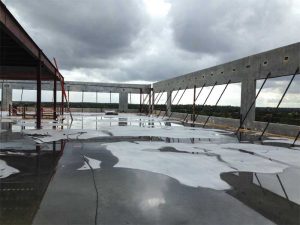 Two main influences, both based on the real estate market, are distorting the relationship of tilt wall to industrial and office building types. In the case of industrial real estate, it is the steady rise of e-commerce. As recently as the turn of the millennium, the standard 'big boxes' were between 11,612 and 23,226 m2 (125,000 and 250,000 sf) (This data is from NAIOP, the commercial real estate development association.). They have now been replaced by distribution centers of nearly 92,903 m2 (1 million sf) for web retailers. Of course, the land bays available for buildings of this size tend to be suburban. This causes a dilemma as shorter delivery timeframes mean the distribution centers must be located close to the consumer where land prices would be considerably higher.
The challenge, therefore, is increasing density within smaller footprints. This translates into taller structures. For example, Amazon is in various stages of completion on numerous 21-m (70-ft) tall fulfillment centers, many of which are clad with tilt wall panels. The panels act as the envelope—though not fully loadbearing, they are structurally active in shear resistance. These four-story 'mezzanine' buildings are now underway in Tulsa, Oklahoma City, Raleigh, Bakersfield, Milwaukee, etc. Several other responses to the multistory warehouse have begun in Seattle and New York City.
Up to this point, a 'common' response of market-based clear height in vertically modified industrial buildings hoping to attract e-commerce tenants has been 12 m (40 ft). When a parapet is included, 14 to 15-m (45 to 50-ft) tall tilt wall panels can be employed without much technical differentiation from shorter buildings. However, 21-m (70-ft) tall loadbearing walls will be a completely different story if tilt wall is going to remain the dominant method of construction. In these authors' experience, making the walls perform as loadbearing rather than as cladding would make economic sense, as panel stacking eliminates the need for perimeter columns, thereby reducing the load/weight of steel and material cost. This development is achievable and, as is the case in any speed-to-market building type, soon to be the norm because cost is king in the big-box world.
Office building height catalysts
Office buildings have a slightly different set of catalyzing forces indexing height, market, and tilt wall construction. Single- and two-story tilt wall office buildings have been around since the 1970s. In the late 1990s, tilt wall was combined with basic speculative office DNA to make a low-cost alternative to 'market' configured office space. This basically meant the plan configuration of any Class A office building, including its lobby, restroom, and common areas, would be exactly the same as any conventionally constructed building. Only the technology for constructing the skin as loadbearing differed, often resulting in a cost benefit of more than $10 per square foot (This information from the authors' database and applies to typical 'warm lit shell/core delivery condition' that varies according to the market.). Initially, the focus was on increasing cost savings at the expense of aesthetics by producing buildings with low glass-to-wall ratios (tilt wall is cheaper than glass) and limiting the height to three stories. In the early 2000s, technological innovations allowed for panel widths of 9 m (30 ft), thereby producing 8-m (25-ft) glass lines similar to conventionally constructed curtain wall buildings. This resulted in a higher-end approach to architectural aesthetics as many more institutional developers were able to add four-story buildings to their portfolios. This, in turn, fueled a desire to maximize the tilt wall office product to the market's logical limit of six stories or 23 m (75 ft) for mid-rises. Notwithstanding technological developments in construction technology, ROI is typically difficult for buildings taller than six stories due to the installation of code-mandated life-safety systems such as smoke detection, fire alarm, and luminous egress path markings in all stairways. This is why one does not see many, if any at all, seven-, eight-, or nine-story office buildings made from tilt-up wall construction.
Thus the challenge for tilt wall—within the two different building types it has been a dominant form of construction in—is height. The question is how to achieve the new market-based demands for verticality while maintaining an economic and aesthetic advantage over conventional construction.