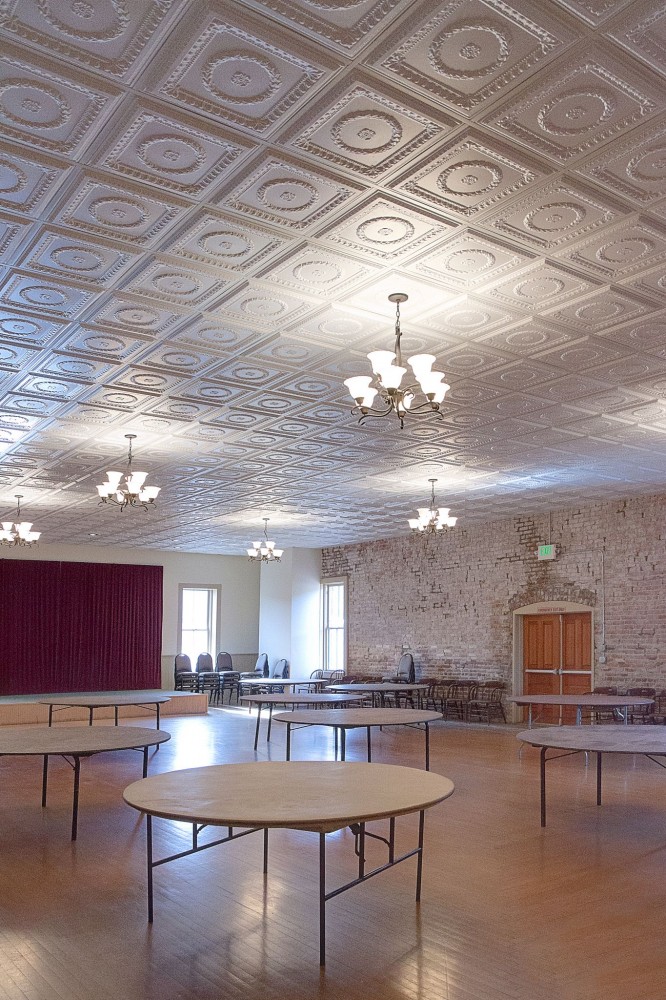 by Ed Davis, David Condello, CSI, and Michael Chusid, RA, FCSI, CCS
Plastic has been frequently used for floorings and wallcoverings, but not for ceilings. This is changing as thermoformed plastic ceiling panels and tiles have proven their mettle in rigorous testing and through approvals and listings by building product evaluation services.

While ceilings can be made with various types of plastic and in myriad configurations, this article discusses ceiling elements made from rigid vinyl or polyethylene terephtalate (PET) sheets 0.33 or 0.76 mm (0.013 or 0.03 in.) thick, that are thermoformed to create decorative surfaces. Forming also imparts depth to the thin material, sufficiently stiffening panels to span between conventional ceiling suspension grid members.
Ceilings of this type have been manufactured since the mid-20th century and have been improved with refinements in materials, fabrication techniques, and finishes. They now provide a unique constellation of characteristics making them suitable for various architectural and building applications.
This article uses 'tile' to mean a 'ceiling element used with concealed or semi-exposed suspension systems, stapling, or adhesive bonding' and 'panel' as a 'ceiling element used with exposed suspension systems.'1 Since standards and manufacturers do not use terms consistently, construction documents should define terms used for particular projects.
Fire safety
It is appropriate to consider fire safety first because of plastic's combustibility. Thin plastic has such little mass it provides no significant fuel load relative to the other combustible materials in a building.2 Surface burning characteristics are more relevant to life safety; there are now Class A thermoformed ceilings that, with certain limitations, can be specified for all but the most critical occupancies.3
Ceilings can be made from plastic rated V0 under Underwriters Laboratories (UL) 94, Standard for Safety of Flammability of Plastic Materials for Parts in Devices and Appliances Testing. Such materials are self-extinguishing—flaming combustion stops within 10 seconds after removal of heat source, glowing combustion stops within 30 seconds, and materials do not drip flaming particles that could ignite cotton.4
Unlike most types of ceilings, some thermoformed assemblies can be installed above or beneath fire sprinklers without interfering with sprinkler function when used in accordance with listings and approvals. When exposed to heat from a fire, panels soften, deform, and drop out of suspension grids at temperatures well below the activation point of commonly used sprinklers.
Ceilings beneath sprinklers
Referred to as 'drop-out ceilings,' thermoplastic ceiling panels can simplify sprinkler installation and significantly reduce construction costs.5 Sprinklers are not visible from below, making ceilings less cluttered and more attractive, while also protecting sprinklers against accidental impact or tampering and the water damage that results from sprinkler inactivation. Drop-out ceilings can be especially useful for suspended ceiling 'clouds' that could otherwise require sprinklers to be located both above and below the cloud. (See "Drop-out Ceiling Panels Installed Beneath Fire Sprinklers.")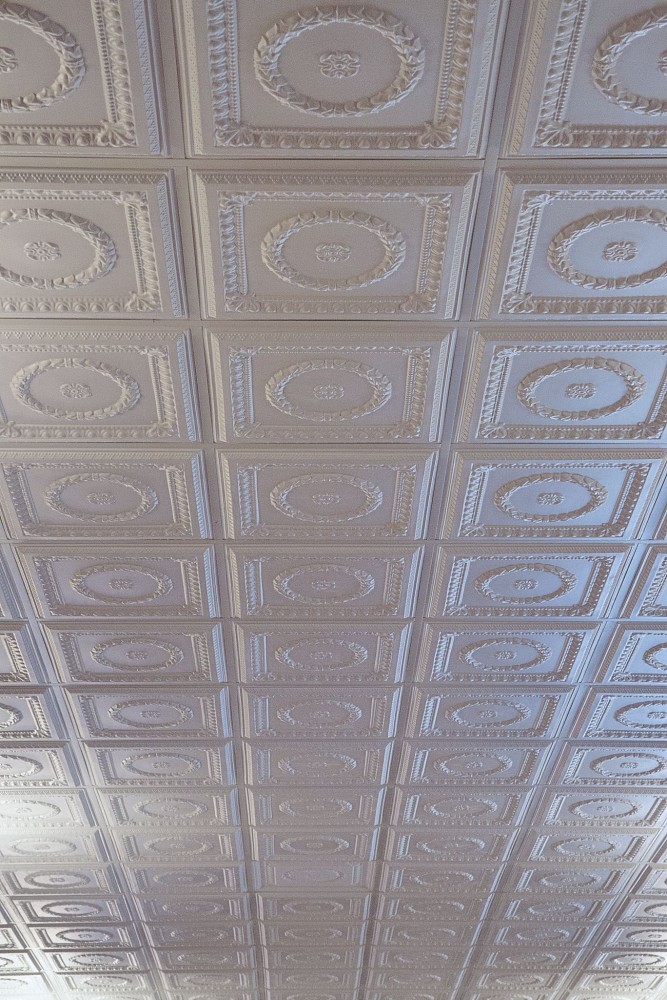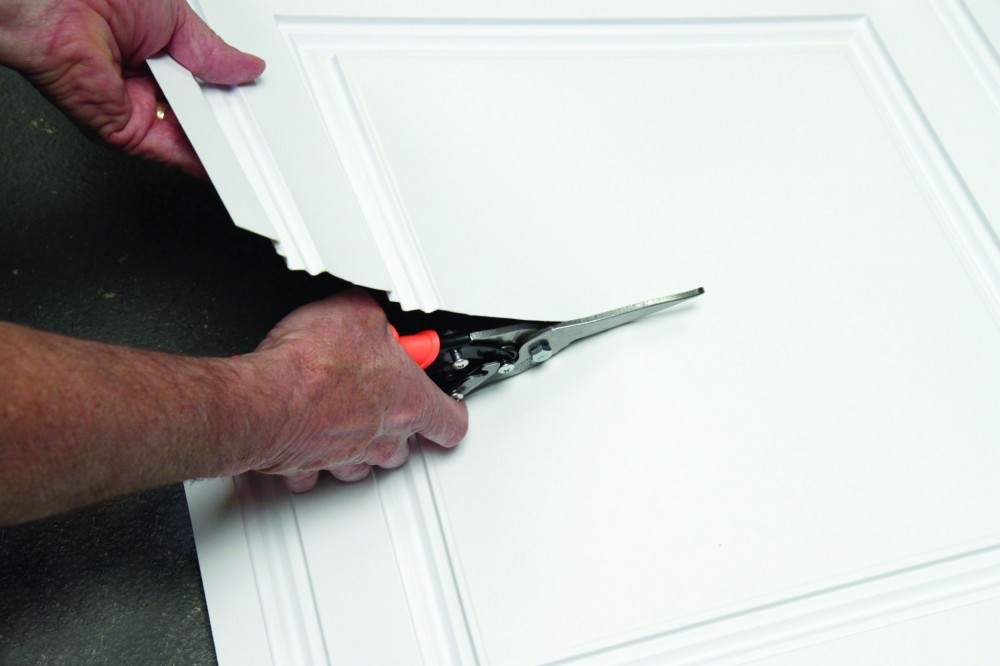 Ceilings above sprinklers
To avoid falling panels from getting hung-up on sprinklers and preventing their operation, pendent-style sprinklers must be installed through over-sized openings in panels.
Installed with or without sprinklers, drop-out panels regain stiffness when they fall to the relatively cooler floor. Since they are thin and light, they do not significantly impede egress or access by firefighters. Building product evaluation services, however, have not approved use of drop-out ceilings in exits or stairs.
These comments about fire safety apply only to thermoformed ceiling products tested and approved by reputable organization such as UL, IAPMO Uniform Evaluation Service, International Code Council Evaluation Service (ICC-ES), CertMark, and Factory Mutual (FM).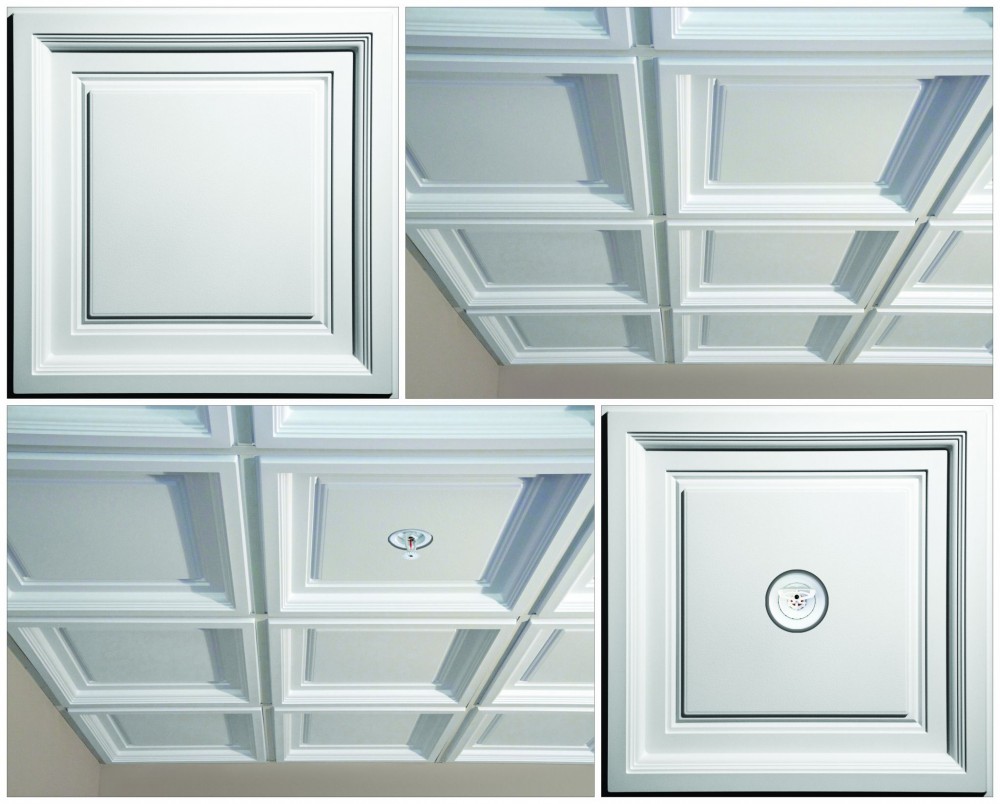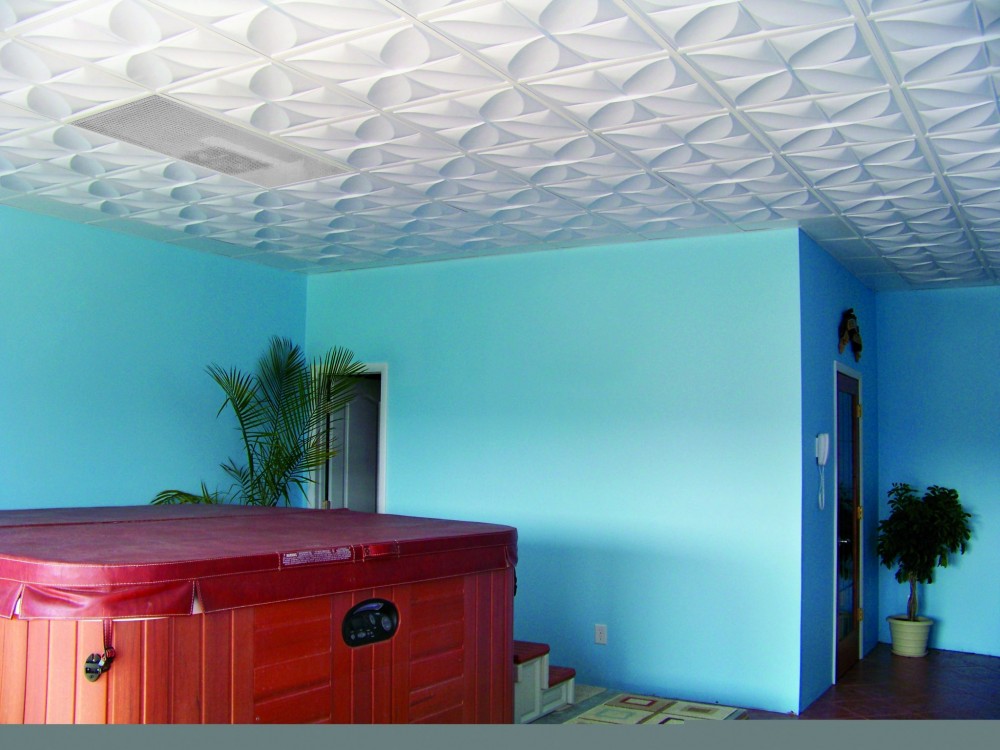 Moisture, mold, and hygiene
Vinyl and PET ceilings are not affected by moisture and can be used in wet or humid locations. Examples include natatoria, shower and bathing rooms, spas, laundries, kitchens, and areas subject to washdown.6 Moisture resistance is also a concern in normally dry spaces due to ever-present risks of roof and plumbing leaks, dripping condensate from sweating pipes, HVAC equipment, and spills.
Moisture resistance is closely associated with mold resistance. Thermoformed ceilings neither hold the moisture required for fungal growth nor provide a source of nutrition.
In flood-prone areas, thermoformed ceiling panels meet Federal Emergency Management Agency (FEMA) Class 4 requirements for materials that:
can survive wetting and drying and may be successfully cleaned after a flood to render them free of most harmful pollutants. Materials in this class may be exposed to and/or submerged in floodwaters in interior spaces and do not require special waterproofing protection.7
In suspended ceilings, uplift prevention clips reduce the likelihood panels will be dislodged.
Moisture resistance makes it feasible to install thermoformed ceiling elements before humidity in a building has stabilized. This feature helps meet project deadlines because ceiling installation is frequently delayed until the end of a construction project. Plastic's moisture resistance abets final cleaning of a jobsite because vinyl and PET are easy to clean.
This is important in areas requiring good hygiene. Thermoformed ceiling elements can be cleaned with a damp cloth and, if necessary, mild detergent or compatible cleaning agents. This makes them practical in culinary and food-manufacturing areas where government regulations require smooth, durable, easily cleanable, and non-absorbent surfaces. To meet these requirements, panels or tiles with low surface-relief patterns should be used.8 Thermoformed ceilings also promote hygiene by allowing above-ceiling installation of lighting fixtures and fire sprinkler devices that can collect contaminants.
While standardized stain-resistance tests have not been conducted on some thermoformed ceilings, their long record of use demonstrates plastic's resistance to the grime and stains that typically disfigure ceilings. For example, the proprietor of a cigar lounge told one of these authors thermoformed ceiling elements in his establishment do not absorb odors from tobacco smoke, and stains can be removed by washing.
Many healthcare, veterinary, laboratory, and industrial facilities also require hygienic ceilings. Since plastic ceilings are impermeable and fiber-free, they can also be considered for cleanrooms.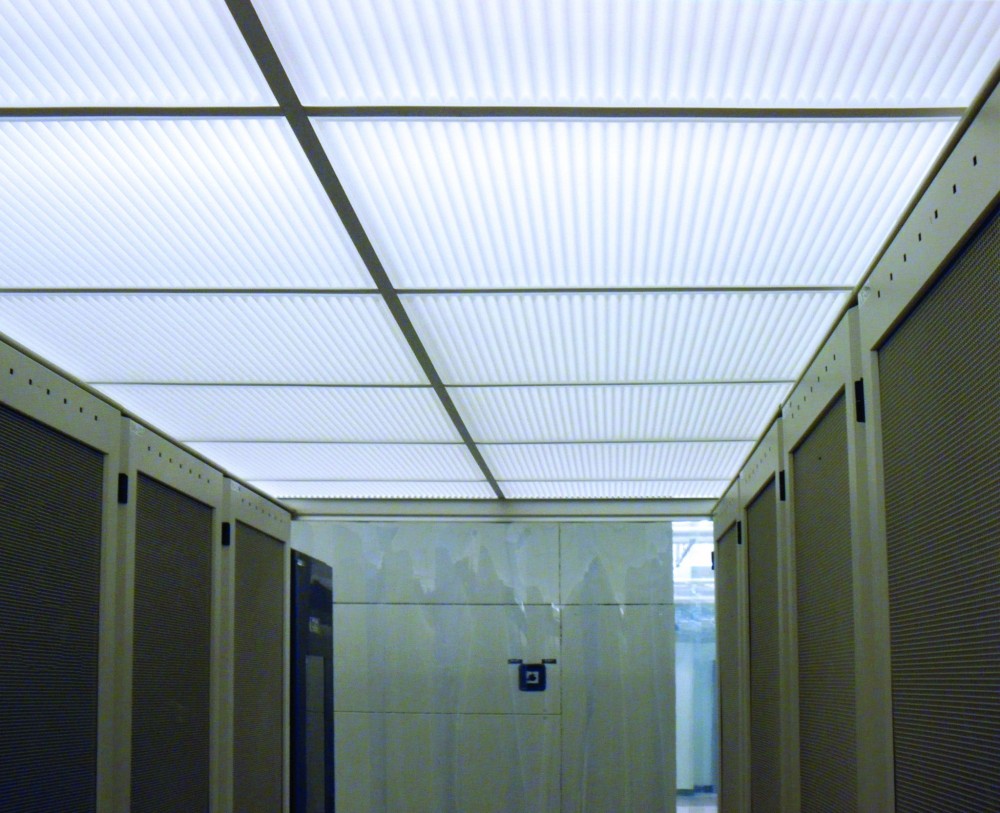 Acoustics
Installed in a suspended grid, thin thermoformed panels act as diaphragms that transfer sound from occupied spaces to above-ceiling cavities where vibrations can be absorbed or dissipated. To simulate this condition, suspended ceilings are tested under ASTM C423, Standard Test Method for Sound Absorption and Sound Absorption Coefficients by the Reverberation Room Method, using Mounting E with a 400-mm (16-in.) deep cavity between panels and concrete surface of reverberant test chamber.9
In this condition, thermoformed panels 0.33 mm (0.013 in.) thick have a noise reduction coefficient (NRC) of 0.25 or 0.30. This increases to NRC 0.35 to 0.45 when paired with special backer panels—inverted pans made of 0.33-mm (0.013-in.) thick plastic that nest above ceiling panels to form 76-mm (3-in.) deep air pockets that dampen vibrations.
Given the moderate acoustical performance of most suspended ceilings, ranging from NRC 0.05 for plaster and gypsum board to 0.55 or better for mineral fiber products, thermoformed panels are suitable for various commercial, residential, and institutional occupancies. However, when glued or stapled to a solid surface, thermoformed tiles provide insignificant noise reduction.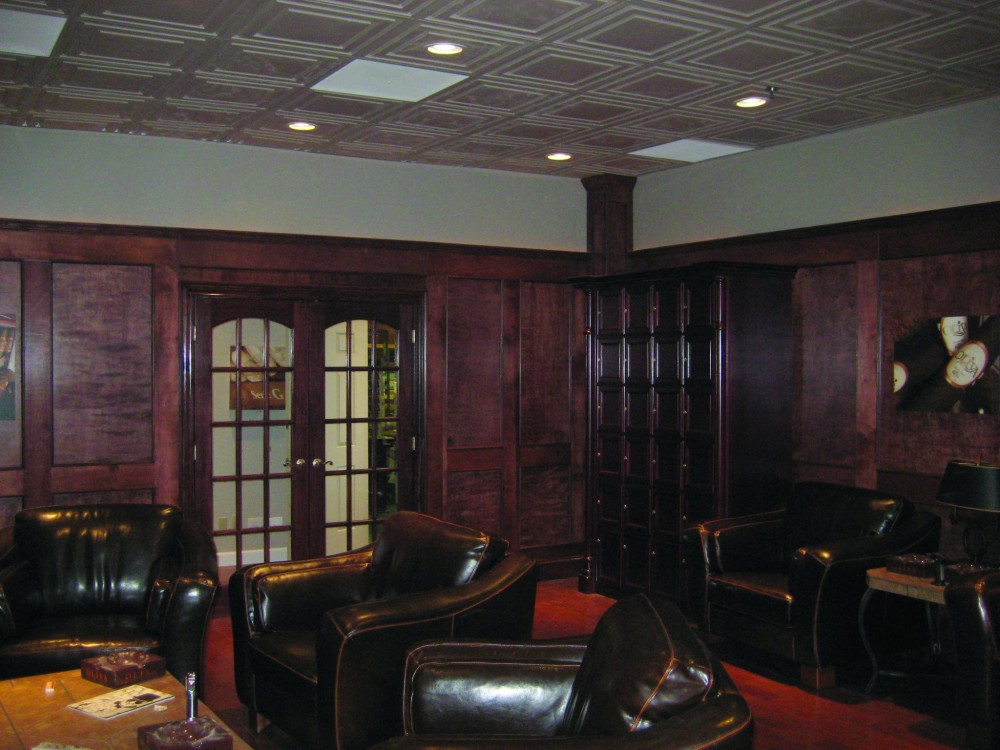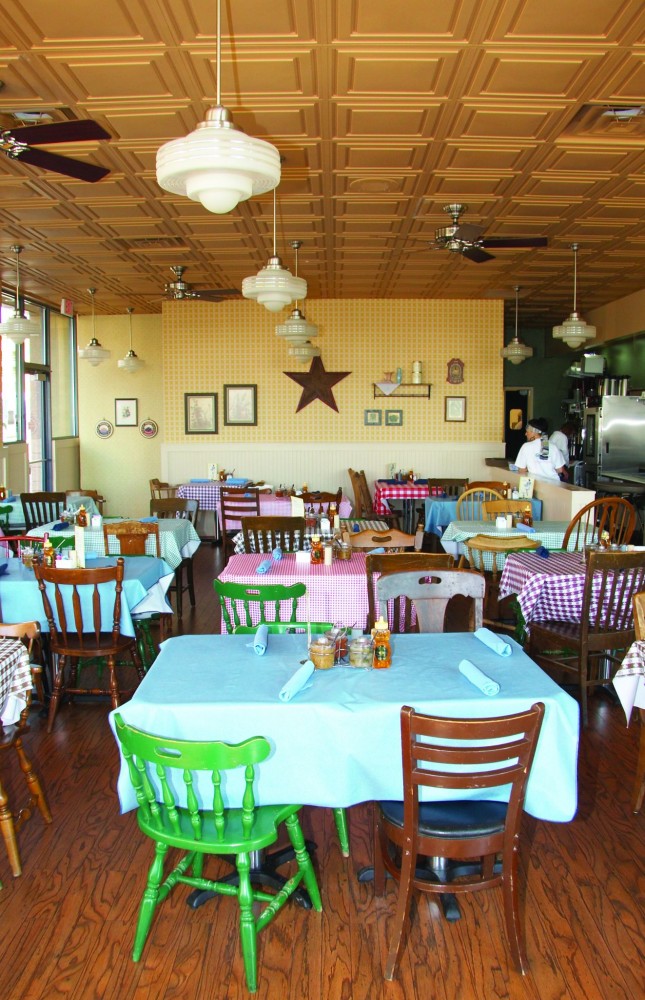 Lighting
Available in three levels of optical transmissivity, thermoformed ceiling panels facilitate creative approaches to lighting.
Opaque white panels have a bright light reflectance value (LRV) of approximately 83.10 This takes on special significance with directional light sources that cast shadows on the molded relief of panels and tiles.
Translucent white plastic is used for backlit luminous ceilings. Panels that are 0.33 mm (0.013 inch) thick have light transmittance of more than 50 percent; this is reduced to approximately 40 percent when used with acoustical backer panels. Backer panels have a frosted surface that diffuses above-ceiling light sources for more uniform illumination below. Additionally, backers reduce shadows caused by detritus that would otherwise accumulate directly on top of ceiling panels. Translucent ceilings can be used with light-emitting diode (LED) lamps to create glowing illumination that can be programmed to change colors.
Transparent panels allow light fixtures to be placed above a ceiling while maintaining the continuity of the surface's plane and pattern.11 For example, a light fixture with a directional beam can be placed above the ceiling—and out of sight—yet still focused on a piece of artwork or other visual feature. They are also practical in areas where hygiene or other considerations make it desirable to keep light fixtures isolated. For example, federal regulations require food preparation areas to be protected against contamination from breakage of overhead lamps, skylights, and other glass.
Several levels of transmissivity can be combined as required. In a hotel lobby, opaque panels can be used with uplighting at seating areas, translucent panels to create a luminous ceiling above the registration counter, and transparent panels below spotlights creating visual excitement above the dance floor in a bar. Daylight, as an energy conservation strategy, also suggests applications for translucent and transparent panels beneath skylights for opaque or translucent panels and as light shelves to direct light more deeply into buildings.
Sustainability
Many of the already enumerated characteristics of thermoformed ceilings contribute to building sustainability, such as:
lighting efficiency;
noise reduction;
cleanability; and
fungal resistance.
In terms of material choices, some industry leaders advocate against vinyl, also known as polyvinyl chloride (PVC). Vinyl is made from petrochemicals, has problematic precursor products, and may release toxic products of combustions if burned. Other authorities remind us of vinyl's long service life and low maintenance requirements which mitigate some of these concerns. Reputable manufacturers now use vinyl produced through cleaner technologies and without the most egregious additives. Combustion risks are reduced by considerations mentioned, and vinyl is recyclable as a Type 3 plastic.
Environmental Building News, an arbiter of sustainable design, suggests, "For builders and architects, our recommendation is not to avoid vinyl altogether, but to seek out better, safer, and more environmentally responsible alternatives."12
Reasoning like this has led to an increased use of recycled PET (rPET) for ceilings with as much as 40 percent post-consumer recycled content. While PET has a greener environmental rap sheet—raw material costs more than vinyl—it is more difficult to fabricate in certain ceiling styles, and it is not yet approved for use below sprinklers. While vinyl has demonstrated longevity in building applications, PET service life has yet to be determined. PET is recyclable as Type 1 plastic.
Both vinyl and PET are available with GreenGuard's Gold certification of compliance with California's Department of Public Health Services Standard Practice for Specification Section 01350 (i.e. California Section 01350) for low chemical emissions from building products used in schools, healthcare, and other critical environments. Indoor air quality (IAQ) is also protected because the plastics are fiber free and hygienic.
While sufficiently rigid to maintain visual flatness once installed, both vinyl and PET:
are resilient enough to flex during installation and maintenance;
are not frangible;
resist moderate abuse without breakage;
contain ultraviolet (UV) inhibitors; and
are cleanable.
Thermoformed ceilings weigh as little as 0.49 kg/m² (0.10 psf)—approximately 80 percent less than mineral fiber ceilings. This represents a significant reduction of manufacturing resource requirements. Additionally, transportation impacts are reduced because panels and tiles are lightweight, thin, and nest for compact packing. Five times as many panels can fit on a truck compared to 19-mm (3/4-in.) thick mineral fiber panels.
Appearance
While this article has discussed physical and performance properties, selection of thermoformed ceilings frequently begins with aesthetic considerations. Ceilings are often the most visually prominent surface of a room; the flat plane and rectangular grid of standard acoustic ceilings, once the hallmark of 'modern' efficiency, now epitomizes the 'less is a bore' sentiment of many designers. Thermoformed ceiling panels and tiles are available in dozens of styles ranging from historic stamped tin patterns and classic coffers to contemporary geometric and multifaceted panels and from shallow profiles to relief extending as much as 76 mm (3 in.) above or below the ceiling grid. Additionally, digital fabrication techniques have lowered the cost of making molds for custom patterns.
Some styles can be installed upside-down; while the pattern remains the same, inverted panels change the relationship of shadow and highlight to engage the viewer. Other design options include white, solid colors, faux metallic finishes, and faux wood grain finishes.
When a style with deep relief is used, it is customary to use border panels or tiles with low relief around ceiling perimeters. Alternatively, adventurous designers can achieve interesting effects by expressing the panel or tile profile at the ceiling perimeter.

Installation
Installation of thermoformed ceiling panels and tiles is similar to other materials. Lay-in panels can be used with standard suspension systems with 24-mm (15/16-in.) wide tees.13 Fiberglass, plastic, or aluminum suspensions should be considered in wet areas. Direct-mounted tiles install easily with construction-grade adhesives or staples. Panels are available for both 609 x 609-mm (2 x 2-ft) and 609 x 1218-mm (2 x 4-ft) grids.
The lightweight panels and tiles are less likely to cause injury due to lifting or dropping.14 They lack sharp edges and installers do not have to wear respirators. The material can be easily cut with scissors or aviation snips. Decorative strips are available, if desired, to trim butt joints between tiles.
Conclusion
It is crucial to verify the approvals and listings of proposed products because not all thermoformed ceiling products rise to the same standards. While thermoformed panels and tiles are widely used in simple do-it-yourself applications, design professionals may want assistance from a reputable manufacturer to identify suitable products for projects with more demanding requirements.
Through thermoformed ceiling panels and tiles can be used for any one of their several beneficial characteristics, it is when these innovative products are able to meet several requirements simultaneously that plastic can be transmuted into gold.
Notes
1 These definitions are from ASTM E1264, Standard Classification for Acoustic Ceiling Products. (back to top)
2 IBC Section 803.2, "Thickness exemption," exempts ceiling finish materials less than 0.09 mm (0.036 in.) thick from fire performance and smoke development testing. While the IBC section applies only to materials directly applied to the surface of walls and ceilings, it establishes thin materials have insignificant fuel load. (back to top)
3 Class A finishes have flame spread ? 25 and smoke developed ? 450 tested under ASTM E84, Standard Test Method for Surface Burning Characteristics of Building Materials. (back to top)
4 For more on UL 94, see www.ides.com/property_descriptions/UL94.asp. (back to top)
5 In a detailed estimate examined construction costs for a 10,219-m2 (110,000-sf) office building in Oklahoma City 0.6 x 0.6-m (2 x 2-ft) plastic ceiling panels with acoustical backer and concealed (above-ceiling) sprinklers saved $3.30 per sf when compared to the same size ¾-in. mineral fiber ceiling panels with visible (recessed) sprinklers. (back to top)
6 Hold-down clips should be used when the ceiling will be directly sprayed with water. (back to top)
7 See FEMA's Flood Damage-Resistant Material Requirements for Buildings Located in Special Flood Hazard Areas under the National Flood Insurance Program (Technical Bulletin 2–2008) at www.fema.gov/media-library/assets/documents/2655. (back to top)
8 See U.S. Food and Drug Administration's (FDA's) 2013 Food Code and Code of Federal Regulations at www.fda.gov/downloads/Food/GuidanceRegulation/RetailFoodProtection/FoodCode/UCM374510.pdf. (back to top)
9 See ASTM C423, Standard Test Method for Sound Absorption and Sound Absorption Coefficients by the Reverberation Room Method. (back to top)
10 See ASTM E1477, Standard Test Method for Luminous Reflectance Factor of Acoustical Materials by Use of Integrating-Sphere Reflectometers. (back to top)
11 Transparent plastic may show distortions due to molding process. (back to top)
12 See www2.buildinggreen.com/article/should-we-phase-out-pvc. (back to top)
13 See ASTM C635, Standard Specification for the Manufacture, Performance, and Testing of Metal Suspension Systems for Acoustical Tile and Lay-in Panel Ceilings and ASTM C636, Standard Practice for Installation of Metal Ceiling Suspension Systems for Acoustical Tile and Lay-in Panels. (back to top)
14 Sharp edges are especially a problem with stamped metal ceilings. (back to top)
Ed Davis is president of Ceilume, a manufacturer of thermoformed ceiling panels, and has been responsible for product testing and obtaining product evaluations and approvals. He can be reached at ed@ceilume.com.
David Condello, CSI, has more than 20 years of experience in construction and is the architectural services manager for Ceilume. He can be reached at david@ceilume.com.
Michael Chusid, RA, CCS, FCSI, is an architect, a Fellow of CSI, and a Certified Construction Specifier. He is a frequent contributor to The Construction Specifier, and a consultant to building product manufacturers. He can be reached at www.chusid.com.