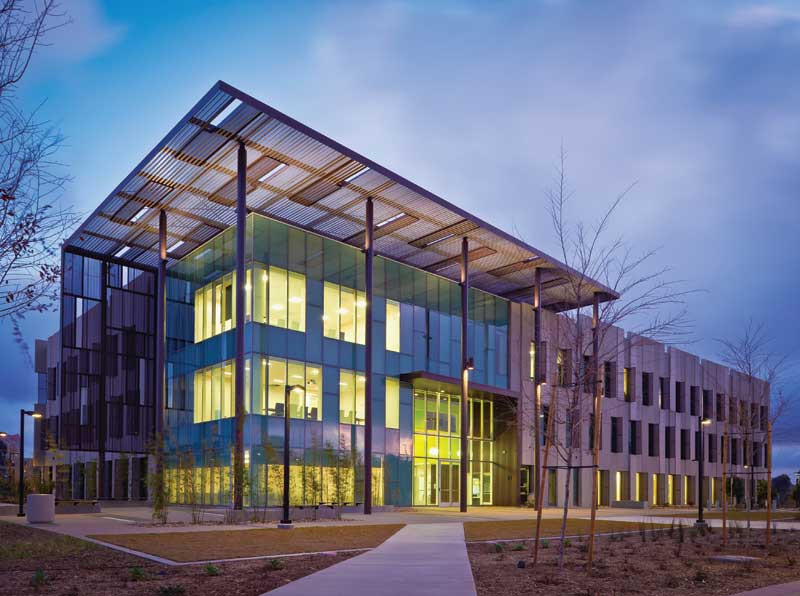 Photos © Ryan Gobuty/Gensler
by Mitch Bloomquist
As monumental-sized panels of concrete are lifted from their horizontal onsite casting position to a vertical element of the building enclosure, an impressive and unique craft is unveiled. In this industry, contractors are discovering inherent opportunities for a renewed focus on craftsmanship.
Definitions and origins of the word 'craft' refer to the ability to make or produce with care, skill, or ingenuity; the word also can mean strength and power. One would not normally think of a four-story office building as being 'handcrafted;' often, it is more accurate to say they are 'assembled.'
While some components are made onsite, most come to the site and are combined according to the plans, specifications, and manufacturer's instructions. With tilt-up concrete construction, contractors (sometimes general contractors, other times tilt-up installers) are working directly with and affecting the medium itself, creating one-of-a-kind works with each panel. This is also the case with cast-in-place concrete. However, tilt-up is uniquely positioned to maximize these opportunities for increased craft while maintaining a high level of efficiency and affordability.
To appreciate the inherent opportunities for craftsmanship afforded by tilt-up concrete construction, it is important to consider the well-recognized benefits of choosing the building system in the first place. One of the most common reasons for choosing tilt-up is the system's ability to deliver on a fast schedule. While time most definitely is money, it is also directly related to quality, and because one of the greatest benefits of tilt-up is speed, there is more time to focus on it.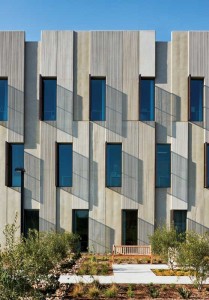 Unexpected project solutions
With many other forms of construction, contractors are juggling the ordering, arrival, storage, installation, and finishing of a multitude of products. Each one of these steps or items creates opportunities for lost time and mistakes. With tilt-up, there are minimal products to coordinate, virtually no onsite storage needs, and, because of the time dedicated to meticulous planning, little opportunity for mistakes. The attention to detail and demand for precision does not stop after the planning stages—these upfront efforts create an onsite environment of accountability, knowledge, confidence, and focus.
This advantage of speed presents an opportunity to offer project solutions that may not seem possible to the owner. One case in point is a recent project for the University of California San Diego (UCSD). The school required office space quickly to accompany and support some major projects close to completion on their medical campus. A new cancer center was going up, and a shortage of space in other medical buildings meant it needed somewhere to put the additional support services.
UCSD initially planned on constructing a series of temporary buildings or trailers, but the senior director of healthcare project management for UCSD Facilities Design & Construction recommended considering tilt-up concrete construction. Having a great deal of experience with the system as an architect, he suggested a building using tilt-up could be constructed within the difficult budget and timeframe and they could potentially avoid investing time and money in a poor quality temporary fix.