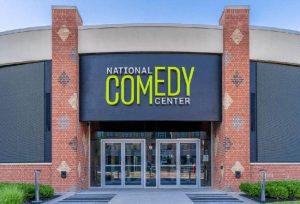 The National Comedy Center in Jamestown, New York, is home to the country's foremost archive of the history and art form of comedy. The groundbreaking museum is housed, in part, in the historic Jamestown Gateway Station building. Built between 1930 and 1932, the station featured custom steel windows as part of its chic Art Deco design. As a result, it was a natural choice to provide steel replacement windows for the historic building as well as steel windows and doors for the new construction when the comedy center redeveloped the site.
The building that now comprises part of the National Comedy Center was an Erie Railroad station on the New York City to Chicago passenger train route. At the height of passenger train travel, it was luxurious—built of marble, steel, and glass. The station was taken out of commission in the 1970s and fell into disrepair, even as it was listed on the Federal Registry of Historic Places. Eventually, a local group secured funding for its rehabilitation, and the station was restored to its original 1930s condition.
The manufacturer that had provided the original steel windows was selected to create the replacement units for the adaptive reuse project. The company manufactured custom fixed, projected, side hung, and single hung replacement steel windows for the project with custom hardware to match the existing historic hardware.
The grand entrance to the old station lobby, which now houses a gift shop, features original steel doors, transoms, and a distinctive glazed-in clock. This entrance was refurbished during the restoration.
"We ended up with a stunning mix of the old and new buildings. The windows in the connector wing, identical to those in the station, help the whole campus to come together visually," said Tom Benson, chair of the National Comedy Center and a member of the team that worked to fund and execute the station restoration project.
The connector wing features classic solid steel windows with slender sightlines with thermal evolution technology, while the windows in the station are in the traditional classic solid steel series.
Once the restoration and redevelopment projects were completed, the National Comedy Center opened, bringing to life an idea several decades in the making.
TIME Magazine named the National Comedy Center one of its World's Greatest Places in 2019, and USA Today has named it the Best New Museum for 2020, making it both a local institution and a nationally- and internationally-acclaimed destination.