TK Elevator opens doors to new North American headquarters
by brittney_cutler | February 18, 2022 4:18 pm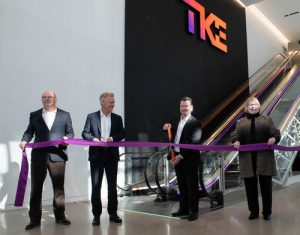 TK Elevator (TKE) recently celebrated the opening of its new North American headquarters in Atlanta, Georgia. 
The three-building complex features 19,045 m2 (205,000 sf) of office space and includes a 128 m (420 ft) tall Innovation and Qualification Center (IQC), with the tallest elevator test tower in North America.    
A collaborative effort between general contractor Brasfield & Gorrie and architecture firm Gensler, the IQC also includes software labs, a digital showroom, engineering offices, and training facilities, as well as event and meeting spaces located at the top of the building. 
With 18 shafts, the IQC's elevator test tower will be used to trial new concepts and product pilots including high-speed elevators and TWIN, an elevator system featuring two cabins working independently in one shaft. The test tower will also conduct robust tests to ensure compliance with stringent safety requirements on standard elevators. 
The IQC will also be home to International Technical Services (ITS), TKE's exclusive network of experts who provide technical expertise and spare parts support for TKE and competitor units, as well as SEED Campus, TKE's new North American training hub for all employees. 
The new headquarters will eventually be home to approximately 10 percent of TKE's workforce in North America. 
Endnotes:
[Image]: https://www.constructionspecifier.com/wp-content/uploads/2022/02/BC_TKElevator.jpeg
Source URL: https://www.constructionspecifier.com/tk-elevator-opens-doors-to-new-north-american-headquarters/
---