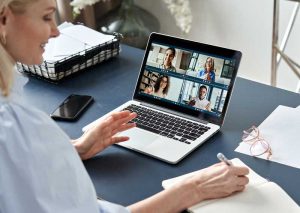 When the U.S. Travel Mask Mandate ended, it marked a significant step in how the country is managing COVID-19, especially for business travelers—a trend that only continued through late August, as the Centers for Disease Control (CDC) continued to ease guidelines and eliminate quarantines.
But how are you and your team managing your office schedule this fall? Are employees being asked to return to work? Is work-at-home still an option? How has the pandemic impacted the way you and your colleagues get the job done now and in the future?
That question was posed on The CSI Community Connect Forum on CSIResources.org, the go-to resource where you can connect with architecture, engineering, construction, and owner (AECO) peers in real-time. Here are some of the responses (edited for space):
Nationally, we went three days in the office (Tuesday, Wednesday, Thursday) with Monday and Friday being work-at-home days or in the office. People are allowed slightly flexible schedules to make commuting easier, at least in the San Francisco office where I work. We are masked according to the protocol of the office location, or masked if there have been three COVID cases in the office within the preceding 10 days.
Some people are permitted to work remotely full time. We found that some staff moved during the past two years, and most meetings have a virtual component because of where staff is located.
—Anne Whitacre FCSI, CCS, LEED AP
My firm found productivity improved which was measured by billable hours worked and the number of projects versus staff we have now compared to pre-pandemic. We experienced a 10 percent increase in productivity in 2020 with everyone working remotely, and an additional 17 percent in 2021 with a flexible, hybrid work schedule. Things are going quite well this year as well. As a result, pay has been increased, benefits have improved, and generous bonuses have been awarded.
Staff can choose where they work. About 75 percent work remotely, and the rest choose to work in the office. We have several offices in the U.S. and abroad and most of our project teams involve members from several offices, so meetings are almost exclusively virtual.
—Blair Reese CSI, CDT, LEED AP
Our office returned to full time. However, if someone feels ill and wants to self-quarantine, they are free to do so. We worked 97 percent at home for eight months at the height of the pandemic in 2020 and ran a half in and half out for another six months, so we have had not issues with working from home. We also installed an air purification and filtering system at every desk and are spaced at least 1.8 m (6 ft) apart. I do not feel we are exposed to any unnecessary risks and have our own safety protocols in place.
—Billy Mathis FCSI, CDT
We have been back in-person since June 2020 as soon as the governor lifted the stay-at-home mandate in our state. We masked, maintained distance, and installed Plexiglass barriers around our workstations, and no one got sick during that time. We did do a hybrid schedule to keep our office at 50 percent capacity for a few months, but as soon as full occupancy was allowed, we've been 100 percent in-person.
—Sally Woodson CSI-EP, CCS, CDT
Author

Peter Kray is a content strategist with CSI. He can be reached at pkray@csinet.org.