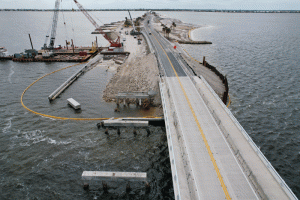 Recovering from Hurricane Ian: Rebuilding the Sanibel Causeway
When Hurricane Ian made landfall in late September 2022, it became the deadliest hurricane to hit Florida since 1935. The storm devastated Lee County, causing significant damage to the Sanibel Causeway, the 4.8-km (3-mi)-long bridge which connects Sanibel Island to Florida.
In response, crews from Florida-based heavy civil contractor, Superior Construction, worked around the clock to rebuild the Sanibel Causeway. In a joint venture with The de Moya Group, Superior worked collaboratively with the Florida Department of Transportation (FDOT) staff to restore this vital infrastructure link. Collectively, the team worked more than 36,000 workforce hours to bring residents back to Sanibel Island in just 15 days.
Ryan Hamrick, Superior's division manager, shares what it took to complete the necessary repairs to rebuild the community for local businesses to thrive again.
What preparations does Superior Construction make when a hurricane of this magnitude is forecast to hit your state?
As Floridians and as contractors, we prepare for hurricane season every year, hoping it is all for nothing. Unfortunately, there are years when that preparation and planning are proven critical. As we begin to anticipate a hurricane's impact, Superior's senior leadership meets daily for briefings to ensure our Hurricane Action Plans are being implemented. We take proactive measures on our project sites to secure the area and take care of anything our clients need. We do this early to give our employees time to take care of their families and properties. We also strategically prepare equipment, personnel, and resources in our regional areas to respond to any emergency work items our clients may have after the storm passes. Our focus shifts from the day-to-day demands on the projects to helping our clients and the public restore roadways when needed.
What was it like to assess, plan, and begin to repair the damage?
We were able to assess the damage to the Sanibel Causeway within 48 hours of the storm passing. We then spent nearly three days evaluating how to safely repair the causeway to restore traffic. Within a week, there were numerous crews and pieces of equipment throughout the site starting the restoration process. This was a very fast-paced and detailed collaboration with FDOT, and our internal team was vital to the safety of the workers; and the schedule in which the work was completed.
What does it take to keep more than 100 crews, 70 pieces of heavy equipment, barges, boats, and cranes working for 36,000 workforce hours?
It takes focus and leadership from the top down. FDOT took the lead by having decision-makers on-site from day one. They pulled resources from across the state and gave us direction without delay. Our joint venture construction team had executive-level leadership present on-site throughout the emergency repairs. Everyone involved had the same goal in mind—repairing and re-opening the causeway to traffic as soon as possible. It was a complete team effort.
As a fourth-generation family-owned business, your teams have seen a lot of big storms and restoration projects. How does this inform to the level of commitment in the work they do?
As these storms come, we want to help our neighbors in times of need, and we want to be good stewards of all we have been given; whether that is restoring a road destroyed by a hurricane or making travel days a little less stressful, we want to do our part to make lives a little better each day, especially in times of need.

Peter Kray is a content strategist with CSI. He can be reached at pkray@csinet.org.