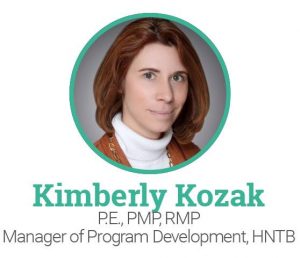 Sharpen your skills in construction risk identification, assessment, mitigation, and monitoring by joining your peers at the Construction Specifications Institute (CSI) Academy in Chicago on April 26 and 27. Learn from experts and share your experiences through interactive online and in-person sessions. This one-and-a-half-day conference features two tracks of focused educational content: Project Conception and Project Execution.
Kimberly Kozak, manager of program development and program controls at HNTB, will moderate a workshop at the event, highlighting the main production and building risks that affect most construction projects. Kozak is an expert in modeling quantitative risk analysis for such large scale projects.
Her workshop will look at how common construction risks can affect a project's overall schedule and budget, as well as how to track those risks and develop a response to them through qualitative assessments. Kozak will facilitate group exercises about tracking risks through the design process, how much contingency is needed, and how to manage risks once in construction.
CSI asked Kozak what else Academy attendees can expect to learn from her presentation.
Why is your presentation so relevant to AEC professionals right now?
Construction teams are seldom involved in the design process, so they often miss the opportunity to weigh in on risks early in project development. Instead, the construction team is quickly briefed on potential risks shortly before starting construction. This workshop will give attendees a better understanding of the risk management process as it applies throughout construction, including identifying risks and evaluating their potential impacts, and developing risk responses to mitigate the erosion of schedule and cost contingency.
For Academy attendees, how will your expertise expand their working knowledge of the critical steps in construction risk management?
I will review project risk management case studies and successful risk management examples during construction to provide a blend of theory and practice. Attendees will have a more thorough understanding of the types of project risks, how to evaluate impact, assess which risks are more critical, and develop response plans for common risks.
How will it inform individuals who are implementing a risk management plan?
The development of a risk management plan is a key component to successful project management. This management plan provides guidance and direction in the identification, assessment, and planning of project risks. It is not enough to know what risks could impact a project; specifiers should be familiar with what can be done to mitigate risk in terms of cost and schedule.
What are your key takeaways for how AEC professionals develop real-world strategies for addressing risk management in their projects, from risk identification and assessment to methods of mitigation and monitoring existing risks?
If risks are understood and managed proactively, the team can work together to set the project up for a successful delivery that meets or exceeds budget and schedule goals. Without the implementation of a defined risk project management plan and continued effort to monitor, identify, and respond to risks in a proactive manner, the project is at risk of cost overruns and/or missed project milestones or substantial completion dates—all of which have additional cost implications.
To read more about CSI Academy, click here.