Two new 'dancing' towers to rise in New York
March 8, 2019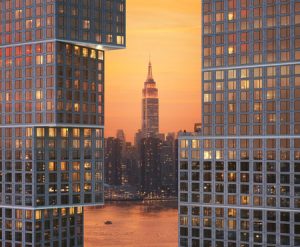 Like two dancers, the towers at Greenpoint Landing in Brooklyn, New York, simultaneously lean into and away from one another.
The towers are designed by international architecture practice OMA, [2]led by partner Jason Long. In conjunction with a lower seven-story building, they will bring 745 housing units—30 percent of it will be affordable—and more than 0.4 ha (one acre) of new public open space to the neighborhood.
The towers will expand the existing public waterfront, creating a total of 1 ha (2.5 acre) of continuous public open space along the shoreline, and will add 799 m2 (8600 sf) of ground-floor retail.
"We have designed two towers—a ziggurat and its inverse—carefully calibrated to one another," Long said. "Defined by the space between them, they frame a new view of Greenpoint and new vista from the neighborhood to Manhattan."
The taller tower widens toward the east as it rises, maximizing views and creating a dramatic face to the neighborhood. Its partner steps back from the waterfront to create a series of large terraces, widening toward the ground and the new waterfront park to the north.
The towers are framed by two lower volumes on the opposite corners of the site, creating a continuous edge around the block. Along this edge, subtle folds and shifts mark entries and define a smaller grain reminiscent of the often variegated street edge conditions within Greenpoint.
The towers' facades feature precast concrete panels surrounding large windows. Like the buildings' forms, the precast panels are carved by a series of angled planes. Oriented differently for each block—vertical, horizontal, or diagonal—the carved faces react dynamically to the movement of the sun throughout the day.
Construction is expected to begin this summer.
Endnotes:
[Image]: https://www.constructionspecifier.com/wp-content/uploads/2019/03/Opener-5.jpg
OMA, : https://oma.eu/
Source URL: https://www.constructionspecifier.com/two-new-dancing-towers-to-rise-in-new-york/
---